Dairy Queen Reveals Sweet-Scented Decor Pillows for New Sweepstakes
Dairy Queen has announced some new fall offerings that will last a lot longer than a pumpkin spice Blizzard. Unlike sweet treats that eventually melt away (if you don't devour them first), this is one collection you can pull out and enjoy over and over again. DQ has unveiled two unique sets of three pillows designed to not only evoke the sights of fall, but the smells, too. This "pillow flight" is lightly scented with a series of sweet fragrances that'll have you craving your favorite Dairy Queen sweets. Not a bad marketing ploy, huh?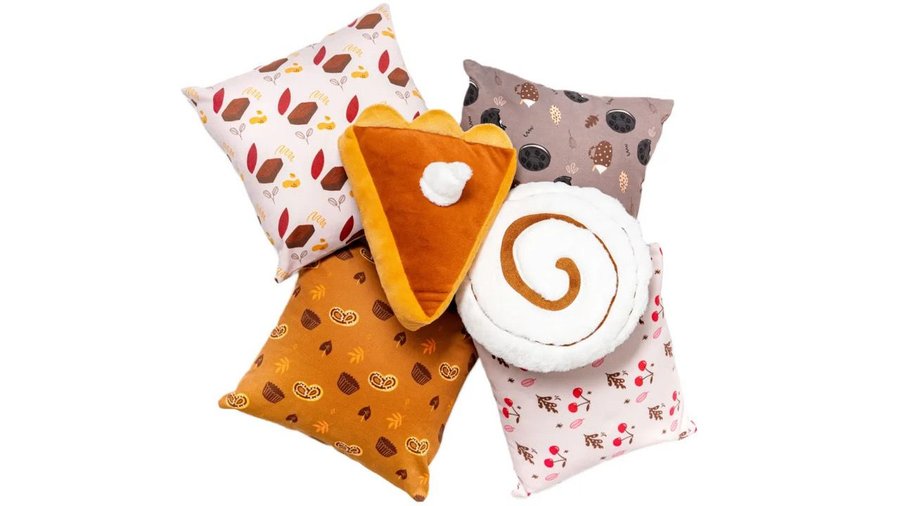 Continue reading below
Our Featured Videos
The DQ pillows are inspired by the new Fall Blizzard Treat Menu. First up is a swirled cinnamon roll-shaped round pillow evoking the Cinnamon Roll Centers Blizzard Treat, accompanied by two square accent pillows in shades of cocoa and creme for the Oreo Hot Cocoa Blizzard Treat and a red and pink pillow referencing the Very Cherry Chip Blizzard Treat.
The second trio features a pillow shaped like a tempting slice of pumpkin pie, representing the Pumpkin Pie Blizzard Treat. This one is accented with a square pillow in caramel, cream and chocolate sprinkles like the Snickers Brownie Blizzard Treat and another square pillow in bright orange that looks and smells like the Reese's Take 5 Blizzard Treat.
Plush and cozy, the pumpkin pie and cinnamon roll pillows are undoubtedly the standouts, and they really do make for some cute seasonal decor. To get some of your own, you'll want to head over to Dairy Queen's Instagram for info about how to enter their Fall Blizzard Treat Menu Pillow Flight Sweepstakes. If you aren't able to snag them, you can at least console yourself by heading to your local Dairy Queen and picking something off the new menu.
"Each year, our Fall Blizzard Treat Menu offers the popular flavors of fall, and the new pillow flights bring our fan-favorite treats to life in a fresh way with scents and style," says Maria Hokanson, Executive Vice President of Marketing at ADQ. "Our fans will be inspired to grab a Blizzard Treat, snuggle up, and take in the scents of the season with friends and family."
It's not often that a fast food brand releases its own line of self-referential home decor. It would probably be a little weird if the items were scented like burgers and fries, but the sweet scents definitely work. After all, we already fill our homes with fall-scented candles, so why not pillows too? Maybe that'll be the next big thing in seasonal decor.
If you don't win the sweepstakes and you're still craving some fresh fall decor ideas, check out our guide to cozy autumn vibes. Get that hygge feeling at home with front porch twinkle lights, jars filled with decorations like tiny gourds, handmade ceramics, seasonal flower displays, mercury glass pumpkins and mantels trimmed with fall leaves, acorns, and more. Switching out textiles like pillow covers, throw blankets, bedding, and table linens can also be a great way to welcome the change in seasons.