9 Cozy Fall Decor Ideas to Warm Up Your Home
Fall is back! Even though temperatures in many parts of the country are still close to summer levels, people are ready for the cooler weather and the warmer gear it requires. As school gets back in session, college football returns, and the holidays are right around the corner, internet searches for fall decor are in full swing, with people everywhere looking for new ways to bring those cozy vibes into their homes. Here are our nine top picks for creating some of that autumnal hygge that everyone is craving right now.
Front Porch Twinkle Lights
Continue reading below
Our Featured Videos
In addition to adding traditional pumpkins, gourds, or wheat stalks to your front porch, you could wind some string lights into the decor to give your friends and neighbors an even warmer welcome on those upcoming colder nights.
Fall-Filled Jars
Highlight your favorite elements of the season by filling some beautifully shaped vases or apothecary jars with tiny pumpkins or gourds. You could also collect acorns around your yard or local trails to give your jars a similar fall treatment. If you're feeling more in a spooky mood, you can load them to the brim with candy corn or other aesthetically pleasing Halloween treats.
Handmade Ceramics
Autumn means breaking out the hot chocolate and cider, and that means you need some equally inviting drinking vessels. Cottagecore is still having a style moment, so acquiring an eclectic set of handmade mugs would definitely fit the bill. If you're not handy with a pottery wheel or don't have any local artisans in the family, a carefully curated collection of secondhand mugs can also feel cozy. These beauties from Wool + Clay are made by human hands at a ceramic shop in Oaxaca, Mexico.
Seasonal Flowers
The change in weather brings a change in what type of flowers are in bloom. Inserting some rich-colored blossoms on your table or working a new pot of golden mums onto your porch can immediately transform your home into a welcoming fall retreat.
Snuggly Bedding
Bringing in the fall ambiance can be as simple as switching out your bedding. Try warm, neutral colors with lots of texture when it comes to sheets and blankets, and layer a few festive pillows on top to finish the look.
Throw Pillow Covers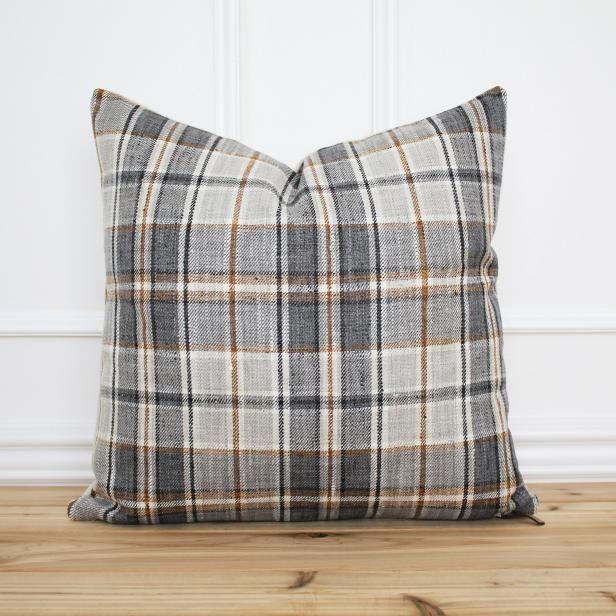 You can bring the same feel into your living spaces just by revamping some of the throw pillows you already have with seasonal prints. Of course, this works well if you have a backdrop of neutrals to work with, but there are still plenty of ways to make autumnal colors and motifs blend in with your existing decor.
Table Linens
You may not do any major entertaining until Thanksgiving, but there's no reason your table can't be cozy and attractive now. This versatile print placemat from Amazon comes in a set of 6 for just $12.99 and instantly warms up a place setting.
Mercury Glass Pumpkins
Mercury glass is always classy, and its reflective surface allows extra light and warmth to bounce around your space. These Pottery Barn pumpkin versions are both cordial and elegant.
Mantel Trimmings
What better place to deck out in fall coziness than your fireplace? Trim it out with some colorful foliage or a garland of shiny gourds. Natural wood and candles are another quick and easy way to make sitting around your hearth more alluring.
While this isn't an exhaustive list of cozy fall decor, incorporating some of these ideas is sure to make your house feel more like a home as we jump head first into the new season.