Crucoon: Insulated Tent Blocks Light and Sound to Provide a Safe Space Anywhere You Go
Lightweight, waterproof, and quick to deploy, tents are already the perfect compact portable shelters. What's to improve?
Continue reading below
Our Featured Videos
For starters, most tents are designed for outdoor adventures, but they could have many more uses with just a few tweaks. The "Crucoon," a cocoon-style tent by Crua, adds one major feature to a standard tent: the ability to block out the world around you. Instead of thin nylon, it's topped with an insulated cover that reduces the transmission of both light and sound while still keeping out the elements. On top of that, it's inflatable, so you don't even have to assemble tent poles.
The design sort of looks like somebody tossed their down sleeping bag over their tent to darken the interior — but the reality is much better than that. The air beam construction means you can set up the Crucoon in less than 60 seconds with a manual air pump. It has two doors for versatility and ventilation holes covered in insect mesh for fresh air. The insulation is covered in rip-stop nylon, treated with durable water repellent, and infused with graphene, a lightweight, durable, breathable, and antibacterial thermo-regulator.
Crua is best known for previously designing an insulated tent, which itself can be surprisingly hard to find. The company envisions Crucoon being used for all kinds of different purposes: as a nap pod, a play space for kids, a study room, or a tent for camping in super cold conditions (though they recommend covering it with a tarp or another tent in rainy weather, since it's not completely waterproof). You could set it up on top of a bed in a shared hostel room for darkness and privacy, or use it as a warm and cozy emergency shelter inside your home if the power goes out in a winter storm. There's also another potential use for the Crucoon that Crua doesn't specifically call out: as a dark, quiet place for people with autism to self-soothe.
"When I designed the first Crua tent in 2014 it was simply out of necessity," says Derek O'Sullivan, founder and CEO of Crua. "I couldn't find a tent that offered me any reasonable level of insulation. I wanted a correctly insulated tent so that my family's camping experience could be a memorable one. From that first tent, spawned several new insulated tents in all shapes and sizes. From a 5 to 6 person 'Family' tent to the 'Solo' individual insulated tent. Now, we are moving beyond just the tent. We would like to introduce you to the Crucoon… this is not just a tent, it's so much more. It's your private space when you are on the go. There is practically no end to where the Crucoon can go. We can't wait to get these into your hands and see all the places you'll go with the Crucoon!"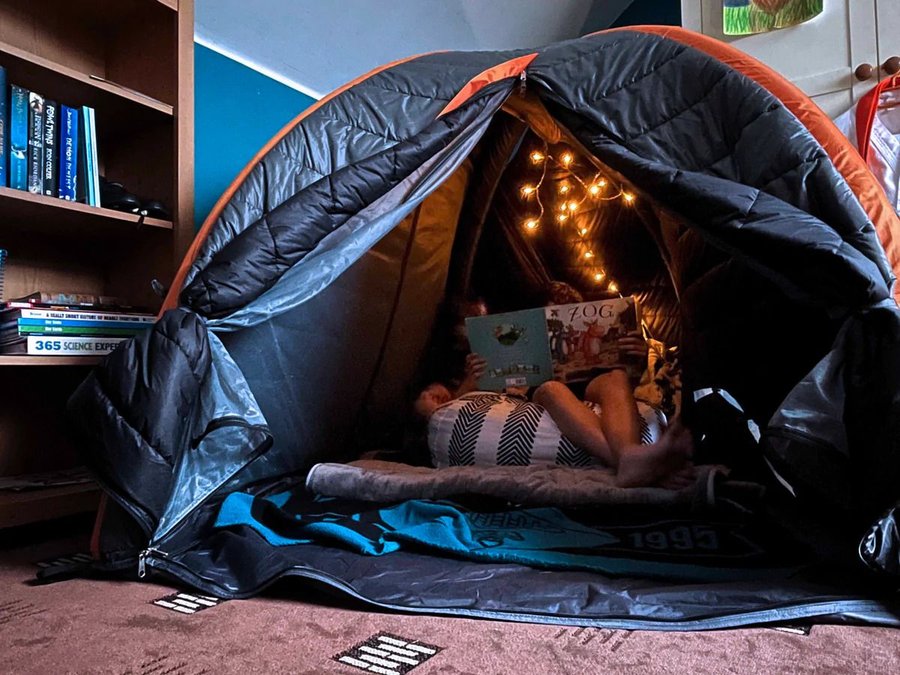 The Crucoon can be purchased alone or with the Full Kit, which includes one customized self-inflating mattress and two graphene-infused sleeping bags. The mattress can either be zipped together into one extra-plush sleeping pad, laid out flat as a double mattress, or unzipped as two separate single mattresses. When it's in double mode, it can be inserted into a zippered compartment in the Crucoon's base. The sleeping bags can also be zipped together, and feature hoods and hidden pockets. In the near future, Crua plans to offer other add-ons like a rain fly, tarp, and inflatable pillow.
The Crucoon recently raised over $170,000 in crowdfunding on Kickstarter, with backers getting special early bird pricing and access, but it'll also be available at a retail price of $499 later this year.