Bowl-Shaped "Teno" Speaker Cracks Open to Reveal Glowing Light
Do you like your electronics to look like electronics, or do you wish they could be disguised? If you fall into the latter camp, you'll want to take a closer look at "Teno," a paperweight that isn't really a paperweight. At first glance, it appears to be a small stone-like sculpture. But crack it open along its jagged seam and light comes spilling out. Tap the object, and the intensity of the light changes.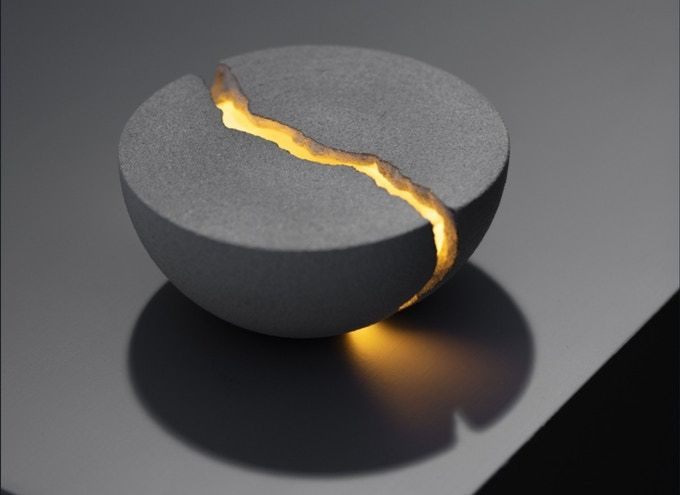 Continue reading below
Our Featured Videos
But those are just a couple surprising functions of this new invention. It's also a powerful speaker you'll never want to hide away in a drawer or case. Made from natural sand, the bowl-shaped Teno is equipped with a 54-mm full-range driver delivering "deep bass and crystal-clear treble." Measuring about five inches in diameter, it's designed to fit perfectly in the palm of your hand.
"The world doesn't need any more sleek plastic surfaces," says Lumio, the maker of this curious gadget. "Far from being another distracting piece of technology, Teno is for connecting with yourself and with your environment. Hold it in your hands and its vibrations impart a meditative feel — we like to think of it as modern interpretation of a sound bowl. Its radiant light creates the kind of calming atmosphere we could all use a little more of."
The company adds that "Teno responds to different finger movements across its surface. No instructions needed. Simply break open the shell to turn on the light and separate it fully to activate the speaker. Piece the shell back together to turn it off. We've thoughtfully designed each sound indicator to evoke a sense of calm and tranquility. Crack the shell fully open to turn on the speaker and stream your favorite music directly from your phone. Tap the center to activate the dimmer. There are four levels of brightness to choose from."
If you're familiar with the Japanese art of kintsugi, which pieces together broken parts and highlights the cracks with gold, the inspiration for the look of the Teno is readily apparent. The creators call it "a celebration of the perfection in the imperfect." The unique way in which the speaker's functionality is revealed is meant to evoke a bit of mystery and magic. It definitely looks like the sort of mystical object you'd seek in a video game quest, with a surreal sense of timelessness about it.
These qualities are exactly what Lumio is after. Founded by Max Gunawan in San Francisco, the company is best known for the Lumio+, a multifunctional lamp and USB charger disguised as a tiny hardcover book. The company delights in the element of surprise and wants to produce electronics that "defy obsolescence." With aesthetics wholly their own, Lumio's creations certainly won't come to be associated with any particular passing micro-era of technology.
The Teno is just completing a round of crowdfunding on Kickstarter, offering the speakers as backer rewards for as little as $240, a savings of $60 from the retail price of $300. If you missed out on the pre-orders, keep an eye on Lumio's website for updates, and check out their other offerings while you're at it.