Bobbing Balloon Lights By Brokis
Continue reading below

Our Featured Videos


Balloons!  Oh OK so this super sophisticated designer lighting version doesn't exactly bob about – but who doesn't love a brightly colored balloon? And if you can invest in several, then you can have your very own party every time you turn on the lights – though this time, the balloon is the light.
Designed by Brokis and individually hand-blown from triplex glass in the Czech republic , the 'Memory Balloon' is a timeless piece that taps into our memories of childhood. Wall mounted or attached to the ceiling, these wall and pendant lights create the curious and enchanting illusion that they are floating in air. Derived from a  treasured Bohemian tradition of glass blowing, Brokis lighting is award winning and unique in style and composition.


The string becomes the light-pull in these playful yet design-savvy lights. They have a clear, warming glow that just shouts out celebration and they also pack in the style factor. Oh and come on people, in case you didn't notice…they're balloons!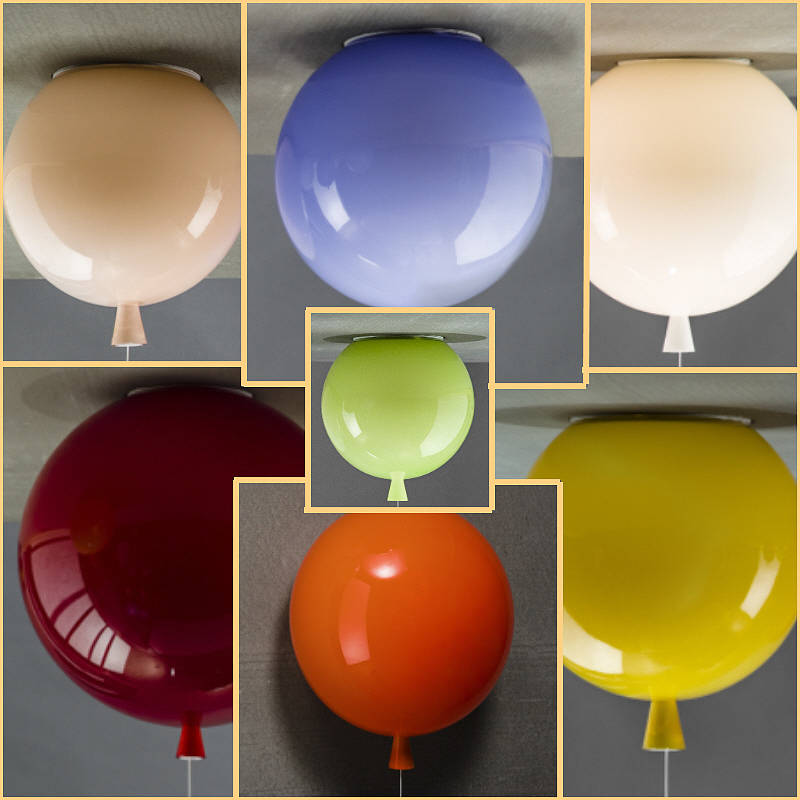 The Brokis lighting collection represents high quality artisanal glasswork,  often inspired by balloons.
This time, with the 'Memory Ballloon' collection,  the balloons won't float away, pop or deflate, taking your mood down with them. They'll simply stay put to brighten up your space. From striking white to moody red, they're  available in eight glossy colors to fit your decor preferences – or just to pile on the fun factor. Great for kids' rooms or nurseries, they're also great for anywhere you want to make a bold statement.
Have you ever rubbed a balloon against your clothing to create friction, then stuck it on a wall? (If you haven't you've had a deprived chldhood). The friction created allows them to cling on: Well this is like that – only the balloons don't ever fall off! The lights come complete with stickers to attach them to the ceiling or to the wall.


Designed by Lucie Koldova, the 'Balloons' standing light collection is another balloon-inspired  lighting design from Brokis.  Modelled on the image of a transparent balloon with a floating reflector, the lights are available as table or floor-standing lamps. Much more 'grown up' in concept than 'Memory Balloon' , they are cool and practical yet still retain an air of childhood fun.
Hand made and blown, each 'Balloon' lamp, and in particular the larger version, shows the real skill of each glass-making  artisan to create such flawless dimensions. By attaining this size, it pushes the art of glass blowing to its limits, while retaining its perfect shape. The metal reflectors come in six primary colors, and also in copper or brass metal, smoked or clear glass.

These gorgeous 'Capsula' pendant lights from Brokis are an intricate combination of a clear blown-glass outer shell, encapsulating a colored glass inner 'bubble', together with a tubular LED light source. The effect is 3D and compelling – though OK, this time there's not a balloon in sight.