AusAir: Anti-Pollution Face Mask Infused With Botanicals
With the novel coronavirus COVID-19 dominating the headlines nowadays, people around the world have face masks on the brain. They're sold out virtually everywhere, creating shortages for health care professionals who actually need them — and they can't even protect us from getting infected.
Continue reading below
Our Featured Videos
But there's a different kind of face mask out there that will have benefits long after the dangers of coronavirus have come and gone. Designed primarily with pollution in mind, the AusAir was created by a trio of travelers who wanted something effective, comfortable, breathable, and stylish to protect themselves from unhealthy air.
The AusAir face mask features a washable, form-fitting design with changeable filters that last up to four weeks and marine grade stainless steel ventilation valves. Memory foam and a hidden aluminum nose clip help keep it snug up against the face for an ideal fit, while the botanical filter layer works in tandem with an active carbon layer to filter over 97 percent of small airborne pollution (PM2.5).
Those still hoping it might work to prevent virus transmission will be interested to hear this recent update from the AusAir creators:
"Our filter has undergone preliminary testing by replicating viruses that are in the 0.1-0.5 micron range. We are happy to say that preliminary testing has been shown to bloc over 97 percent of airborne viruses replicated. We have contacted third-party labs for independent testing, [but] these independent tests are pending."
The masks were already in early stages of testing when Australia's catastrophic 2019 bush fires killed at least one billion wild animals, burned over 46 million acres of land, and pumped 350 million tons of CO2 into the atmosphere. People living all over the continent dealt with smoke and fine particulate inhalation as the fires raged, which isn't exactly good for the lungs. AusAir says their filters are extremely effective at filtering those particles, while the added carbon layer blocks organic vapors and odors.
The botanical filters are a nice touch, coming in lavender, eucalyptus, tea tree, and unscented varieties to make breathing polluted air a little less unpleasant.
The mask's official Kickstarter page reads: "Featuring twin marine grade 316 stainless steel valves for an unrivaled breathing experience [and] engineered to maximize exhalation and prevent hot air buildup. We've sourced strong yet flexible PU material that offers unmatched comfort and ease of use. Designed and tested to last and maintain shape for over 100 washes. Ear loops tailored to fit your experience. No hard-to-adjust buckles or straps. Plush memory nose foam which molds to the shape of your facial contours effortlessly. A seamless fit which offers full protection, not allowing air to escape in through the sides."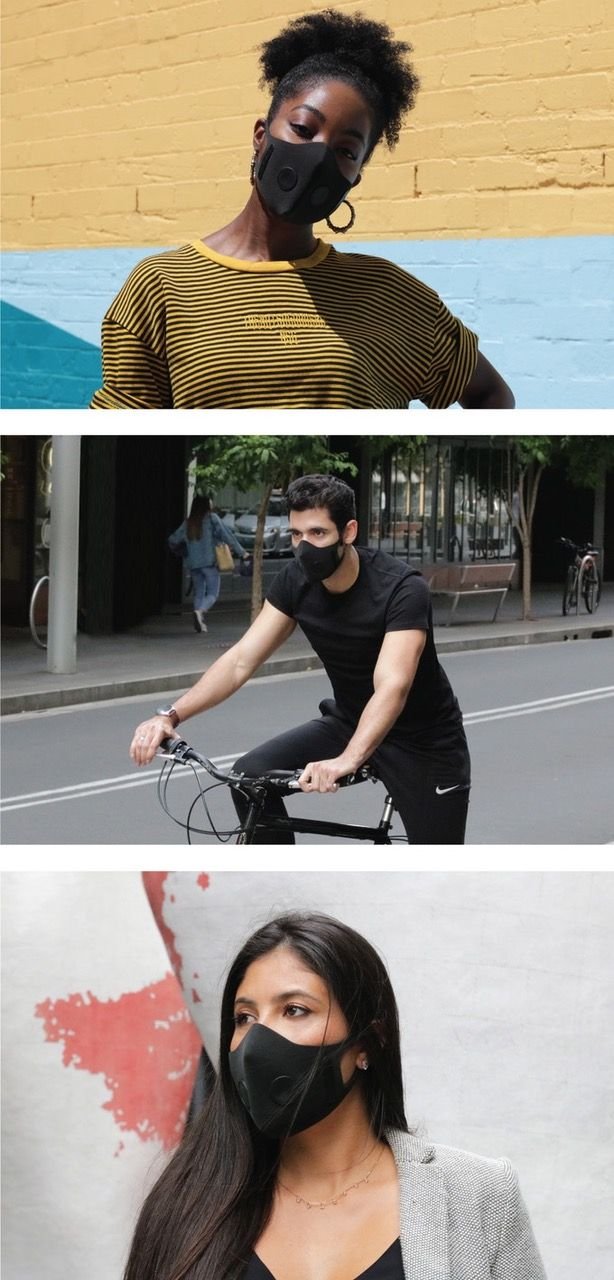 "The simple click and switch design allows you to swap and replace filters with ease. Auto-align the filter and skin every time so you know you are wearing the mask correctly. Utilizing the latest in material science technology, we've developed a pollution filter that will exceed Australian respiratory protection standards. Our filter range embeds botanicals sourced from Australian farms which offer subtle flora scents and other botanical benefits. Each filter harnesses the naturally evolved properties of the embedded botanical."
A crowdfunding campaign for the AusAir mask recently raised nearly $775,000 USD. Backers will receive their masks for as little as $36 by June 2020, with single masks retailing for $59 after that.