Bushfire Heroes Pop! Vinyl Figure Made to Help Fight Australian Wildfires
The Australian bushfires have ravaged the continent, wiping out hundreds of millions of animals, devastating communities, and even taking human lives in their wake. In an effort to aid all those affected by the fires, fundraisers from a variety of sources have "popped" up recently, including this fun vinyl figure brought to you in a partnership between Popcultcha and Funko. The limited edition Bushfire Heroes Pop! Vinyl Figure is a nod to the thousands of volunteer firefighters who risked their lives to battle the blazes, taking the form of an adorably small firefighter with smoke-smudged cheeks offering affection to a clingy koala. The toy's packaging features both a map outline of Australia with a heart in the center and the Popcultcha emblem to give credit to Australia's largest and most comprehensive Funko online store.
Continue reading below
Our Featured Videos
If you haven't seen the news in the past few months, extended drought coupled with record-breaking temperatures contributed to an early and intense fire season that burned over 25 million acres of land throughout Australia. For reference, that's the total landmasses of Belgium and Haiti combined. This is bad news for everyone in the country, including the animals, with some estimates stating that over one billion of them had been lost. Another grim figure estimates that over half of the koalas in New South Wales died in the fires, and that half of all koala habitat in the country is eradicated, too.
Thousands of people were evacuated, and thousands lost their homes. Air quality was horrific, measuring off the charts at 23 times what's considered "hazardous." The smoke clouds were so bad, in fact, that they were captured by NASA imagery from space. Air quality was even highly concerning indoors, such as when it seeped into a hospital birthing center. Animals with no protection succumbed to the smoke inhalation or managed to escape to a new location, void of their natural habitat and left to face an entirely new set of challenges. Many other pets and livestock were evacuated along with their owners, leaving them no place to go at all. Local authorities and emergency agencies around the country took in the evacuees and their animals. They anticipate providing care for months following the fires.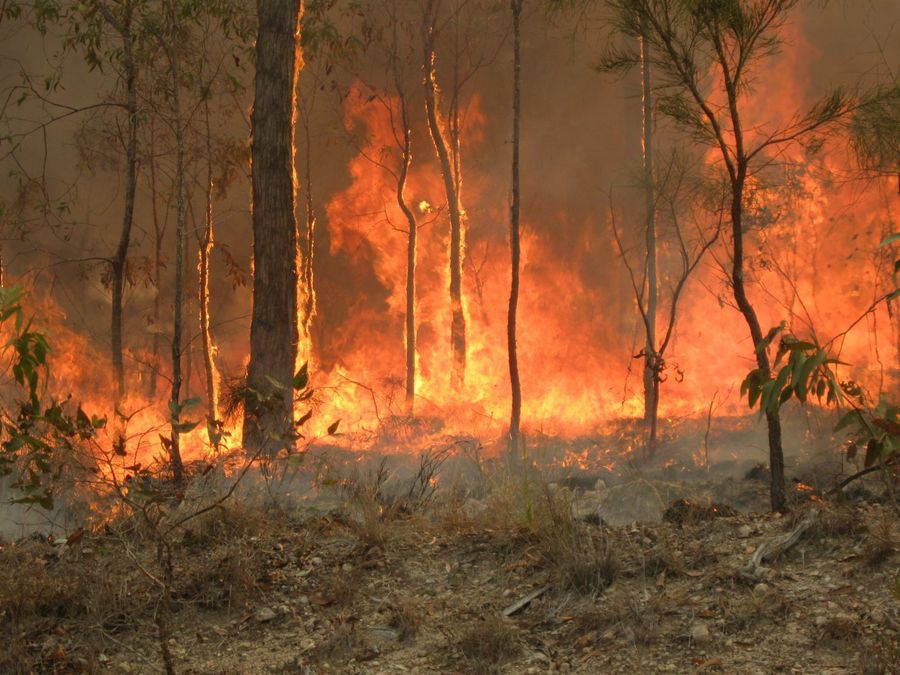 "The potential impacts on wildlife are devastating," Crystal Kolden, an Associate Professor of Fire Science at the University of Idaho who studied wildfires in Tasmania in 2018, said in an interview with The Verge. "There won't be a full accounting for how bad it actually is for years."
Finally, after a deluge of rain, the fires in most areas were declared contained just this month (February), bringing to a close nearly seven months of burning.
Other organizations have also stepped forward to provide relief for residents affected by the fire, including major shoe, beauty, and clothing manufacturers. These CC Beanies, Save the Koalas shirts, and Fight the Flames Hats are just a few examples. In addition, many celebrities have donated money or organized fundraisers to help fight the fires, resulting in millions of additional dollars in aid. Some notable contributors include US singer Pink, Australian pop star Kylie Minogue, Oscar-winning actress Nicole Kidman, British singer Elton John, and Australian actor Chris Hemsworth.
The Bushfire Heroes Firefighter is currently available for pre-order at $19.99, with an estimated delivery in June 2020. All profits will be donated to RSPCA National Bushfire Appeal, an organization aimed at funding supplies and equipment for veterinarians and government agencies responsible for providing emergency and ongoing care to the many animals affected.
Learn more about where the proceeds from the figure go, or make a direct donation, here.