Ark Adaptable Outdoor Shelter: Part Inflatable Tent, Part Hammock
A tent is a tent — except when it's also a hammock with an inflatable frame. The new "ARK 3.1" from EXØD reinvents the most basic of mobile shelters in an unexpected way that makes it both more versatile and more rugged-looking, with a black blow-up exoskeleton resembling the bull bars on an off-roading SUV. And if you're looking at that frame imagining all the huffing and puffing it would take to get up, you'll be happy to know it comes with a pump.
Continue reading below
Our Featured Videos
As complex as it looks, the ARK isn't too hard to set up. It comes with a lightweight military-grade telescopic carbon fiber frame, which is a pretty big upgrade from your standard tent poles and tarp. Of course, this inflatable frame is what gives it the extra stability it needs to be roomy and comfortable, whether you're setting it up on the ground or between a few trees. Inspired by kitesurfing technology, the frame also holds the tent erect in stormy conditions. On top of that, a multi-anchor strap system gives you virtually infinite possibilities for suspension set-ups, including using a single hook point to hang it from something like a bridge or branch overhead.
A description on the ARK's Kickstarter page explains that "a classic camping stretcher weight is usually around five to 10 kg, and it's bulky. Thanks to our carbon tubes we have reached the weight of 2.9 kg. In addition, our telescopic system allows unparalleled compactness for easy transport. This type of profile has a highly specific mechanical resistance (related to its weight), lightness, rigidity, great resistance to fatigue and vibrations, resistance to oxidation and corrosion, a low coefficient of thermal expansion, and durability."
Designed for either a comfortable single occupant or a tight fit for two, the ARK measures about 38.5 inches tall and 122 inches wide once assembled, and when it's in hammock mode, the floor creates three storage areas for all your gear, so it stays dry no matter what's happening outside. It packs down reasonably small, too, at about 8 by 20 inches for the compression sack and 27.5 inches for the poles (both of which can be strapped to your hiking pack like a normal tent).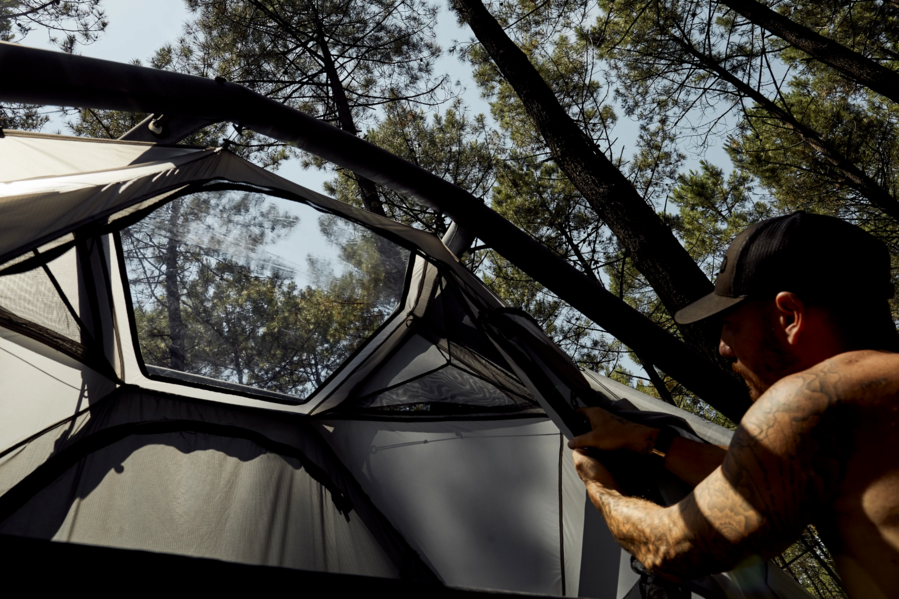 Another cool feature is the transparent roof, made of high-quality medical polyurethane to resist extreme temperatures and rain while giving you a view of the stars. Fabric shutters let you close it if you'd rather shut out the morning sun, and stiff Dacron fabric and kevlar reinforcement keep the whole thing from being damaged or punctured by falling sticks and rocks.
As you might expect, the ARK hammock tent costs a little more than something you might pick up at REI. The complete kit, which includes the tent, carbon frame and cam straps, was recently offered as a reward on a recent Kickstarter campaign for €1,895+ ($2,240). Shipping is set to start from France to the United States in April 2021, and it will likely be available on the retail market around that time as well.