All-in-One Transforming Capstan Table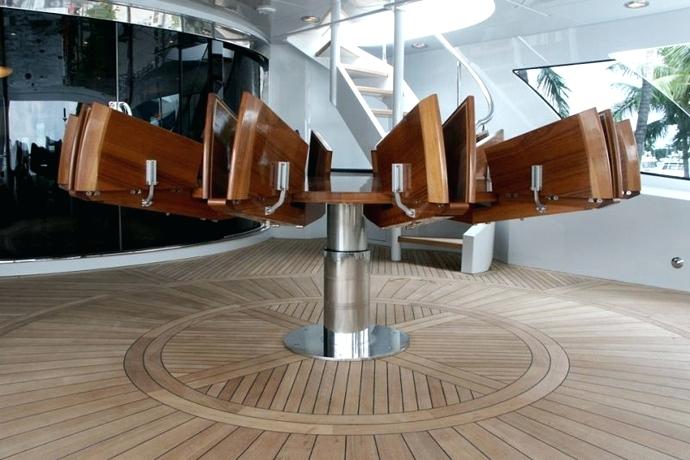 Continue reading below

Our Featured Videos
Fans of the Fletcher Capstan Table might not have the money (or space) to afford a full-sized dining table, and may find this more recent variant from DB Fletcher even more versatile. This transforming table can be raised or lowered, and unlike its larger cousin the various leaves can be added or subtracted as desired, giving it versatility between sizing extremes. A simple assisted hydraulic system sits inside the steel core, allowing for manual lifting and dropping of the table top, while a likewise-simple lock-and-release mechanism lets each modular extension operate independently.
As opposed to the larger original version, this one "was designed to address the need for a metamorphosing table for smaller dining areas, patios, balconies or yacht decks. It is made to an exacting marine specification, allowing permanent siting in an exposed position if needs be.""
As seen below, the original version is a little more complex in its geometries.
"The original idea for a table of this type was formed in the nineteenth century by a man named Robert Jupe, who patented his design in 1835. Jupe's table was initially round, and had an ingenious geometry and a similarly ingenious method of making it expand radially, changing from a small size to a table of larger diameter.  However, these tables could not store their own expansion leaves, were not truly round in every stage, plus they were slow and laborious to operate.  The idea was wonderful though and was a source of inspiration and re-invention."
"David Fletcher has been designing and manufacturing furniture for over thirty years. He started life in the antique business, dealing in English and continental furniture of the 17th and 18th centuries, and this gave him a strong understanding of form and proportion, taught him construction, and a knowledge and love of wood."
"David has been working on his Capstan Table project since 1997. He has constantly improved the design to today's sophisticated, standardised version. During this process he has developed his skills as a mechanical engineer and has committed every single one of the 5,000 odd separate components to 3D computer drawings. Whilst the company draws upon skilled craftsmen and high tech procedures in the manufacturing process, David is still very closely involved in every aspect of the construction and assembly of a table, and in fact normally performs on-site installations himself."