Afterlife: Easy-to-Assemble Furniture Made of Recycled Plastic
Great things can happen when modern design meets sustainability, and this new furniture collection is proof. Circular design shop Supernovas recently collaborated with design studio Odd Matter to create Afterlife, a colorful duo made entirely from recycled plastic. These heavy-duty pieces are durable enough to last a long time but are fully recyclable when they're finally ready for a new purpose, too.
Continue reading below
Our Featured Videos
The Afterlife collection consists of a storage crate and a bench, both of which are stackable so you can create your own custom configurations. The benches can double as shelves and the crates can be used as planters, or pretty much anything else you can dream up. The design's signature "nipple connection" uses a 3D-printed plastic bolt to keep each module secure without the need for any additional fasteners or tools. Both items are also weatherproof, so you can use them both indoors and out.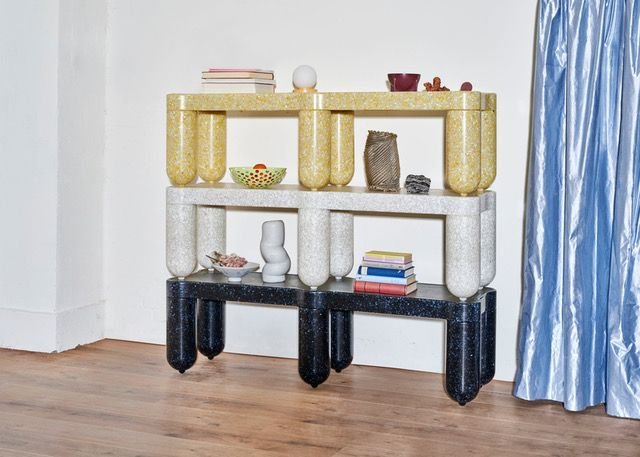 "Supernovas challenged Odd Matter to develop a collection that empowers dynamic living, with designs that give waste an afterlife and ensure the recyclability of the products at the end of their lifecycles. With the unique process that brings together different types of cutting-edge manufacturing techniques, Afterlife is made from recycled plastic waste streams such as PE and PET – namely those found in bottles, packaging, squeeze bottles, toys, gas and water pipes."
Supernovas' London and Madrid design teams pioneered a combination of three manufacturing techniques to produce these recycled, easy-assemblage products. Rotomolding, pressing, and 3D printing come together to turn industrial and household waste into items like multipurpose storage trays and boxes.
Even cooler is the circularity at the center of Supernovas' business model. While conventional linear design sees a product live out its consumer lifecycle and then get thrown in the trash, Supernovas takes back products at the end of their useful lives and turns them into new objects. Their Streaming member program lets you swap out your purchase with something new of equal value whenever you feel like it, so you can try new things guilt-free. The idea is that the materials used to create these items never become waste, they simply shape-shift over and over again.
The Afterlife collection is currently available for pre-order. Both the bench (€1,674/$1992) and the crate (€400/$476) come in eight colorways, including vivid pink, black, speckled gray, terracotta, speckled black and white, blue, terracotta and white, and a mix of black, white, and terracotta. The pattern of colors is reminiscent of terrazzo, a unique look particular to the recycled materials.
Odd Matter was founded by Dutch designer Els Woldhek and Bulgarian designer Georgi Manassiev, who share a curiosity "for all things strange and wonderful" and a love for experimenting with different materials and processes. "The studio believes that by working with existing processes and notions and researching these from a different, more naive perspective, a different kind of product can be created," they say. Products that are "unique and specific to the place they originate from."
"Odd Matter's design process starts from the materials, which then dictate the design and aesthetic," says Supernovas founder Massimiliano Rossi. "The studio has an innate talent for colors and materials, making them the ideal partner to develop a product that transforms waste into beauty, and to bring functionality out of line."