8 Prefab Homes You Can Build in 3 Days or Less
Continue reading below
Our Featured Videos
Call it a mother-in-law suite, a granny flat, a guest house, a backyard office, an accessory dwelling unit, or just your own sweet compact home. Whichever name you choose for it, there's no denying the fact that the compact prefab kit is set to explode in popularity. Growing particularly fast in the American South and West, the market for small homes built on the same lot as more conventional residences will likely only continue to grow in the near future as populations boom and cities work to make room for new residents. At the same time, many people are downsizing or looking into aging-in-place close to family members.
Prefab homes are higher quality and more accessible than ever before, and many of them require no building experience to assemble. Whatever your preferred design style or intended purpose, there's a kit out there for you that can be just about move-in ready in a matter of days.
ÖÖD House
Initially designed as a hotel concept by brothers Andreas and Jaak Tiik, the ÖÖD House now comes in studio, office, and playroom versions, as well, all featuring a stunning mirrored or all-glass exterior. It also comes with interior finishing, fixtures, ventilation, heating and cooling, kitchen cabinets, and appliances; all you have to do is connect utilities and prepare the foundation. Amazingly, it takes less than eight hours to build, and costs around $65,000.
KODA by Kodasema
Wishing for a stylish, modern tiny house just about as fast as you can get one? Estonian firm Kodasema has made its KODA house available in the United States for around $95,000, offering a steel-reinforced timber frame, an open plan living room and kitchen, a full bath, a lofted sleeping area, and a covered front porch. You can even climb up a ladder to lounge on the flat roof. These micro-homes are delivered complete with electrical, water and plumbing hookups, cabinetry, appliances, fixtures, and LED lights.
M.A.Di House
The way this A-frame home comes together is so satisfying to watch. Built using traditional methods and standard materials, the M.A.Di is set apart by its unique modular design, which folds completely flat for transit and features a hinged roof that pops open with a tug from a crane. It sets up within just seven hours, costs about $33,000, and takes just three people to finish inside. It's offered in five different sizes, with the smallest one-bedroom unit measuring about 96 square feet and the largest two-bedroom "cottage" measuring about 182 square feet. Definitely "tiny house" measurements, but great for guests, vacations, or just to add some extra space to your home.
Green Magic Homes
If you prefer a hobbit house to an ultramodern mirrored design, don't fret: there's a practically instant prefab for you, too. Green Magic Homes are modular structures covered by soil and greenery to improve their energy efficiency, maintain a steady interior temperature, and blend into their surroundings. The fiber-reinforced plastic shells are shipped from the manufacturer in Cancun, Mexico and assembled on-site with glue and screws within days. The smallest, the Martinica, measures just under 700 square feet (and costs about $35 per square foot), so these babies are definitely big enough to live in comfortably.
Allwood Kit Houses
Looking for a house you can buy in one click on Amazon? Check. There are dozens of Allwood prefab house kits available from the world's largest online marketplace (and on the manufacturer's own website), and most of them can be assembled within two days by two adults with no prior experience and minimal tools. Models range from the boxy, urban, and contemporary to adorable cabins and cottages. Pictured is the Claudia, a 209-square-foot design that costs just $7,990 for the structure itself (you'll have to add everything else).
DublDom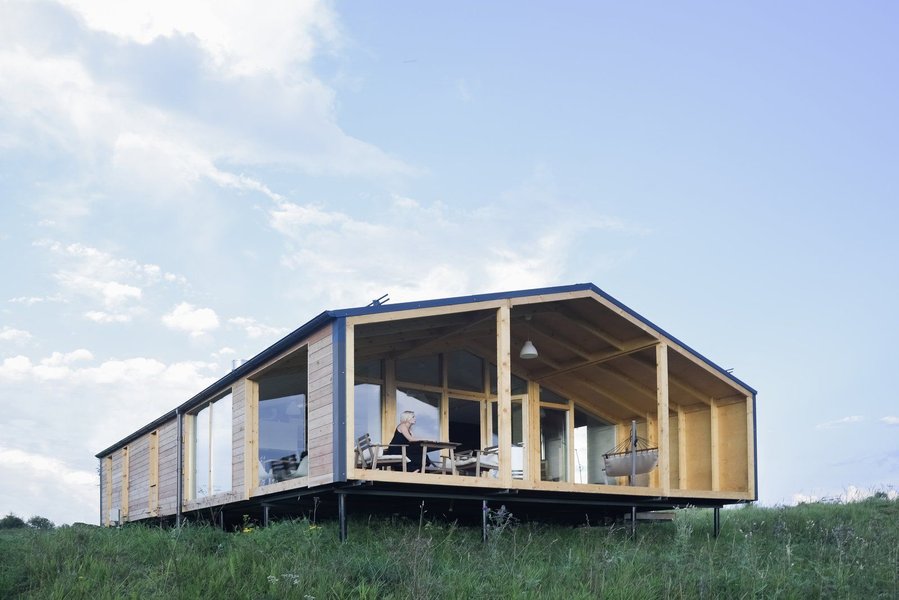 Designed by Moscow-based BIO Architects, these handsome prefabricated DublDom houses come equipped with wiring and plumbing ready to hook up to your utilities, and come in five different models ranging from 280-square-foot studios to 1,400-square-foot three-bedroom homes. The one-bedroom, 463-square-foot model is one of the most popular at a price of $49,081. They're currently not available to ship to the U.S., but the company is looking for production partners to change that ASAP.
Gold Country Kit Homes
Panelized prefabs like these ones from Gold Country Kit Homes come with the wall sections and roof trusses already built, so you just have to put them together like a puzzle. The company says you can do that in three days or less, though the larger homes will need an experienced crew to pull that off. This company is a great option for people who have to build a more conventional-looking house that will pass muster with your neighborhood Homeowner's Association. The pictured model is the Lake View, a 972-square-foot house costing $47,971 for the kit.
Plant Prefab House by Metro Architects
For those with discerning tastes and the budget to match, there's a high-end option, too. California-based Plant Prefab builds LEED platinum kit homes marketed to the urban demographic that's "buying Volts and Teslas, organic produce, and IKEA furniture… they read Wired and they do yoga," says founder Steve Glenn. They're constructed to exacting standards at the company's facility, transported to the site, and installed in about 72 hours, though larger homes take more time. Expect to pay $125 to $400 per square foot depending on the design and your location.