7 Stunning Art Installations from Coachella 2022
After waiting out the two years of pandemic, the Coachella Valley Music and Arts Festival returned in full form this year, allowing seven talented creatives from around the world the chance to showcase immersive outdoor art installations. With nods to both environmentalism and fun, many of them focused (understandably) on gathering and inclusion.
The Playground
Continue reading below
Our Featured Videos
Designed by architectural firm architensions, "The Playground" is a conglomeration of arched towers, connecting frames, mirrored walls, and ground-level benches and piazzas. The colorful towers reach up 56 feet into the air, creating much-needed shade for festival-goers. Architects Alessandro Orsini and Nick Roseboro, from Italy and Brooklyn, respectively, intended for their art to create connections.
Says Orsini, "It's a place to gather and a place where we hope that our differences will be at ease."
Buoyed
In this installation, three 36-foot-tall buoys appear to float over a grassy surface, each incorporating a whimsical mix of design elements. "I needed to build something optimistic," explains Dutch designer Kiki Van Eijk, adding that "My buoys are joyful totems that metaphorically prevent you from sinking when we come together." The blue buoy is topped by a Dutch-style windmill, the white one has a neck like Seattle's space needle and sports a pair of butterfly wings, and the green buoy is capped with a mosque-like dome and mini palm tree.
Circular Dimensions x Microscape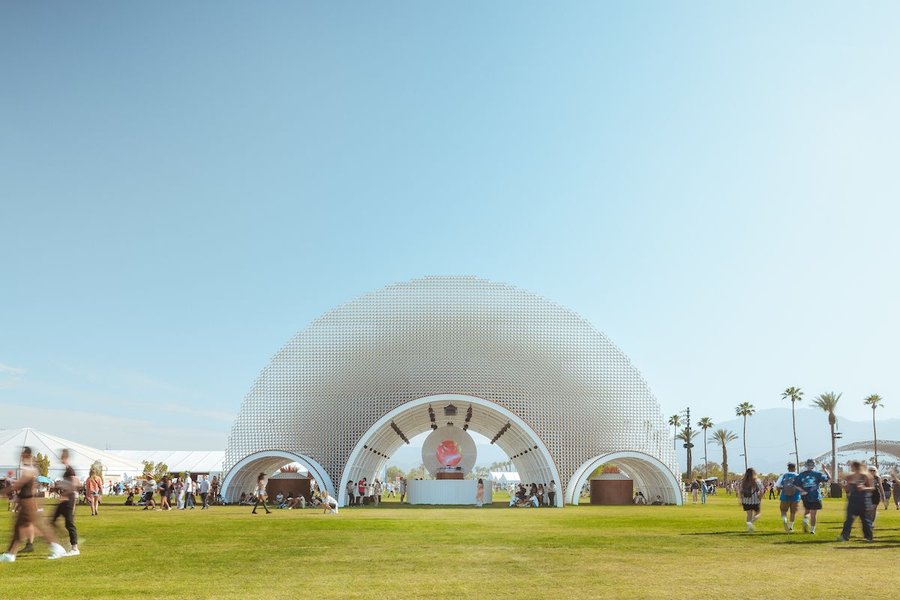 Exploring the significance of water in the desert, Coachella Valley-native artist Christopher Cichocki used 25,000 feet of PVC pipe to create a 50-foot-tall shell-shaped pavilion with three tunnel walkways. Inside the walkways, highly magnified images of barnacles, salt, water, and algae cover the walls, while a soundscape of original musical compositions fills the ears of visitors.
"My art calls attention to the natural world and industrial mutation. This I want to reflect upon the permanence of change and transience, where visual and aural elements transform between levels of perception," Cichocki says. "Are we looking through the microscope or the telescope? I find these elemental perceptions become indistinguishable at times."
Cocoon (B.K.F.+H300)
The designers at the Argentinian firm Estudio Normal used their installation to honor the iconic B.K.F. Chair that was initially conceived in Buenos Aires in 1938 by designers Antonio Bonet, Juan Kurchan, and Jorge Ferrari Hardoy. Over time, the origin story of the now ubiquitous sling-back chair has been obscured. "For us, it's very important because it's going back to the place where everything happened and the chair became very popular," says Estudio Normal's Martin Huberman. "But at the same time, it got copied and the original names behind it vanished, which were two Argentinian architects and one from Catalonia, Spain." The studio combined 400 reproductions of the B.K.F. chair to create a nine-story white cocoon to be appreciated in 360 degrees.
Mutts
When brainstorming ideas for her art, Romanian architect Oana Stănescu pondered on the unconditional love and support of her dog, Perry. She constructed three dog outlines in primary colored steel, the tallest of which stands 18 feet high. The insides are stuffed full of indigenous greenery in a celebration of nature.
La Guardiana
A 30-foot-tall statue of a woman topped with horns and a club in her hands towered over Coachella as a guardian looking out for the world's refugee populations. The sculpture, created by LosDos (husband-and-wife Ramon and Christian Cardenas), was based on previous artwork made in collaboration with the band Rage Against the Machine.
"We definitely want to send a message of solidarity for the refugee and migrant communities with what's happening every day and all around the world due to many different things," says Ramon Cardenas.
Spectra
"Spectra" by UK-based design studio NEWSUBSTANCE has been in place at the Coachella festival since 2018. By day, the visitors can climb the spiral tower's seven stories to get a different colored view of the event from every floor. By night, LED lights illuminate the structure, leading guest up to the top for a full bird's-eye view.