6 Nativity Scenes You Probably Won't See Around The Neighborhood
Until the late 20th century, the iconic Christian nativity scene was almost always focused on accurately recreating the Biblical story of the birth of Jesus Christ. Among the most daring displays were those that featured real people and animals in the main roles.
Continue reading below
Our Featured Videos
Today, as creativity and social commentary continue to push the boundaries across almost all genres, people's interpretations of the event has become much more inventive, although many still prefer the classical interpretation of yore.
Here are a few of our favorite examples:
Barbie Nativity
In an effort to highlight the gaudy sense of consumerism that's tainted the Christmas season over the years, Argentine artists Marianela Perelli and Emiliano Paolini created this Mattel-toy driven nativity scene called "Barbie, The Plastic Religion." Ken and Barbie hog the scene in various costumes; the baby is the only original player.
Pork Lover's Nativity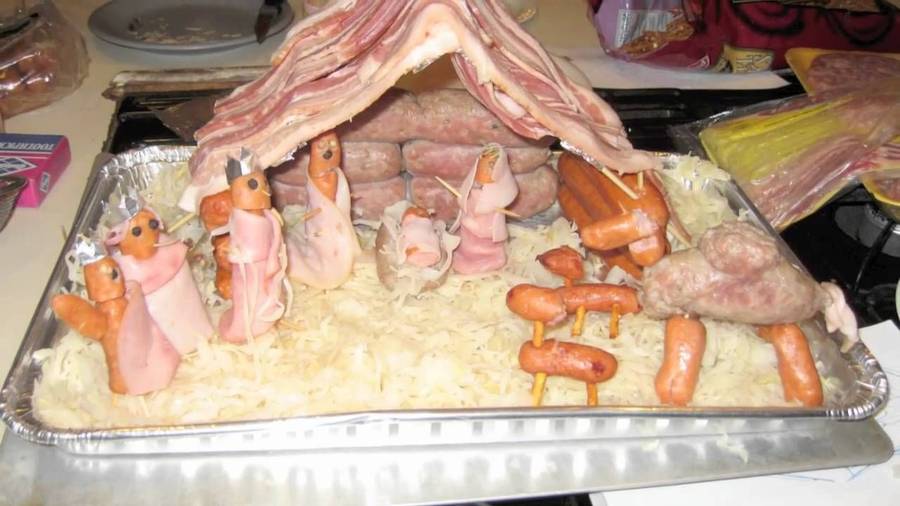 Back in 2010, one artistic Flickr user shared their bizarre take on the famous stable scene by making bacon and sausage the stars. The straw is made from sauerkraut, but the people and animals are 100-percent pork.
Vacuum Cleaner Nativity
If the spirit's right, a nativity scene can be created from anything. A Brit with an appliance store in the UK's Westcliff-on-Sea teamed up with his son to build this unique scene out of the line of Henry vacuum cleaners he sells to customers.
The Three Wise Aliens
Instead of bemoaning the commercialization of Christmas, artist Matt Henderson rewrote the nativity story altogether when he recreated the scene in a former church located in Portland, Oregon. Besides throwing an extra wise man into the mix (can't have too much wisdom), he also invited Santa Claus to the party. The characters were hardly recognizable in the end, with the magi being portrayed by space aliens and Santa decked out as a shaman with antlers on his head.
Cats in the Cradle
Sisters Annette and Sue Amendola spent over a decade carefully building a traditional nativity scene on their lawn in Red Hook, Brooklyn. Then they added food to the display, and the local stray cats quickly spread the word, edging Baby Jesus off his perch for their own enjoyment of that cozy hay.
Hipster Nativity
When Casey Wright designed "The Modern Nativity Hipster Nativity Set," he was thinking about how religions would be much more diverse if their hallowed texts and characters reflected today's world. His details mirror his vision: Joseph has a man-bun, wears a denim shirt, and snaps a selfie with Mary, who's holding a cup of coffee from a trendy shop. The Wise Men sport shades and cruise in on Segways with presents from Amazon. The event is shared on Instagram, and all the gadgets are powered by solar panels on the roof of the manger.