1930s Apartment in Milan Gets a Work-From-Home Renovation
For some people, working from home is an absolute dream: you get to sit around in your sweatpants, your commute is nothing but a distant memory, and best of all, you're never far away from your own refrigerator. But for others, it's a lot more complicated than that. There's no separation between work and home life, and no way to get away from noisy children. If you have plenty of square footage to work with, maybe converting the guest room to an office is the answer. But what if you live in a relatively small space, and you also need to occasionally host client meetings?
Continue reading below
Our Featured Videos
For one publishing professional in Milan, the solution was to make her living space more flexible. Her apartment is set within a historic 1930s building in the city's Viale Doria neighborhood and packed with gorgeous original architectural features, but it wasn't exactly ready to become her primary place of business. She enlisted the help of architect Elena Martucci to add some new features that disguise or reveal various functions as they're needed.
Sacrificing a significant amount of floor space to an office didn't feel like an option, and maintaining the original floor plan was a top priority. Martucci came up with a brilliant concept in reply, removing a long corridor wall to open the living room to the entryway and adding a series of massive cabinets that match the look of the space. The biggest one, lacquered in matte white, serves as a pleasant, neutral backdrop for the dining room and kitchen, allowing them to function as meeting areas with a professional ambiance when needed.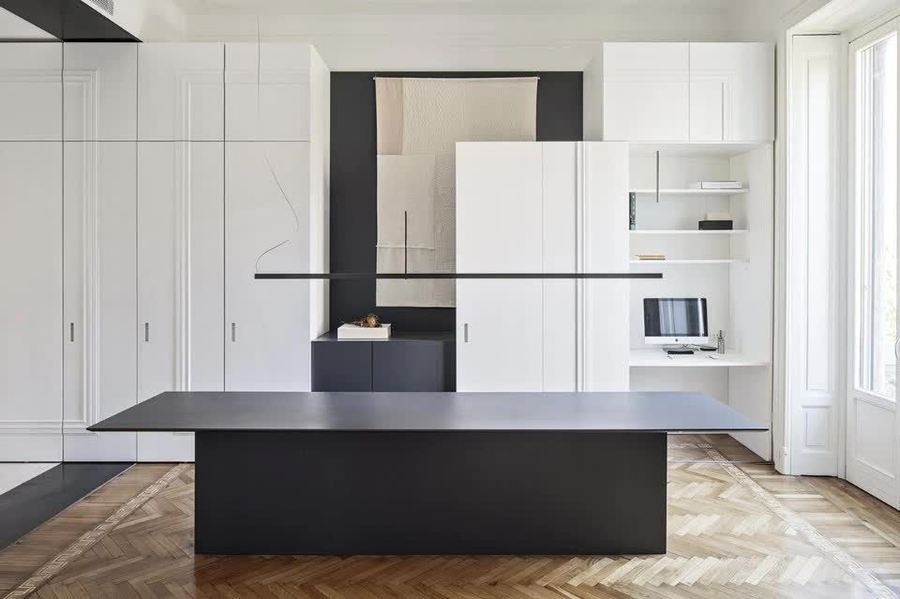 As unreal as it may seem, that cabinet now houses a home office, laundry room, storage room, refrigerator, wine cellar, and other appliances. When it's all closed up, visitors walk in to see a living room that doubles as a lobby and the dining room/meeting area, all exuding a homey feel without revealing all the small, distracting elements of domestic life. A long surface pulls out of the kitchen island to extend the workspace. The entrance door has also been expanded to double its former size for a spacious feel, and an additional new cabinet has become a coat closet for both residents and guests while also acting as a partial room divider.
Martucci made changes to other areas of the home, too. A new walk-in closet makes the master bedroom more functional, while the owner's young son now has a fun soccer-themed bedroom with walls mimicking the stands of San Siro stadium and a "goal net" acting as a built-in hammock.
Aesthetically, the loft maintains its antique character, but it's now augmented by a modern edge. Rooms that were once closed up by the corridor are now open to each other, though they remain visually separated by dramatic iron frames. Small details by interior design firm Antenor de Almeida of Arcarreda bring it all together in the living room, like the way the new closet cabinet mimics the rounded shapes of the original archways.
Data firm Global Workplace Analytics estimates that 25 to 30 percent of the workforce will be working from home multiple days a week by the end of 2021. What that looks like for you might vary dramatically from this high-end loft renovation, but there are definitely some ideas here offering great inspiration. What if, for instance, some of those cabinets slid on tracks, offering a compact office when needed and hiding out of the way the rest of the time? Could you frame out a new closet-style office in a corner of your living or dining room? There really are all sorts of possibilities to be considered.