10 Standout Projects from the "Design in an Age of Crisis" Competition
Even before COVID-19 came along, the world was facing multiple crises: social and economic inequality, the climate emergency, a shortage of safe, affordable housing, and unequal access to health care, among others. To make significant progress, radical ideas are needed. That's why the London Design Biennale put out a call for submissions to "Design in an Age of Crisis," a show committed to fostering international dialogue about solutions to these challenges.
Thousands of designers and firms around the world participated, producing a dazzling array of proposals in four categories: environment, health, society, and work. They range from fun and lighthearted distance-encouraging wearables for kids to inclusive sustainable villages and everything in between. We've gathered 10 of our favorites here, and you can see the rest at the Biennale's official website:
Continue reading below
Our Featured Videos
For designer Saorla Hanley, the pandemic demonstrated a dire need for a push in building social housing in the United Kingdom. She proposes wheelchair-accessible housing for a small brownfield site in Greenhill, Harrow, England that can serve the diverse population, including large families with multiple generations. The four-bedroom houses are centered around a communal garden.
Shiro Muchiri calls on the design community to find ways to introduce diverse socioeconomic groups to each other through design work and projects. "I believe that a more dynamic and active platform for idea sharing and collaborations should be created. Making the process of transforming great ideas into reality faster, more effective, and inclusive," he says, adding that "we should form a type of institution or organization that can bring together brilliant ideas, extraordinary skills, advanced technology, and technical know-how to a central hub. A hub where design professionals can reach out to each other as a resource that can enable them to put together, showcase, and bring into our living spaces, workplaces, homes and other living environments, worldwide artistry, skills, and craft."
A description for this project on the Biennale's website explains that "the 'Active Classroom' is a series of ergonomic children's furniture designed for the school of the future. As a diverse alternative to the deep and unhealthy habituation in chair sitting, the four stools encourage a frequent alternation of different postures to increase muscular diversity, starting with the youth."
Mudd Architects and Airlab joined up with young designers to propose a series of "Pop-up Ecosystems" that add green spaces to existing buildings to improve mental health. These ultralight spaces mimic proven techniques that have already been deployed in public pavilions and installations, but subvert their usage for growing plants with roots that grip directly onto the fabric as they grow.
Disconnection with nature is a growing problem in many societies around the world, contributing to neglect and destruction of the planet. Designer Romy Snijders believes that we should be learning more about "the language of trees," learning by way of nature's example. She says: "We know that trees communicate with each other through a network of mycorrhizal fungi. The designed tools would allow us to listen to this communication and see which trees are connected. Insight in the communication between trees can help us protect the forest and improve environmental health."
Most correctional facilities focus more on punishment than reform or restorative justice, perpetuating cycles of crime instead of breaking them. Megana Mikusciauskaite believes we could change the way incarcerated people view their roles in society by nurturing their relationships with their families. "Co-Food" connects inmates with volunteers to learn new skills and share in food-based and gardening projects that their family and friends can also participate in. She adds that "participatory design would attract not only family members, but also different audiences, creating an opportunity for bridging social capital."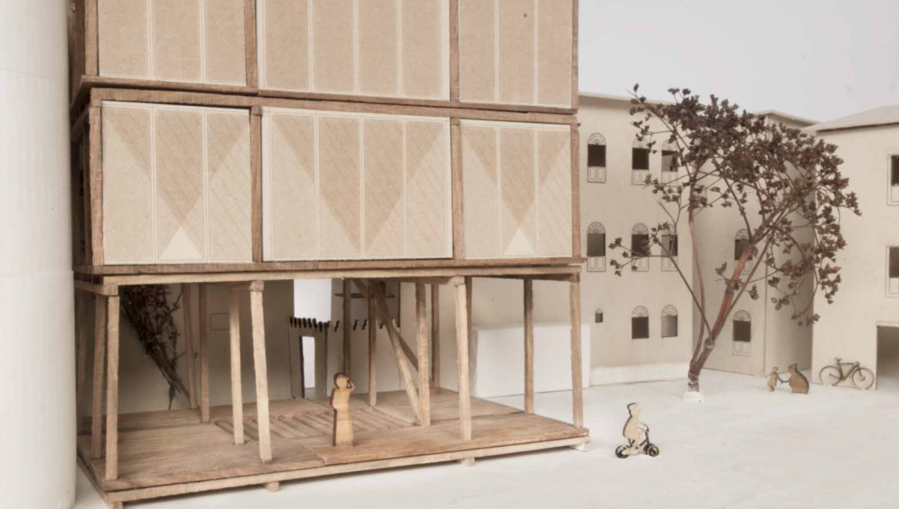 The Biennale website hails this "master project in architecture" as "interpreting the potential architecture of the lost women's spaces in Old Stone Town, Zanzibar; how can architecture support female empowerment? Through a collaboration with local stakeholders, this project considers women's position in a Muslim context were there has been a distinct gender separation traditionally."
Low-cost elevated modular structures could create new garden spaces in urban areas without having an impact on parking availability. This project enables urban farming, mitigates pollution, and provides open green spaces for smaller communities while also providing shade for cars in parking lots.
"'Insectology: Food for Buzz' is a series of artificial ongoing flowering flowers meant to serve as an emergency food source for the 'big five of pollination.' Together with engineers and scientists, these five colorful man-made flowers have been developed to be self-sustaining and continuously produce natural objects that form the ultimate attractions to those of the big five."
As we age, it gets harder to find our balance, increasing our risk of falls. WeAlign is a concept for gamified exercise that improves gaze stabilization. Your head movements control the game, ultimately helping your balance improve. Best of all, the program makes physical therapy fun, tracking both qualitative and quantitative data about your progress.