Zabuton: Wooden Sofa Inspired by Japanese Floor Mats
For centuries, sitting, dining, and even sleeping on the floor was common in Japan (and still can be, in certain parts of the country). That may sound uncomfortable to people who aren't used to it, but tatami mat floors covered in straw actually make hard surfaces considerably softer than you might think. In many cases, these mats are used as an alternative to furniture, making the layouts of rooms more flexible.
Continue reading below
Our Featured Videos
Design studio UMÉ took inspiration from this tradition for Zabuton, a new modular sofa system made primarily of wood. The base of the sofa is simply a wooden board and feet that elevate it a couple inches off the ground. A variety of modules can then be placed on top in all sorts of configurations to produce custom seating, beds, and tables.
"The result is an experience combining the very intimate, low, simple and un-ostentatious quality of the Japanese traditional items — and the very generous, comfortable, social aspect of modern couches," say UMÉ designers Victor Lefebvre and Mei-Lan Tan.
Developed in collaboration with Takaokaya, a Kyoto-based futon maker, the Zabuton is named for the cushion traditionally used on tatami mats or floors. The sofa can also be fitted with soft cotton pads, bolster pillows, wooden partitions, and futon mattresses handmade by Takaokaya.
"Successive generations of Takaokaya have continued to nurture Kyoto craftsmanship for over 1,000 years, creating products with soul that are true to the times and yet draw on the traditions unique to the former capital," say the designers. "Every step of their process is hands-on."
Futon masters in Tokyo massage cotton filling to create an even layer before hand-inserting it into the Zabuton's futon and bolster sleeves. Meanwhile, in Oakland, UMÉ handcrafts the wooden elements like the frame, plinth, and partitions of each sofa out of maple. The partitions are contoured so the textile elements can be draped over them comfortably, but they remain beautifully simple and minimalist in silhouette.
The partitions come in two sizes: a full-height backrest and a low table. They bolt onto the frame in various directions and can be easily rearranged whenever you feel like it. You can use them as double or single backrests, seat dividers, armrests, or surfaces for your mugs and phones. The base of the Zabuton is also long enough for an adult to lay down on, so it can function as a bed, a full-sized couch, a back-to-back lounger for two, or anything else you can come up with.
The sofa's fabric elements consist of cotton and linen and can be customized for several different colors, patterns, and textures. The result may be far from a Westerner's idea of a couch, but it's also a great way to shake things up in your living space, and an interesting addition to floor-based "furniture free" philosophies of living.
A statement on UMÉ's official website explains that "UMÉ Studio is a design practice where traditional craft meets contemporary tastes in delicate yet purposeful objects tailored for everyday living. Founded by Victor Lefebvre and Mei-Lan Tan, their studio is the final stop in their design process journey. They begin with months-long travels to artisan workshops in many corners of the globe to render century-old skills and techniques, collaborating with a network of artisans and designers dedicated to their craft."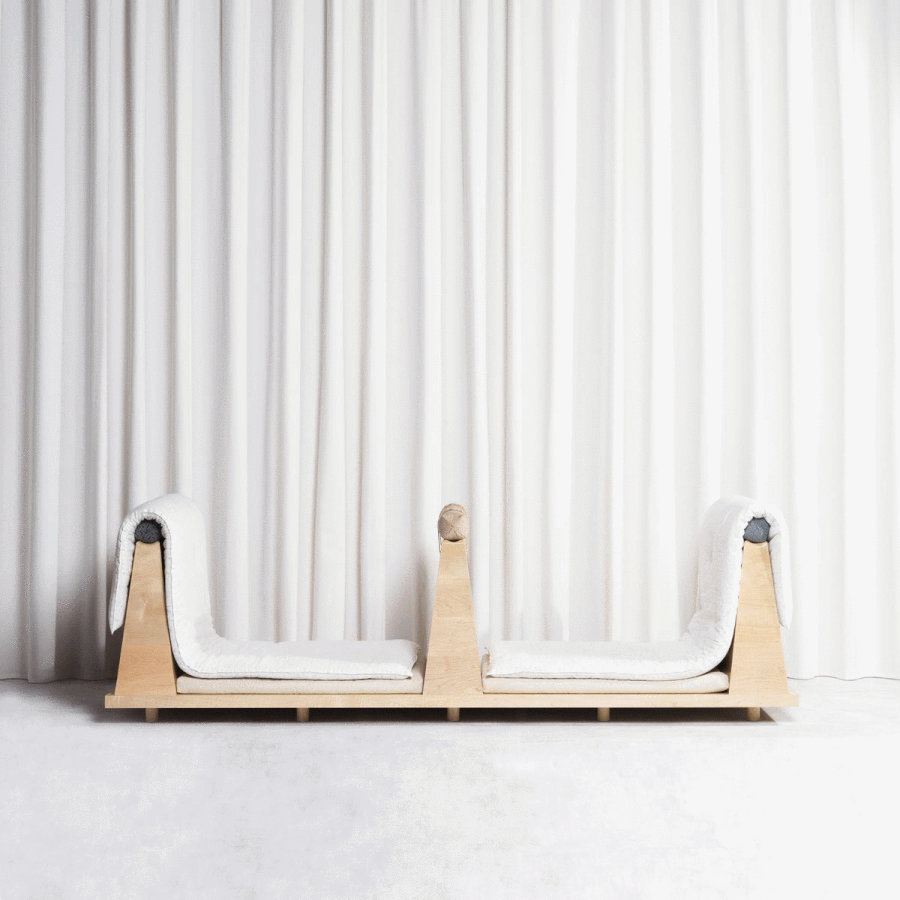 "Keeping these traditions alive is essential to the studio — so is updating their forms and bringing these timeless techniques into the now to achieve authentic, distinctive designs."