Treeless Treehouse: Multi-Level Play Structure for a London Backyard
Treehouses offer a unique experience that lets you feel like you're one with nature, nestled up in the canopy within a safe and comfortable structure. Building directly onto a tree is usually the point, and perhaps the defining feature. But even if you don't have a proper tree to provide strong support, you can still mimic the feeling of a treehouse by building a self-supporting "treeless treehouse" structure of the appropriate height and scale — one that brings you to eye level with the surrounding boughs and branches.
Continue reading below
Our Featured Videos
In London, a family with young children did just that. Lacking any mature trees of their own, they were saddened by the loss of a neighbor's ailing tree, which provided shade and a sense of a natural environment to their urban backyard. They turned to architecture firm De Matos Ryan to build a play structure that evoked the wonder of a treehouse. Completed in 2021, the "Penfold" project is an unusual take on playhouses that could be mimicked in other treeless environments.
"All children have an unencumbered view of the world, who, given the opportunity to express themselves, can act as a catalyst to highly innovative and imaginative concepts," say the architects. "Together we developed ideas around a den which was inaccessible to adults but had a crow's nest, referencing their favorite cartoon Danger Mouse, in which the reluctant sidekick, Penfold, is a timid, bespectacled hamster."
"Penfold's codename 'Jigsaw' gave license to develop an entirely sustainable geometric timber frame that was elemental and simply looked like the way it was built. The structure needed to be prefabricated in pieces and carried through the house via domestic scaled doors. When assembled the triangular Douglas fir frames combined tom are a truncated pyramidal form. The Siberian Larch slatted cladding has a stainless steel cable lattice to encourage climbing plants over the volume and ultimately create the sense of a tree that never was."
De Matos Ryan wanted to give Penfold an unusual form and abstract scale so it could become anything the kids can possibly conjure up with their imaginations, from a pirate ship to a castle turret. Since it's so tall, they had to get planning permission to build it, which was granted only on the provision that the family must remove it if the property is ever sold. Thankfully, since it's modular, that just means they'll have an opportunity to pack it up and take it with them if they like.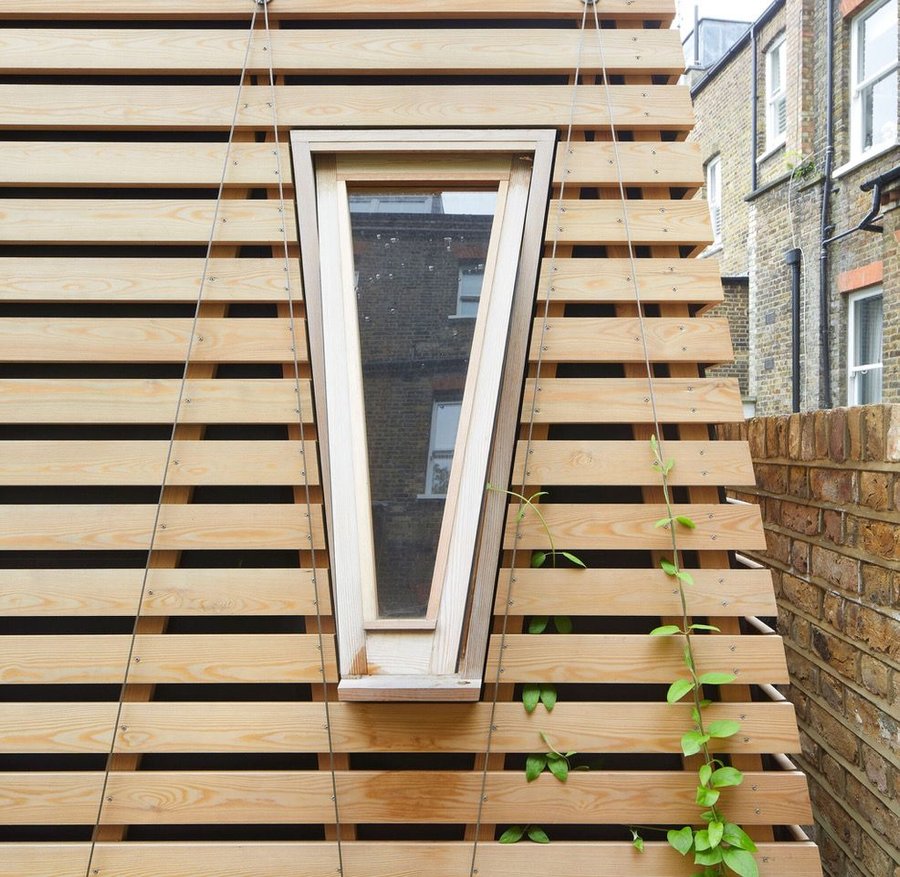 This idea of allowing vines to climb up over the structure to give it a lushly vegetated feel is brilliant. Whether or not any of the family's neighbors cut down additional trees, the kids will retain the fun and functionality of their treehouse, and the whole family will have something green to look at from their back windows.
The structure brings a sense of childlike wonder to the compact garden. Wouldn't you want to climb inside and explore it, too? Alas, the builders have ensured a "kids only" policy by building the entrance as a portal so low you'd have to crawl into an uncomfortably tight space to get in.