Things Could Be Worse: Teacups Adorned with Trolls, Zombies, UFOs, and Other Terrors
You might be having the most rotten, terrible, frustrating, and infuriating day of your life — but things could always be worse. A new set of teacups from Calamityware aims to remind you of that fact with a bunch of detailed illustrations in the style of Delft pottery. As you unwind with your mug of soothing bedtime tea, reflect upon all of the catastrophes that aren't happening right now. There's no zombie apocalypse, for instance. A giant troll didn't swipe your car off the interstate on the way home. Aliens haven't landed in their UFOs to eradicate humans from the planet. No one has actually resurrected any velociraptors.
Continue reading below
Our Featured Videos
This might just be the most fun twist on traditional Delft pottery you'll ever see. Dating back to the 16th century in the northern part of The Netherlands, the very Dutch craft involves artisans hand-painting intricate scenes of landscapes, windmills, and houses in beautiful Delft blue. Calamityware's version takes those idyllic scenes and inserts Sasquatch, giant frogs, pirates, sea monsters, cephalopods, and a "devil blob," among other horrors.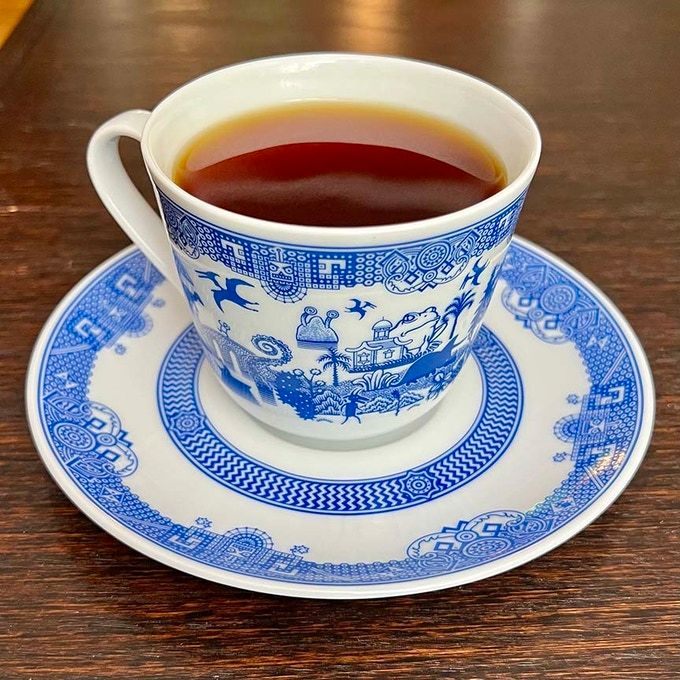 Available as sets of two or more cups and saucers, or saucers alone, the 8-ounce teacups add a new option to Calamityware's previous 12-ounce "Things Could Be Worse" mugs. They're all made and decorated at the award-winning Kristoff porcelain workshop in Poland using the traditional in-glaze technique and are food safe, microwave safe, and dishwasher safe.
By the way, Calamityware has a host of other "Things Could Be Worse" products on their website. To go with your new teacup set, you can purchase four different bundles of matching tea accoutrements, including a teapot, sugar crock, and creamer carafe. A special holiday edition of the mugs introduces giant robots, pterodactyls, and zombie poodles into a festive winter scene alongside Santa, Christmas trees, and giant gingerbread men.
As their Kickstarter page says, "Your Things-Could-Be-Worse Teacups and Saucers are sure to become treasured family heirlooms cherished for their beauty, utility, and humor. Plus, these teacups help you achieve inner peace by keeping life's setbacks in perspective and promoting a healthy attitude of gratitude. Things could be worse. In-glaze porcelain is fired at extra-high temperatures to allow the image to melt slightly into the surface of the plate. Connoisseurs will appreciate the beauty of the in-glaze technique which the artists at Kristoff have been refining since 1831. This is the look of porcelain you see in museums. Sweet."
The teacups are expected to be available in the shop later this year. A set of 2 teacups and 2 saucers sold for $68, while a full set of 8 of each cost $264. The original Calamityware mugs and other products are available on the company's website starting at $21.
About Calamityware
The company website explains that "Calamityware is a tiny, five-person, one-dog company headquartered in Pittsburgh. We love bringing the darkly whimsical view of our founder and chief monster-maker, Don Moyer, to life. Our products are high-quality, meticulously manufactured items that make wonderful gifts for you and other weird-adjacent people in your life. Our goal is to make you smile."