The Many Faces of LA's New Sustainable Roundabout
When you think about roundabouts, iconic examples like London's Silicon Roundabout and Place Charles de Gaulle in Paris are probably the first things that come to mind. For many people, it seems like more of a European thing, but even on other continents, these circular intersections are overwhelmingly common. Mexico City has El Ángel, Jakarta has the Hotel Indonesia Roundabout, and the small Caribbean island nation of Barbados has the Sir Garfield Sobers Roundabout. Although they're relatively rare in the U.S., New York has Columbus Circle, a place made famous by both movies and news outlets. Since 2017,  Los Angeles has also had its own roundabout, and it's much more than just a traffic gimmick.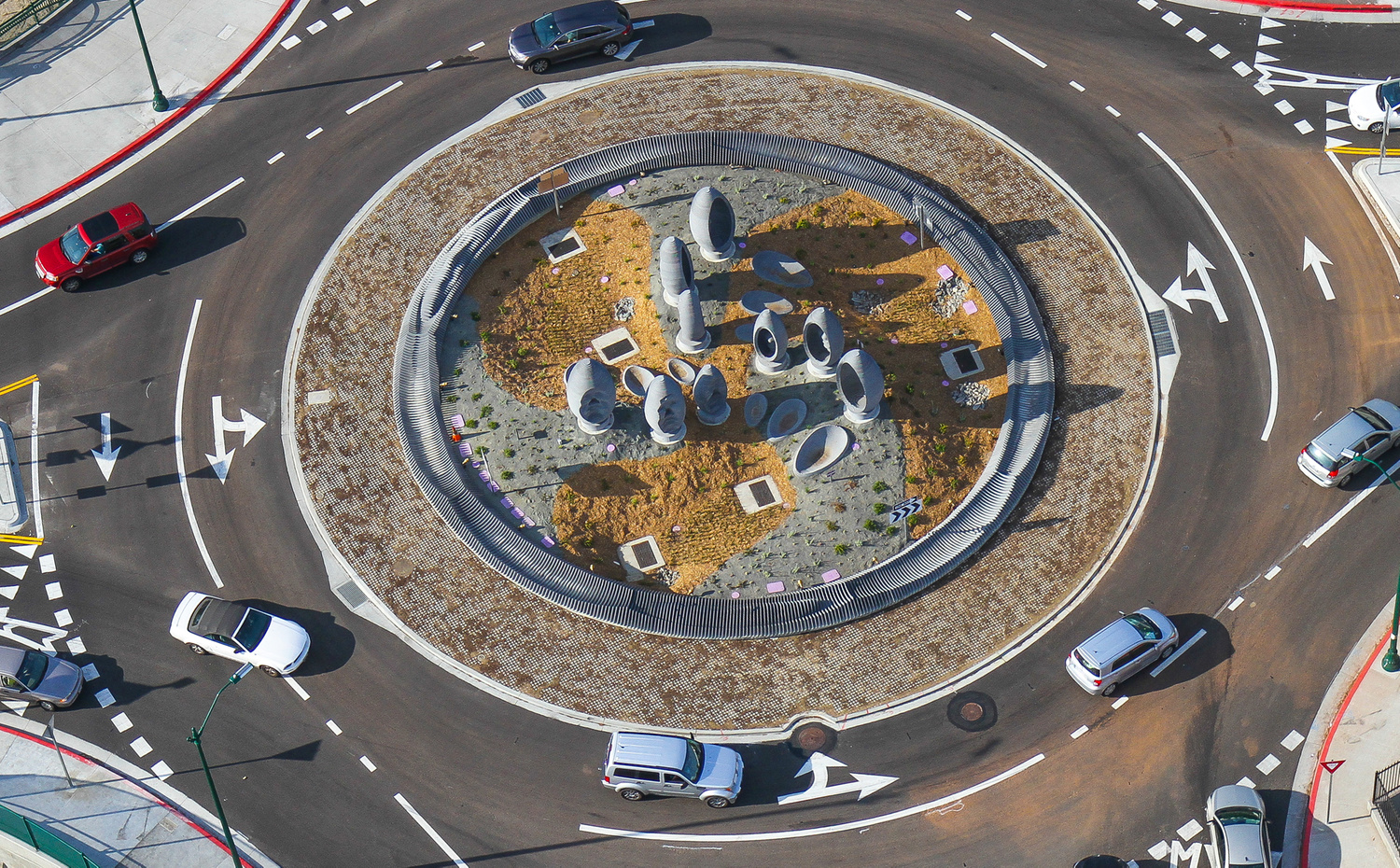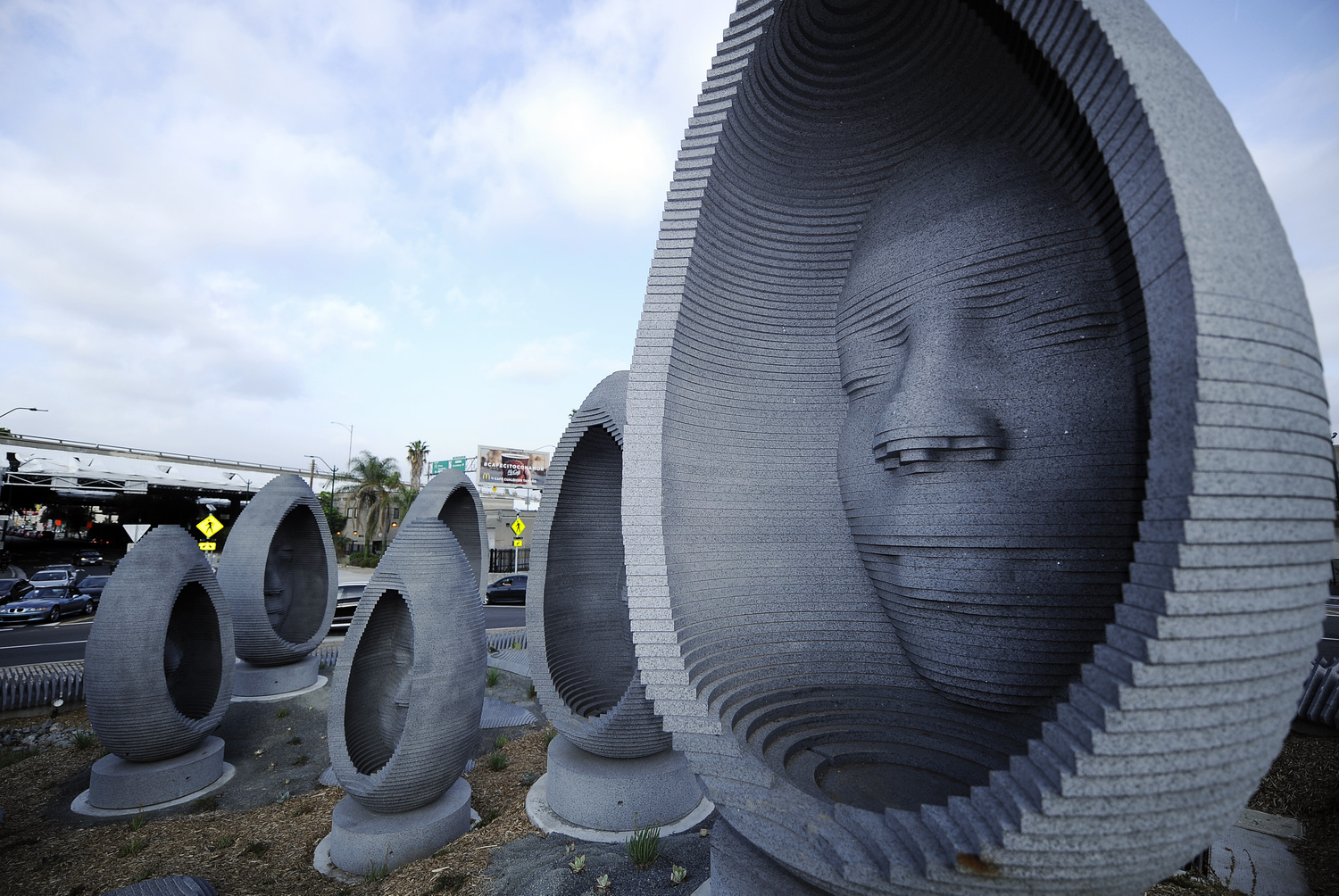 Continue reading below
Our Featured Videos
Similar to many roundabouts around the world, L.A.'s 100-foot-diameter Riverside Roundabout has a monument at its center: not an obelisk, statue, or flag, but rather a collection of small monuments. Faces of Elysian Valley depicts the faces of local residents, chosen at random from a volunteer pool of about 200 people. Created by Greenmeme, these nine egg-shaped sculptures were built using California granite and range from eight to 12 feet tall. Each granite face was produced by 3D scanners, allowing every forehead, eyelid, nose, cheek, lip, and chin to be accurately represented.
The faces have been intricately positioned in a way that will help drivers be better aware of how traffic is moving in the roundabout, in keeping with a traffic engineering requirement that helps motorists safely navigate areas like these. A granite traffic barrier was made from whatever stone was left from the Faces, protecting the center of the roundabout from the traffic coming from its three main thoroughfares.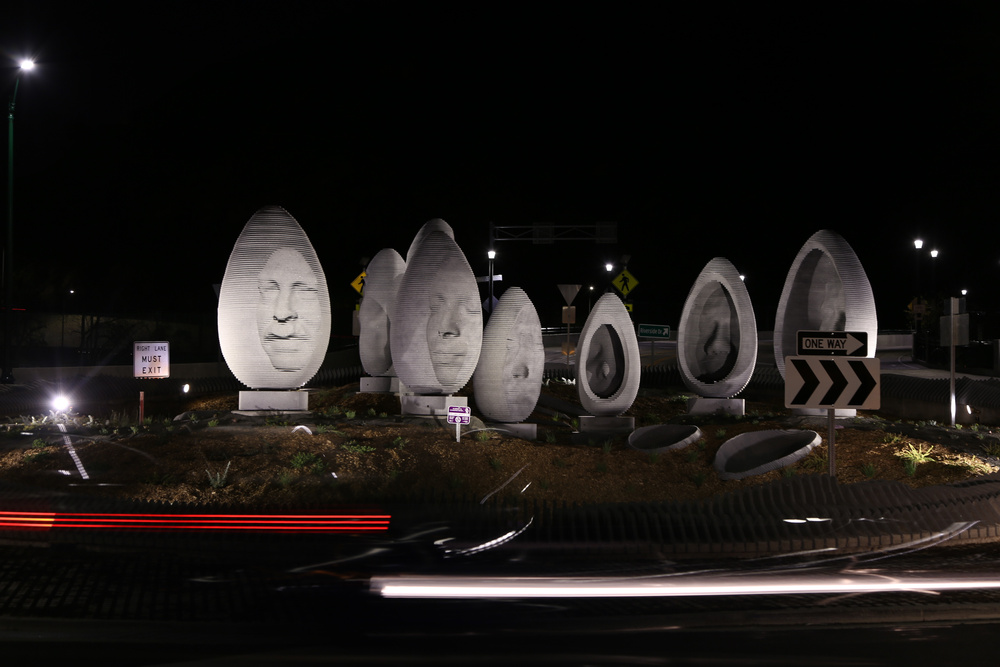 During the day, the sculptures look like monuments, with shadows concealing certain features depending on which way the sun is hitting them. At night, the lighting gives the Faces a haunting aura, which makes them look almost more alive than they do during the day.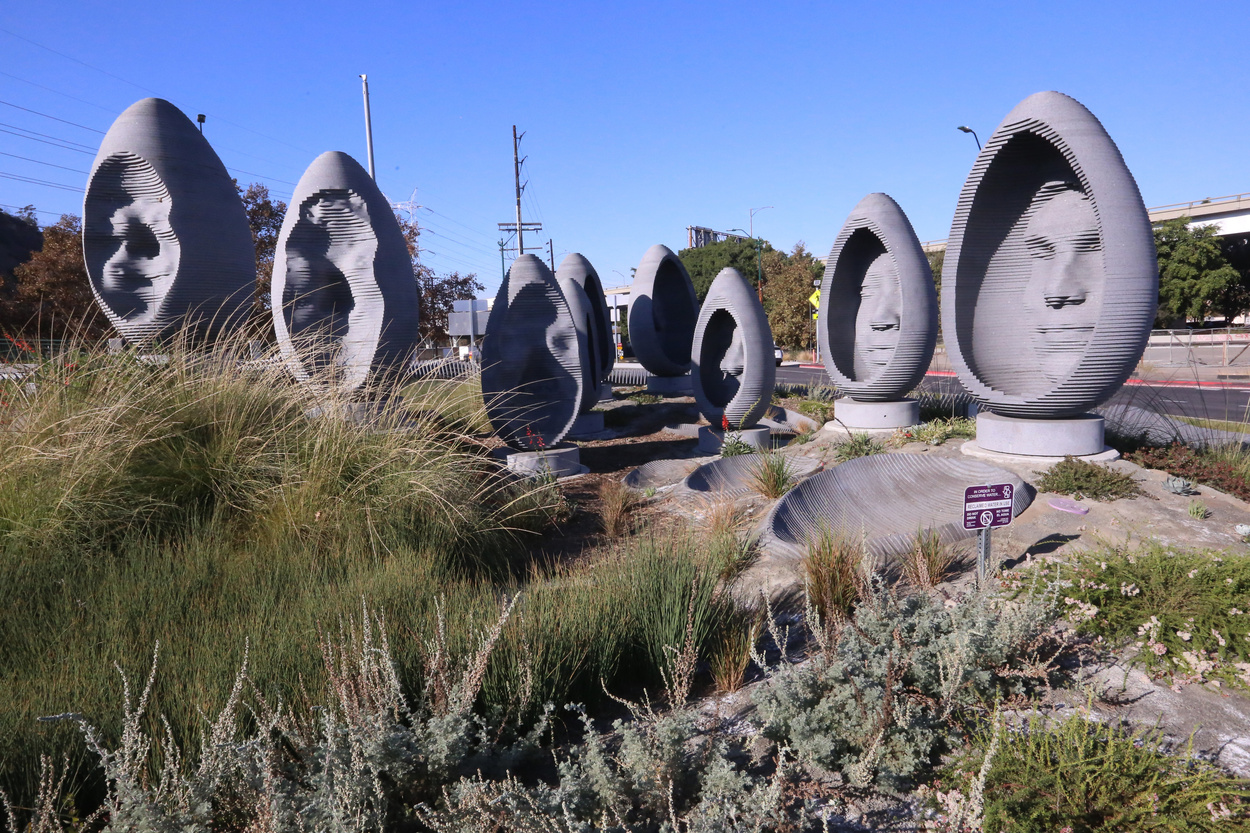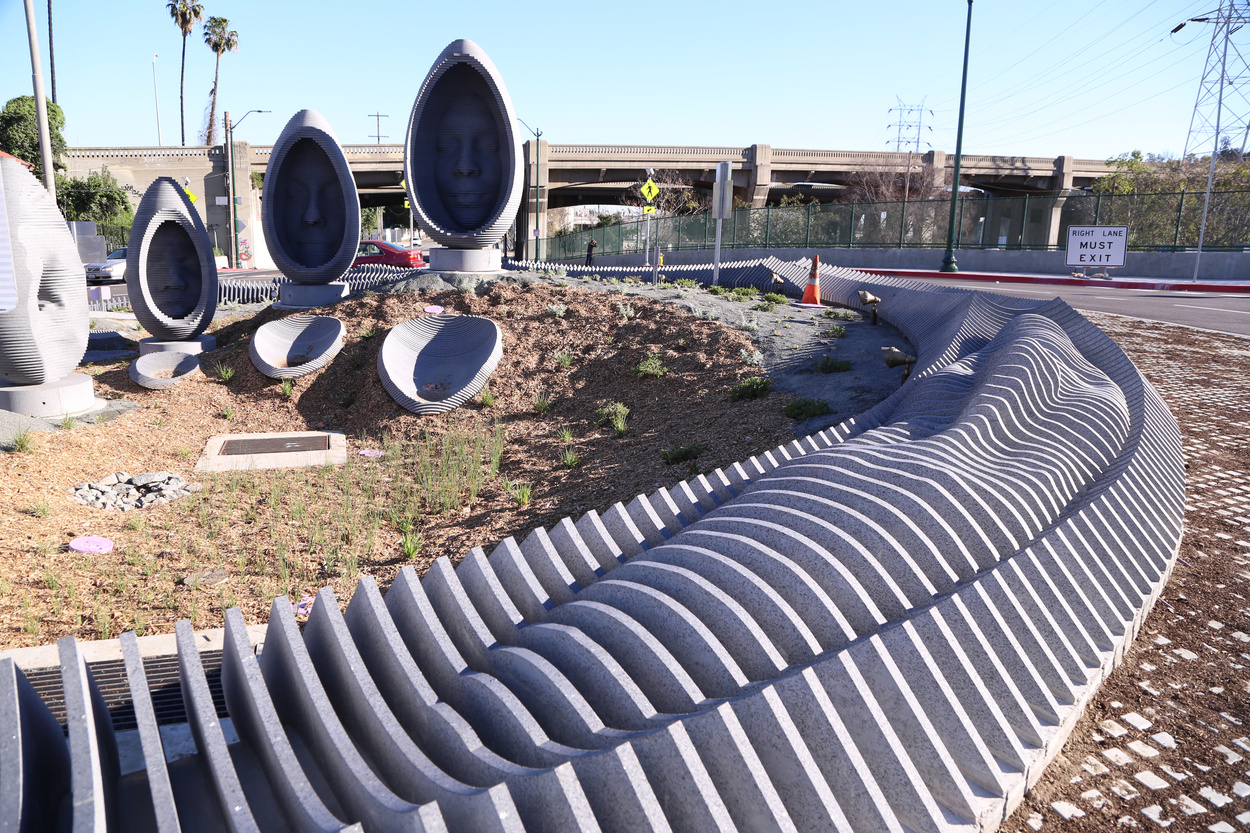 There's another, more sustainable face to the Riverside Roundabout that drivers cannot see. Beneath it all lies a 25,000-gallon cistern meant to capture rainwater. Some of that water is used to feed the vegetation in the roundabout. Keep in mind that Los Angeles gets very little rain for most of the year, except in January and February when rainy weeks are somewhat common. The sustainable roundabout makes up another part of the city's vast storm drain system, but it's also much more than that. People from the community use it as a park to relax in — something unheard of in other parts of the world, where the congestion alone would make such adventures undesirable. Even Mayor Garcetti could not help but show up to take a photo.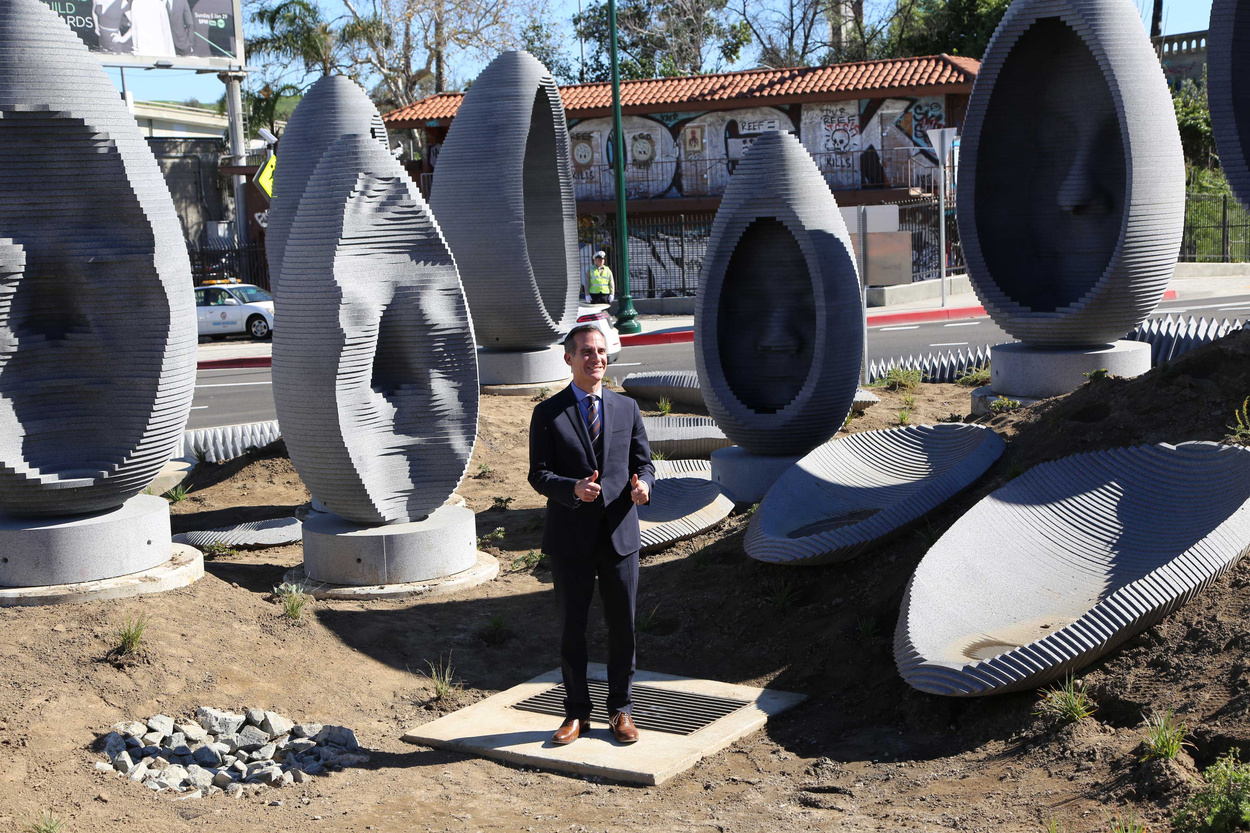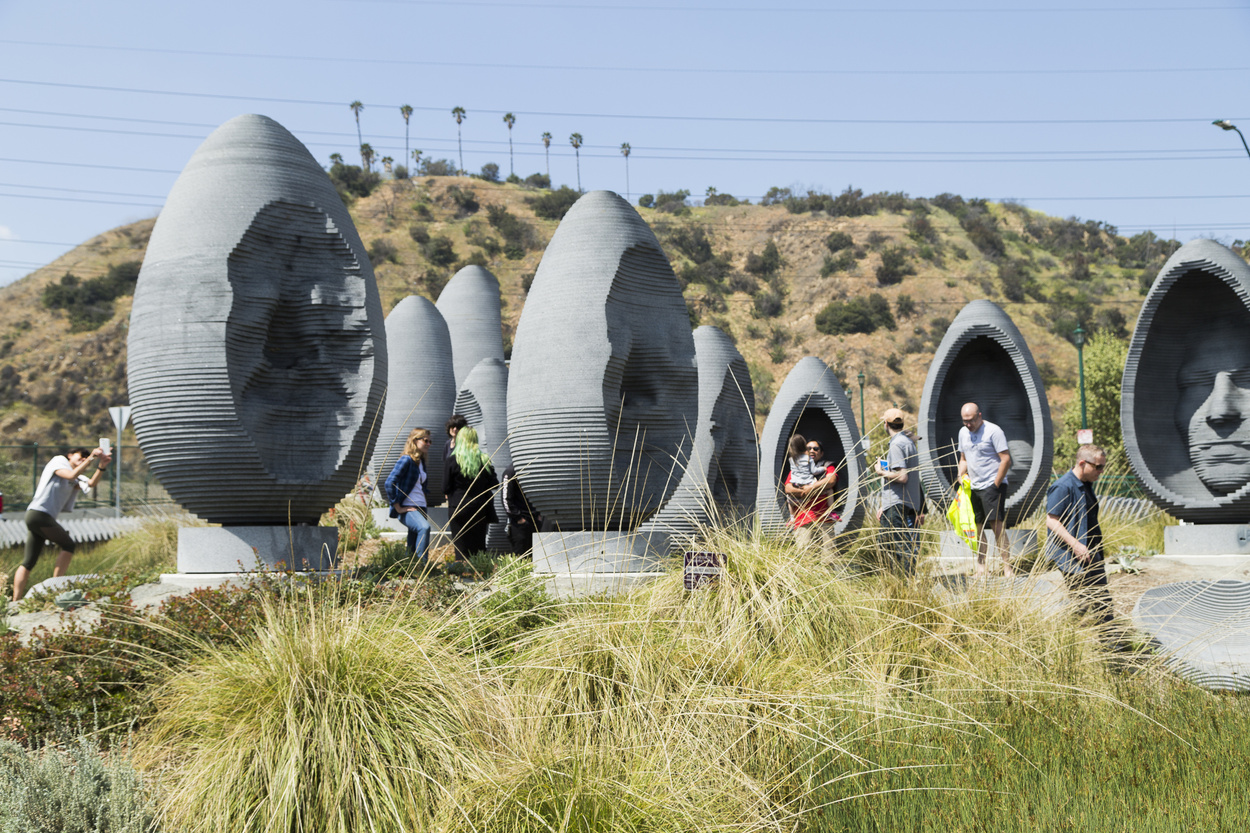 It could be that the Riverside Roundabout is so different for Los Angeles that the residents have taken to it differently than residents in other cities might. Where others see a dangerous intersection, the Angelenos who live around the sustainable roundabout see a small park reflective of who they are.