Superyacht Design Perfectly Recreates the Streets of Monaco
Perhaps the best part of design is the freedom it gives people to set sail on new concepts. That's exactly what British firm Yacht Island Design did with the design for a new superyacht that recreates the major attractions in Monaco, including the Monte Carlo Casino and the Grand Prix course.
Continue reading below
Our Featured Videos
The team began with a big idea and funneled it down to reality. Company director Rob McPherson explains: "The design theme called for a unique yacht that reflected the style and sophistication of the principality. We want[ed] to create a truly unique environment that could take the principality of Monaco to the ocean."
For size and layout, they began with one of the most recognizable attractions in Monaco, the Grand Prix course, and modeled it to scale in hopes making it an onboard go-kart track capable of supporting three go-karts side by side. With the track hammered out, the designers turned their attention to replicas of the Monte Carlo Casino, Hotel de Paris, Prince's Palace, Loews Hotel, Port Hercules, and La Rascasse.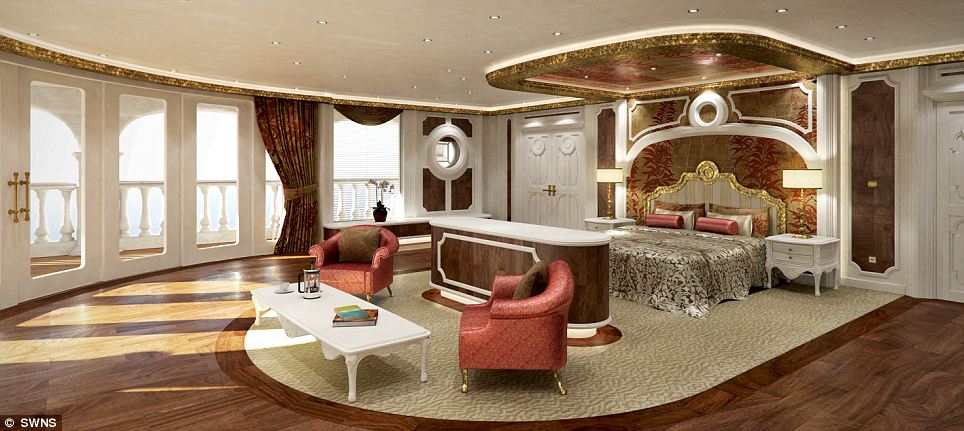 The yacht is designed for the comfort of 16 guests in eight rooms, including seven guest suites that each include their own reception room, bathroom, dressing room, bedroom, and balcony. The larger VIP suites have the added luxury of a private office.
In a separate wing, the owner's apartment covers three floors and 1460 square meters. It's made up of multiple balconies, an office, bedroom, bathroom, his/hers dressing rooms, private courtyard, sunroom, and private sundeck complete with a jacuzzi and swimming pool. The apartment also benefits from a listening room and sitting lounge with fireplace. Even better, a private lift provides access to all three decks here.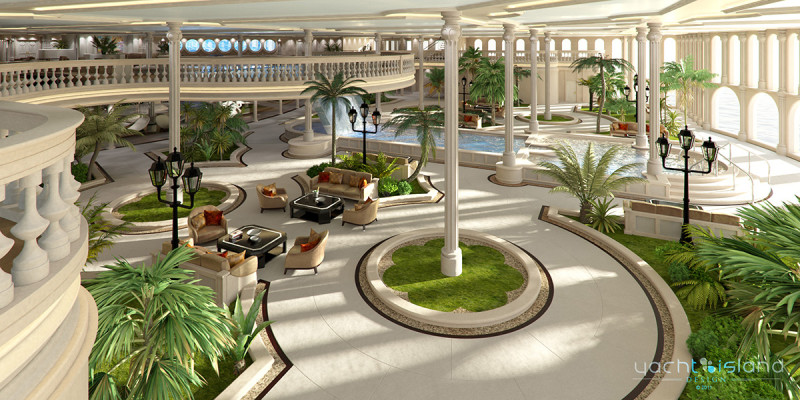 A yacht this size (500 feet) is meant to be shared with friends, of course, so the designers also made sure to include public areas all throughout, including pools, cafés, a library, and a spa complete with a manicure and hair salon, private massage suites, sauna/steam rooms, and a large relaxation lounge featuring an accompanying spa pool and bar. "The Oasis" is located near the ship's boarding area, where guests are greeted by a replica of the gardens right outside the Monaco Casino. This area also boasts a waterfall that spills over from the upper pools into the lower ones, as well as multiple landscaped paths and private sitting areas.
Get your game on with a battle at the yacht's tennis courts, or hit the basketball court that doubles as a helipad for those guests that might have to fly inland for meetings. If helicopters aren't so much your thing, you could always jump into the yacht's submarine for an underwater adventure, or park a smaller yacht in the designated parking space and use it as your commuter vessel.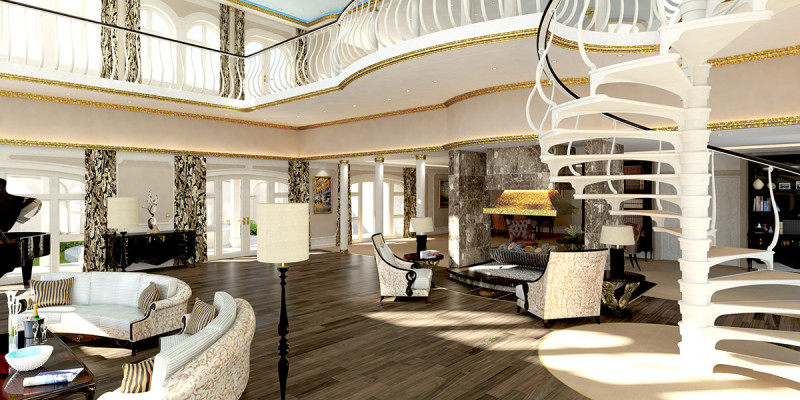 Obviously a luxury superyacht designed to replicate the city of Monaco isn't for everyone —especially if you can't cover the estimated $1 billion price tag. However, if money is no concern to you, you stand to own one of the most expensive — and likely the most original — boats in the world.