Subterranean Fridge Pod: Keep Food Cold Without Electricity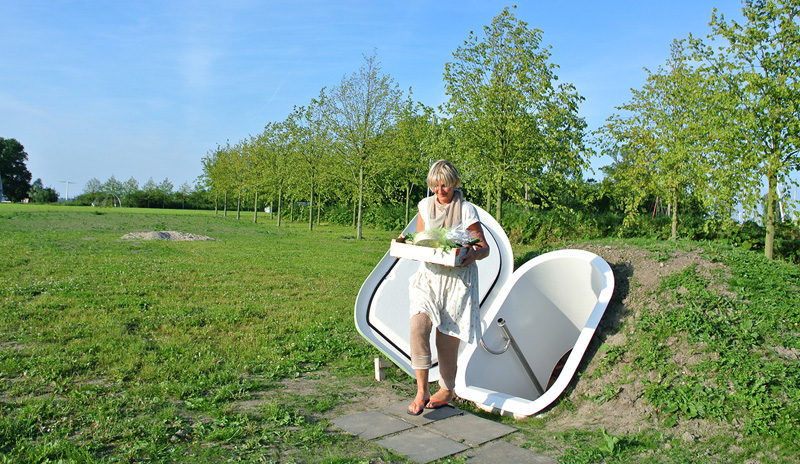 Continue reading below

Our Featured Videos
Sink this spaceship-like prefab pod into your yard and you'll have an instant electricity-free refrigerator that can keep foods fresh and chill your wine thanks to insulation from the soil. 'Ground fridge' by Floris Schoonderbeek for Dutch brand Weltevree is based on traditional root cellar designs. Bury it just three feet deep, and it'll stay between 50 and 54 degrees Fahrenheit year-round, the ideal temperature for most produce, wines and cheeses.
The whole thing weights 661 pounds and measures about 7.5 feet in diameter, and boasts an aesthetically pleasing arrangement of curving wooden shelves. There's no permit required to install it, and you pack the soil displaced by the unit on top to create a little hill from which the door will emerge.
The storage capacity is equal to that of about 20 standard refrigerators, up to 1100 pounds of food or the bounty of a 2,690-square-foot garden. Crafted from laminated polyester, it's strong enough to resist the intrusion of tree roots and other plants, as well as pests.
"The transition to a self-providing food chain showed me the loss of storage facilities," says the designer. "I set out to solve this in a sustainable and comfortable way. The Groundfridge is a combination of old and proven techniques in a present-day application."