Steampunk House: Retro-Futuristic Victorian Refab
Between science fiction fan art and historical Victorian remodeling, this turn-of-the-(20th)-century Craftsman-style home was radically remodeled into a blend of new-age fantasy and original reality.
Continue reading below
Our Featured Videos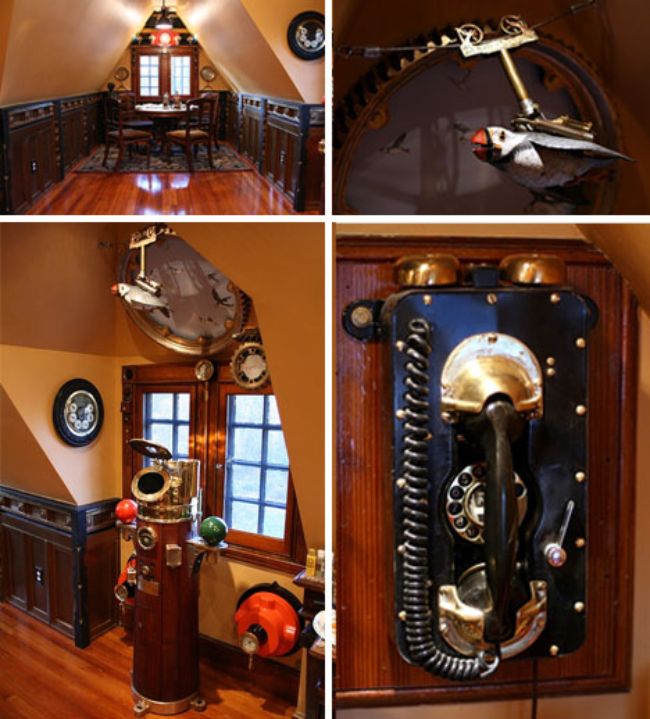 ModVic is a restoration-and-redesign business that started with a leaky roof and ended in entrepreneurship as Bruce and Melanie Rosenbaum discovered a love for fixing and enhancing period pieces, starting with their own house.
Their pinnacle piece (to date) is appropriately and simply titled the Steampunk House, and has won them national acclaim and professional attention. Its contents range from era-specific antiques to creative Steampunk-style hacks, mods and additions.
Reuse is rampant throughout, in the form of modified or outright recycled appliances as well as pieces and parts (many of which originally had nothing to do with home interiors), including fire hoses, steam whistles, decorative mantels, rotary telephones and typewriter keyboards, modified and adapted for modern living.
An antique printer's bench and salvaged pedestal are joined in the kitchen to create an island and countertop, accompanied by a series of ornate metal stools with original bases and reupholstered seats.
A converted wood-burning stove now serves electrically-cooked meals, while an adjacent vintage water tank provides drinks for the couple's puppy. Updated light switches use worn metal face plates, but include modern dimmer switches.
Its owner and co-(re)creator highlights the importance of having the right craftsmen to make a project happen: "Throughout the years – my wife and I have been able to identify trustworthy carpenters, painters, plumbers, electricians, color consultants, architectural historians, architects and others who love restoring older homes. We rely on all these partners to make it all happen – every time we work with these passionate professionals – we feel it's a spiritual journey for all of us of uncovering our past and preparing for our future."
"We see Steampunk and repurposing as a beautiful, functional solution to a variety of design challenges."