4 Rooms in 1: Space-Saving Bachelor Pad
Pack it up, pack it in, then rearrange it again: an upper-story loft made out of 250 feet of usable square footage sounds like a recipe for cabin fever. That would make this the outstanding exception. Combining elements of Japanese architecture and boat cabins, a whole world unfolds from one tiny room in Barcelona.
Continue reading below
Our Featured Videos
Tiny apartments can be incredibly challenging, even for a sole inhabitant. Often, you're required to downsize your life and possessions dramatically, practically to the point of becoming a monk. It can feel virtually impossible to fit everything you actually want, need and use on a regular basis into a space this small.
Christian Schallerton finds a way around that problem. Actually, a large number of ways, in the form of creative built-in furniture and space-saving innovations. The result is undeniably impressive, and might just inspire you to dream up some transforming elements of your own, if you're in need of them.
What starts as a living room becomes bedroom or dining area on demand, utilizing fold-up and flip-down furniture, never-ending nooks, crannies, cupboards and chests to squeeze every last square inch for storage space.
To give just one example of the transformative thought that went into this refab: the roll-out bed slides out from under the exterior deck, doubles as a bench or couch, then serves as a staircase to the outdoors as well.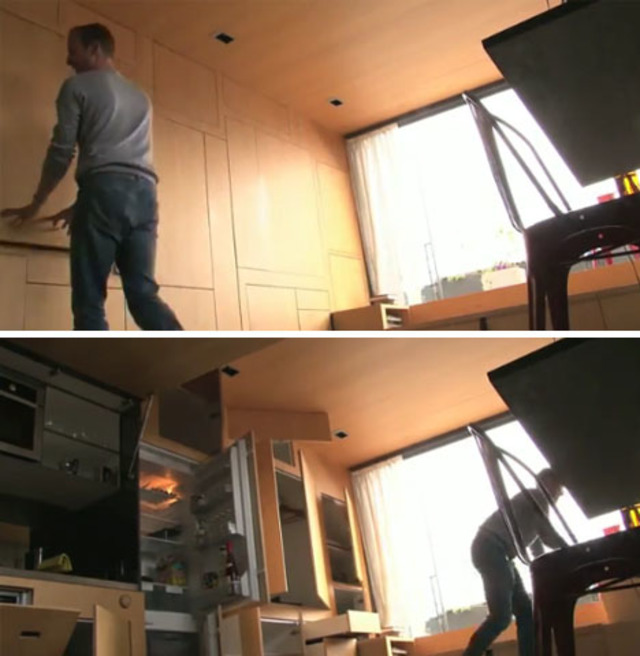 Shelves, sinks, dishwasher and pantry are also all tucked into the walls, out of the way unless needed. Toilet and bath are built to bare minimums, serving required functions without taking up too much room.
In fact, when everything is closed, it is surprisingly hidden from sight, making the place feel almost empty. Still, once he found himself in a relationship, Christian Schallerton (via FairCompanies.com) realized that for all its vaunted advantages this retrofit was better suited to a bachelor than a couple.