Sony's Highly Anticipated PS5 Gaming System Expected to Hit Stores by Christmas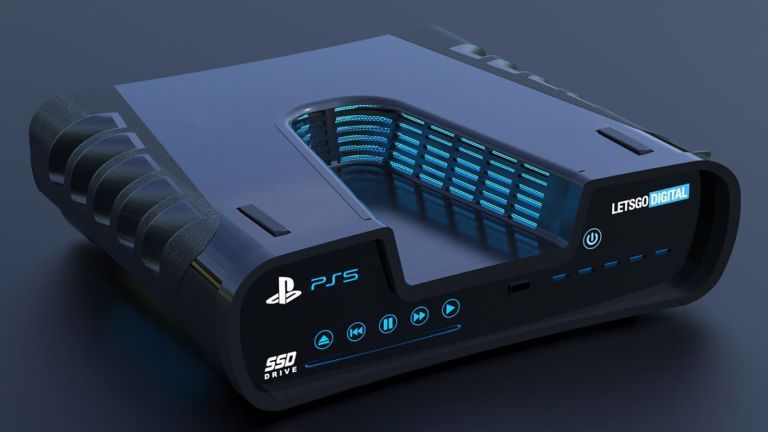 Continue reading below
Our Featured Videos
Christmas morning might seem a long ways off right now, but isn't the anticipation of one of your dreams finally coming true really the greatest gift of all? And in the midst of a world gone mad, we can all stand to find a little solace by just closing our eyes and picturing a PS5 on the table in front of us.
Yes, the release of Sony's newest gaming system is right around the corner, and it's going to be stacked with features fans have been craving for some time now (not to mention a couple surprises). Here are a few of our favorites:
SSD (Solid State Drive)
Mark Cerny, Lead System Architect on the PS5 upgrade, explained that SSD was the Sony developers' main focus during the design process because it "gives the game designer freedom" to make faster, more flawless games. He added that the new console's SSD would load games around 100 times faster than the PS4's drive. Environments will be larger and more detailed, and players will be able to take it all in practically real-time.
The upgraded internal SSD drive also means no more waiting through copying delays after the updates are loaded, a common frustration with games that have repeated patches like Call of Duty: Modern Warfare.
Backwards Compatibility
https://www.youtube.com/watch?v=og2CJ4ZNodQ
If you have a cabinet full of PS4 games you've been neglecting, dust them off and get ready for a marathon. Both Sony and Playstation verified that the PS5 is ready to install and play PS4 games. While you will be able to copy old titles directly to the PS5's built-in drive, the company highly recommends keeping them on an external drive to save the valuable SSD memory for newer games (especially if you have a pretty extensive PS4 library).
More Designer Delights
With the old system, a designer had to create an elevator ride, a useless windy hallway, or a ridiculously long staircase to give themselves the 30 seconds or so it took to load new things into the environment. Not so with the PS5 SSD. Cerny stated that the new technology is so strong that developers can simply load new sections without fretting over slowdowns or overheads.
Beta Testing and New Titles
Cerny promised that there would be a few PS5 game betas available before the end of 2020 for players who love to be part of the testing process. More concretely, he confirmed that Godfall, a private PS5 title, would be released during this year's holiday season. The Gearbox creation features both cooperative play and a solo mode and is described as a third-person "loot-slasher." Another highly anticipated release near year's end will be Outriders, developed by People Can Fly, who previously gained notoriety with Bulletstorm, and published by Square Enix. It chronicles humanity's fight to stay alive as it battles wicked extraterrestrial invaders.
Release Date
Like any other long-awaited release, no one at Sony is yet willing to reveal an actual date for the console's release. Holiday 2020 is the most common answer, which means anytime between Thanksgiving and Christmas. If you'd rather believe a juicy "secret" someone heard on the street, the PS5 will be released on November 20th — and with months to go before then, there are sure to be lots of other dates that circulate online beforehand.
The Cost
Gamers recall that the PS4 retailed at $399, so bets are on that the PS5 will be hitting the store shelves at $499. Another speculation is that perhaps PS5 will cost $399 for one day only, just to add a touch of insanity to the already crazy rush of buyers.