Sonoma County Cabin Has Its Own Pirate Treehouse
If you've ever wanted an adult version of those iconic kids' pirate-themed treehouses, then there's a real estate listing in Sonoma, California with your name on it. Don't worry, there's a lot more to this place than just the lazily strung up pirate flag you're probably picturing in your head. In the mossy forests of Monte Rio, a small town just a few hours northwest of the Bay Area, this charming getaway awaits — the perfect vacation spot for nature-inclined families or permanent home for the quirky hermit.
Continue reading below
Our Featured Videos
This half-acre plot of land is located along Sonoma's scenic Bohemian Highway (do street names get much more fitting than that?) and boasts an adorable one bedroom, one bathroom house. The tiny cabin, which takes up just 324 square feet, was built in 1959 and features weathered siding and brick red trim for a classic northern California forest home look. According to its sellers, every one of the cabin's nooks and crannies was intentionally built into it, from the kitchen's petite wood stove to the sleeping loft overhead. Luckily, the house has also been equipped with a few modern amenities over the years, including a full-sized bathroom with a clawfoot tub, an "efficient" kitchenette, a small refrigerator, two storage sheds, and plenty of parking space for large vehicles like RVs.
The interior's warm-stained wood resembles the giant redwood trunks outside and gives the entire home a rustic character. It's wider than the average tiny house, and its high ceilings and skylights make it feel much bigger than it really is. Still, this listing wouldn't be half as breathtaking as it is without the incredible nature around it (and, of course, that sweet pirate treehouse).
The cabin's back door opens onto a wooden deck that's been partially shaded by a handmade canopy. Imagine laying in a hammock out here and breathing in that fresh forest air! From this cozy spot, you can also take in the sights and sounds of a neighboring creek. Why not take a dip in it and rinse yourself off with the home's outdoor shower afterward? Nearby pathways lead to a "fairy ring" of towering redwood trees. If you're feeling especially adventurous, you might even try gliding down one of the zip lines that run through these woods!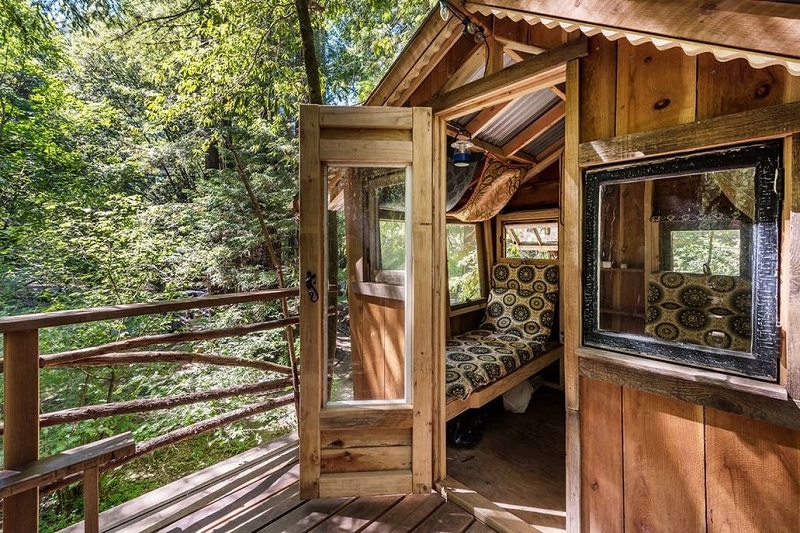 To access the pirate treehouse, which doubles as a guest room for two people, you'll have to climb a spiral staircase just outside the cabin. The treehouse has a deck of its own and looks like the perfect place to read a book, take a nap, or keep an eye on the water to make sure that no other pirates are coming for your treasure!
The Vanguard Properties brokerage company is currently listing the property at a price of $300,000, which isn't so bad compared to the cost of most California homes. If this charming cabin has caught your fancy in any way, you'd better act quickly. The tiny house is already attracting a lot of attention, and it could be snatched up any minute now.