Soft Cylinders: Every Piece in this Furniture Collection Starts with One Simple Shape
Sticking to a single shape for an entire collection of furniture might sound limiting, but somehow Ara Thorose manages to come up with virtually endless options. It all starts with a cylinder — a three-dimensional interpretation of a sketched line. Rendered as a soft and flexible physical form, it becomes the basis for fluid and expressive shapes that are structural and body-embracing at the same time. Thorose, an Armenian-American designer born in Los Angeles, clads it in a range of muted hues and sculpts it into furniture that doesn't much resemble furniture at first glance.
Continue reading below
Our Featured Videos
The aptly named "Soft Cylinders" series includes chairs, stools. and tables made of steel and foam upholstered in wool and silk. The designer wanted the collection to feel sculptural yet organic and supportive, like a warm embrace. He envisions their shapes as squiggly lines traversing the proportions that a more conventional piece of furniture would occupy. In place of a squared-off armchair, for instance, is a single cylindrical line curling around itself within that space.
The designer says he asked himself, "What's the most efficient way for a cylinder to become a chair?" Perhaps most people would say the answer is simple: a single upright cylinder, wide enough to sit on. But that would be boring. Thorose's solution is far more poetic than that, and certainly more entertaining to look at. Whether you find them truly comfortable might be another story.
"Essentially, I take a line and subvert it," Thorose told Surface. "It's the product of explorations in material, form, and movement — the feeling of mechanical movement versus body movement. I started with a CNC-style movement, let it slip into curious lilt, and then pull it back. There's an inhale-exhale of control, release, and then control. The dead precision of the mechanical sets a context for imprecision to feel alive."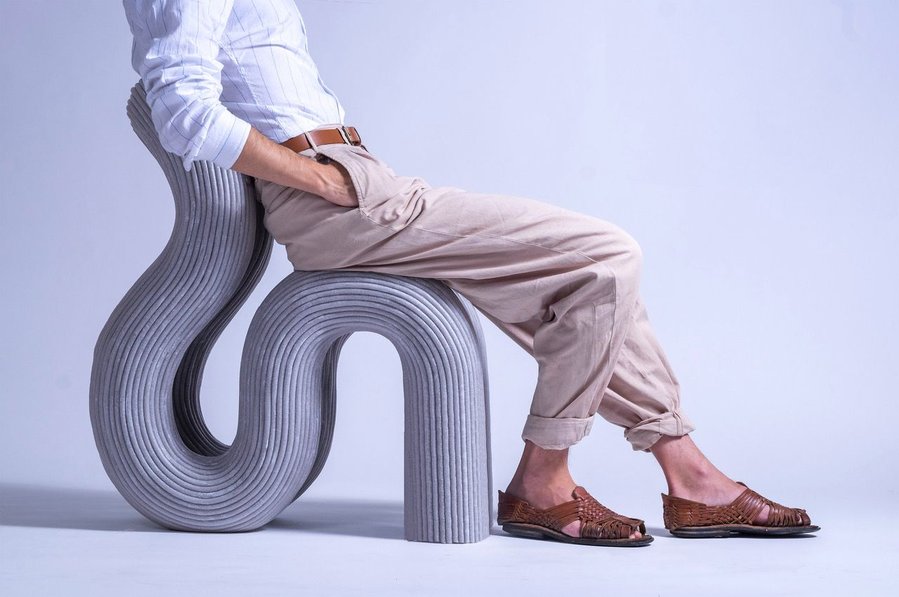 He adds: "I think of each form as a phrase written in body language. It's choreography set to form. I use cylinders that are approximately the circumference of an adult human thigh, so there's something sympathetic but still abstract about the forms."
Thorose measured his own thigh to come up with the base shape. Steel tubing holds the forms steady, and polyurethane foam gives them an almost fleshy feel. Within the Soft Cylinders ULU collection, forms upholstered in silk have a slight sheen that catches the light, while those covered in wool feel textural and substantial. Other iterations of the concept include BOYD Works, a 2022 collection made of latex, PVC rubber, glass, and neoprene for an edgier look. BOYD, in this case, is an anagram for "body."
The fluted NUN chairs (green and black) have a minimal bench-like seat and a slightly higher curve in the back to perch the tailbone in an upright position. UN is a transparent gold "furniture-type object" functioning as an ottoman or stool, and is made of aged industrial rubber tubing. The gray and mauve 5M chairs are composed of four movements of a bending cylinder, and the ULU XT1 table features black neoprene curves supporting a glass box surface.
BOYD Works was recently shown at NADA NY by Carvalho Park (images by Se Yoon Park). Contact the designer for pricing.