Small Airy Stockholm Attic Apartment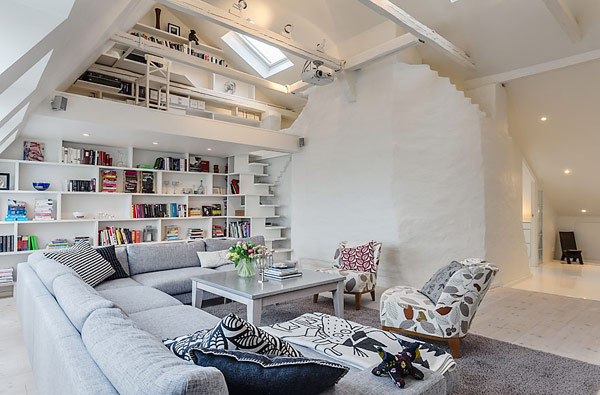 An attic apartment can easily become a dim, cramped place if not designed well. This flat in Stockholm uses some incredibly intelligent elements to open up the space and make it look airy and sophisticated.


The 1500 square foot, 3.5-room apartment features a double-height ceiling that allows for a partial second level at one end of the living room. Built-in storage units throughout the apartment maximize wall space without intruding into the living area.


Clever storage shelves double as stairs leading from the living room up to the mini-loft. On the tiny second level, a small desk and storage area add visual interest as well as a mini retreat for the residents. This work/storage area occupies the same wall as the main level built-in bookcase, making the two appear connected.


Inclined walls, normally stifling in a top-floor apartment, become charmingly quirky features in this space. The walls, timbers and floors are all a bright white to maximize the apartment's visual space.
Huge windows and plenty of natural lighting in these nearly all white interiors also serve to visually enlarge the apartment and provide residents with a connection to nature.


The furnishings and decorations all feature muted colors and simple but elegant shapes, a design choice that tricks the mind into seeing a larger living space because there are no visually competing elements.

Continue reading below

Our Featured Videos


A surprisingly large south-facing terrace provides a perfect gathering space and nicely finishes off this impeccably-designed attic living space. Would you want to live there?
From Freshome comes this lovely description:
"Found on Skeppsolmen, this 141 square meter home with a double-height living area and 3,5 rooms mirrors a modern lifestyle, yet with respect for the traditional.With a dominant white and gray color palette, the overall impression is that of space and soberness. Classic details which characterize the historic building of this home are mixed with modern elements, with harmonious results."