Shanghai's Metal Hands Coffee Offers an Immersive Trip Through Time and Space
A new coffee spot in Shanghai transports visitors to the imagined ruins of a downed space pod, providing a simultaneously peaceful and otherworldly experience.
Continue reading below
Our Featured Videos
Designed by Beijing-based DAGA Architects, the Metal Hands Coffee house was intended to be an "immersive space café journey."
The firm describes the background in detail to give patrons the full picture. "Interstellar passengers have traveled the vastness of space and the infinity of time in search of a new home for humanity to escape from a devastated Earth. Finally, awakened from hibernation by an alarm. Climbing out of the fallen space capsule, the world was uncannily familiar, with Earth-like plants and oxygen to breathe. Everything was so beautiful, but there was a vague sense of something different."
"Cutting through the trees, instead of the familiar wood fibers, is a smooth, mirror-like metallic substance. The trees float in the air, eerie cross-sections reflecting this wonderful but strange world. Eventually, the frustrating reality is discovered: there are no humans here, and no nature either, this is not real-world, everything is unreal."
The main focal point of the 970-square-foot shop is the giant metal space capsule with its flipped-up hatch. Customers can climb inside with their steaming cups and study the peeling aluminum wall panels and the vines and flora that have started to grown in-between all the ship's cracks, taking over its mechanical attachments.
A large, metallic column supports the pod on the inside, while the exterior is adorned with electrical ports that look just right for R2D2 or BB8 to come along and tap. The capsule's hatch has been converted into an overhead light, delivering a comfortable wash of illumination over the nearby folding chairs and crate-like coffee tables.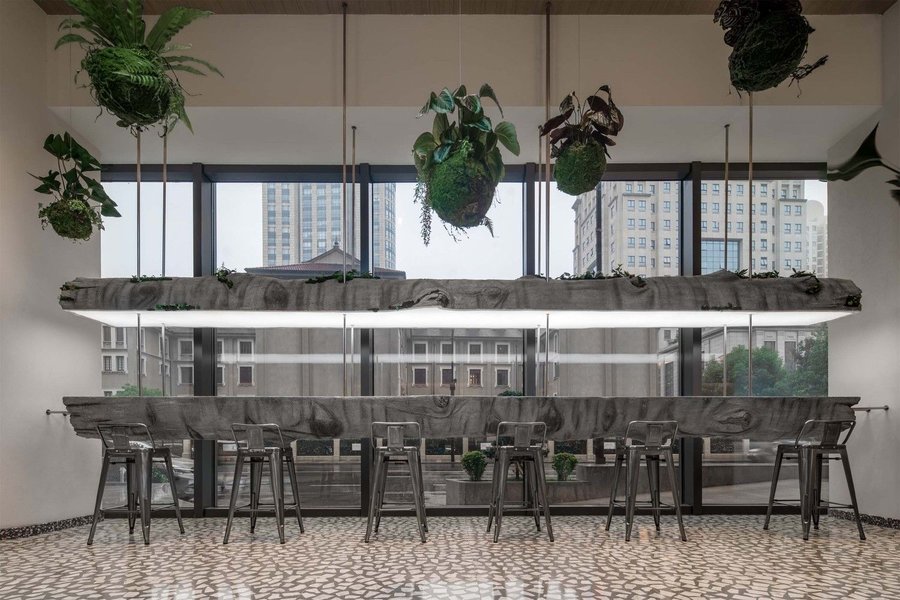 Another soft glow is added to the room by the split log situated along one section of the floor-to-ceiling windows. Half of the log is suspended from above with rods and includes a bank of LED lighting to brighten its lower half, which is floating above the ground at bar height. Its mirrored surface reflects the beams above, and low-backed barstools make it a perfect sipping spot. The dissected tree trunk also frames a view of the modern high-rise skyline just outside.
Orbs of organic material mimic the shape of the abandoned capsule and hang from the ceiling at random lengths, creating a mini solar system of greenery to soften the sterility of the space motif.
The DAGA Architect group was founded in Beijing in 2015 and has since designed, renovated, or constructed over 90 projects in 25 cities worldwide. A quote from Albert Einstein tops their website's About Us page, reading "creativity is intelligence having fun." The firm seems to have integrated that idea into their work on the Metal Hands Coffee job as well.
"It is a journey through time, where all one has to do is sip coffee, empty oneself, and enjoy a moment of peace in the universe," the company says of its latest build. "The design incorporates exploration and consideration of time, taking people away from the worries of life and voyaging in their thoughts."