Scribit: Writing Robot Transforms Your Wall Into a Canvas
Drawing a mural or even just writing up the daily menu on a restaurant's blackboard can be a painstaking project — one that requires a steady hand, excellent penmanship, and a lot of time. Then, when you want to change it up, you have to go through the whole process of erasing or whiting it out and starting over from scratch. If only there was a way to just plug your design into a computer and have your own personal robot artist do it for you. Thanks to a new product called Scribit, that's actually possible. Billed as "the world's first write and erase robot," Scribit is a vertical plotter capable of transforming an entire wall within minutes.
Continue reading below
Our Featured Videos
Created by a team of interaction designers, engineers, and architects led by MIT professor Carlo Ratti of Carlo Ratti Associati, Scribit requires no more than two nails and a plug to get going. You hang the gadget from the nails using a pair of built-in wires to support it as it makes its way across the wall, drawing whatever you can dream of in up to four colors. The plotter's engines propel it along the surface of the wall, mapping your design out and producing it at the scale of your choice.
Not liking the way it's looking as it's in progress? No problem. Scribit lets you cancel the drawing at any time, allowing you to begin the process of redrawing right away. Not only does the robot draw, but it also erases its own work, so you can start from a blank wall again whenever you like. In fact, you can draw, cancel, and redraw an infinite number of times — ideal for those of us who tend to change our minds a lot.
Scribit is also connected to the internet, so you can send it your content online and watch as it immediately gets to work. Surfaces the robot can draw on include drywall, plaster, glass, and whiteboards, and it's equipped with four ink markers in black, red, blue, and yellow. It measures seven inches by three inches.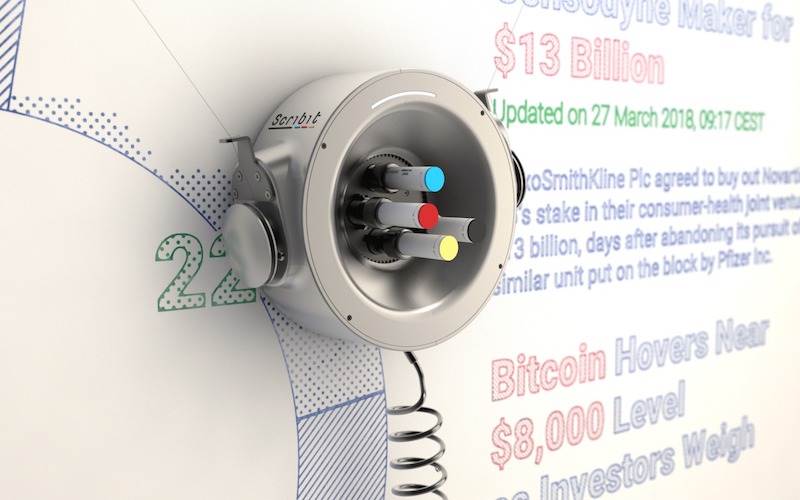 To some, this technology might seem a little backwards. After all, aren't enormous digital screens more in line with the technological future we envision coming to life within the next decade? A seamless, flat wall-mounted screen could achieve the same effect, changing the imagery at the push of a button or according to a preprogrammed schedule. But for Carlo Ratti, combining contemporary tech with the ancient practice of physical drawing and writing speaks to a deep need to remain grounded.
"We're totally deluged with information and spend too much of our non-sleeping time in front of one form or another of digital screen — TV, desktop computer, laptop, tablet, or phone," he explains. "Do we really want to add more screens to our lives? Scribit offers up an alternative: a robotic system that draws any kind of vertical surface, following a primordial act performed by humanity since our first cave graffiti."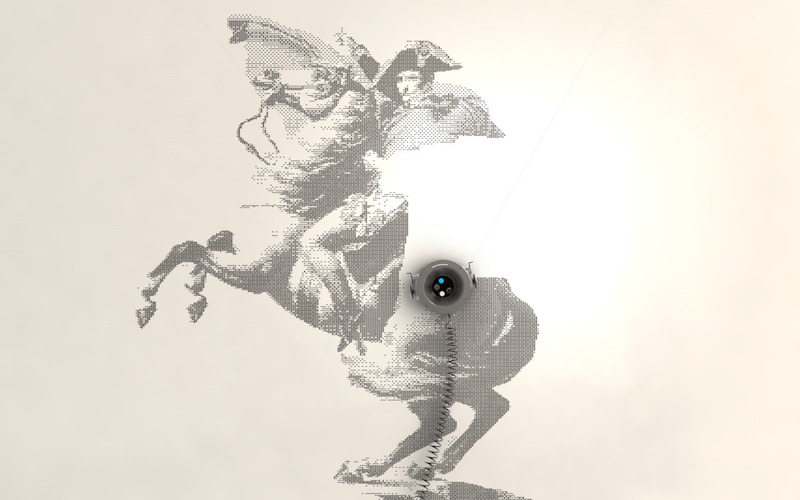 Scribit made its debut in Milan's Plazza del Duomo during Milan Design Week in spring 2018, and a crowdfunding campaign is expected to launch on June 5th. Keep an eye out for that link on the Scribit website if you're looking to score one of these artsy robots for yourself.