Real-Life Hobbit House Built in Scotland
Earlier this year, a few photos of Stuart Grant's enchanting, compact home near Tomich, Scotland found their way onto the internet. Since then, the house has become something of an online sensation. Affectionately referred to as the "Hobbit House" because of its uncanny resemblance to Bilbo Baggins' (the hero of author J.R.R Tolkien's The Hobbit) adorable home, Grant's dwelling is commonly regarded as a superfan's homage to the Lord of the Rings film series.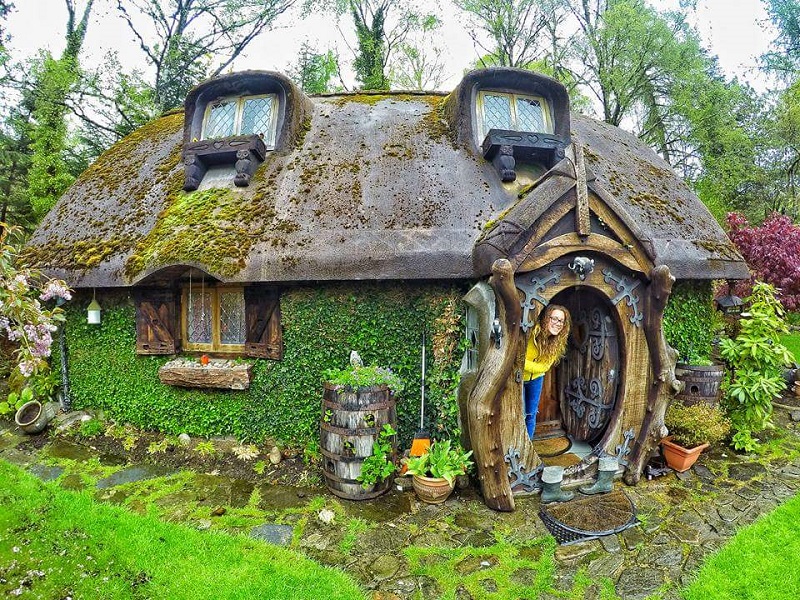 Continue reading below
Our Featured Videos
Though the house's circular front door, gorgeous wooden hand-carved artifacts, and overall magical feel are certainly reminiscent of Bilbo's on-screen abode, owner Stuart Grant explains that he had never seen any of the iconic films when he began building it: "I had not seen the Lord of the Rings or the Hobbit films before I started my project. Those came later. But I'm not aware of them knowing about my house either. It's all coincidental."
In fact, the 84-year-old Grant started building his home all the way back in 1984. He had been living in Australia for some time but decided to move back to his native Scotland following a divorce and the onset of a degenerative neuro-immune disease called myalgic encephalomyelitis. He was also broke during this period, stating, "I was living rough. I had a 100 watt bulb, two wooden stools, a camp bed and a gas ring."
At first, Grant intended to live in a cottage quite close to his Hobbit House's current location. Instead, he decided to move into that cottage's shed, which had previously housed a pig, cow, calf, donkey, and even a few chickens. He explains, "It was full of other people's junk, tools, cement mixers and such like. But it had four walls and a better view than the house so I put a new roof on it."
That roof is now teeming with vibrant moss, and the walls beneath it have been clad in ivy. In keeping with this natural aesthetic, the home's circular door has been flanked by a pair of gnarled and twisted tree branches. Inside, you'll find some intricately painted china, mullioned windows, colorful crocheted quilts, and tables made from the cross sections of tree trunks — all the hallmarks of a fairytale home.
The Hobbit House's practical use of space only adds to its magical appeal. In the bathroom, you'll find a washing machine hidden in a nook next to the toilet, which boasts a beautiful design in and of itself. The entire toilet has been encased in wood, and its seat is made from a rough-hewn section of tree trunk. Not a bad place to perch off of when you're throwing a load of laundry in the washer!
In the yard, you'll find a greenhouse and a pretty garden with its own pond. Kahlum G, Grant's nephew and the person who first shared pictures of the house online, claims that his uncle loves receiving guests. That's good news for anyone who might want to see this 21st-century version of "Bag End" in the flesh.
Grant describes himself as "the luckiest man alive," and says, "I live in a stunning part of the world, I have a home that looks like the home I had dreamed about and I get by. The fact that even my door looks like the Hobbit doors in the films is… well it is very strange, isn't it?"