Porto, Portugal: A Rising Star of Modern Architecture
The city of Porto, Portugal is still best known for its brightly-painted traditional architecture, which comes in a rainbow of hues. But in the midst of all that terra-cotta tile and baroque embellishment is a rising wave of modern architecture with its own particular flair.
Continue reading below
Our Featured Videos
One of the influences behind this shift is a unique intersection of local culture and opportunity. For many decades, this underrated coastal city was a bit economically depressed, leading to a lot of derelict tenements and abandoned buildings. Even beautiful historical architecture began to deteriorate.
Starting in the 1970s, modernism began to creep in, as seen in the stark concrete silhouettes of the social housing complexes of the era. More recently, striking new modern projects have begun to pop up — along with breezy minimalist flats in freshly renovated buildings.
Step just a bit off the tourist path and you'll find some of these gems, particularly in residential areas. Among the standouts are textural additions to matching townhouses by NPS Arquitectos, which now serve as the headquarters for the Portuguese Architectural Association, and Exmo Hotel by Floret, which infuses a prized historic building with modern industrial elements.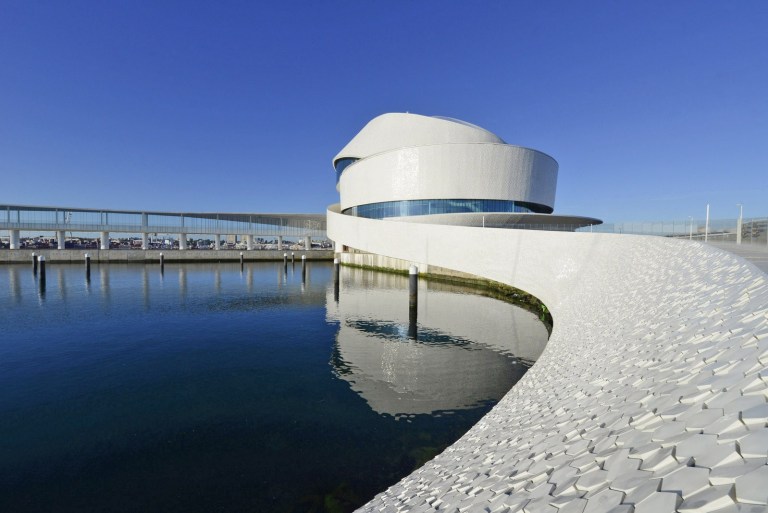 The cruise terminal at the Port of Leixões, designed by Luis Pedro Silva, is quite a magnificent way to enter the city. It looks like a ribbon unspooling from afar, and when you get up close, you can see that it's covered in millions of tiny hexagonal azulejos, traditional tiles of the region.
A graphic facade on an Alegria residential building by MiMool Arquitectura & Design de Interiores manages to complement the surrounding traditional architecture without overpowering it, which isn't an easy feat when it comes to bold patterns.
Arcs of curving steel adorn the glass facades of a marina complex in Porto by architects Barbosa & Guimarães. The Douro buildings are set on stilts to mimic the look of small gangways that connect the harbor wall and jetties nearby. White-painted steel on the exteriors features circular indentations meant to resemble the rivets on a ship.
Japanese architecture firm Kengo Kuma is collaborating with OODA to transform an abandoned slaughterhouse in the parish of Campanhã into a cultural center. The new building will have an undulating roof covered in glass panels and red ceramic tiles in a nod to one of the city's most enduring architectural features.
OMA's Casa da Musica has become one of Porto's major landmarks, and it's often referred to as lead architect Rem Koolhaas' best work. The building is conceived as a single solitary mass standing atop a travertine-based plateau adjacent to a new public square in the historic Rotunda da Boavista.
Porto is also the birthplace of the great Pritzker Prize-winning Portuguese architect Eduardo Souto de Moura, who designed the town's Cantareira Building, along with many other "neo-Miesian" (after architect Mies van der Rohe) works scattered throughout the country. He also designed the modern subway station that sits alongside the Casa da Musica.
Wallpaper Magazine points out a few more examples, noting that "Porto has seen museums, concert halls, and an entire metro system join its churches and bookshops as architectural highlights in the past 25 years, and it's keeping the momentum up."
All the more reason to give Porto a second look, if you haven't already.