Old & New: Belgian Farmhouse Converted into a Contemporary Care Home
Picturesque farmhouses with red tile roofs and connected brick stables dot the countryside throughout rural Flanders in northern Belgium, surrounded by grassy fields on every side. Unfortunately, as small farms become less common and more people move to nearby cities, buildings like these tend to get demolished, renovated into unrecognizable modern structures, or left to decay.
Continue reading below
Our Featured Videos
Seeking a home for their young family and their retired parents, one Belgian couple purchased such a property and contemplated their options. Ultimately, they decided they wanted to preserve the history and character of the existing buildings, hiring Aalst-based firm Objekt Architecten to bring their vision to life.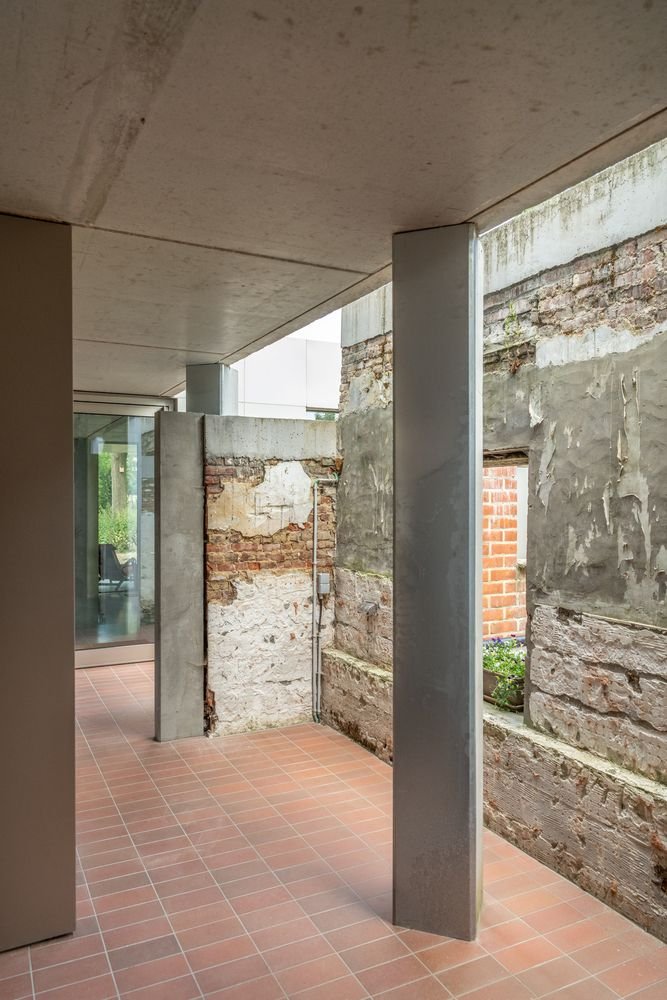 The design brief was relatively unusual. The clients wanted one home for themselves and their children, and a separate but connected "care home" for their elderly parents. This aging-friendly home would need to be set up so that the parents could live there for the rest of their lives, even as their abilities changed. Both homes would require privacy and nice views of the surrounding farmlands while maintaining easy access to each other in case of emergencies.
Objekt Architecten started by preserving as many of the exterior walls of the crumbling buildings as they could. They chose concrete as a primary material to complement the neutral tones and textures of the existing brick, plaster, and mortar. Red terracotta floor tiles and traditional red clay roofing tiles were also brought in to mimic the look and feel of the original elements.
The architects left the appearance of the existing house and barn unchanged, turning the old farmhouse into the care home portion of the estate. Designed with accessibility in mind, the single-level structure contains sleeping quarters, a bathroom, and several spacious storage rooms, as well as covered outdoor areas. This home connects directly to the young family's new house, which was built within the shell of the adjacent barn.
Clad in a striking bronze-colored aluminum finish, the new volume is set back from the original walls under the same new roof to create covered outdoor walkways. The roof of the care home was extended to stand perpendicular to the new volume. On the other side, the roof rests on the original exterior wall. One long hall links all the bedrooms, and skylights let in an abundance of natural light.
The architects call this project "Old & New," reflecting both the contrast in historic and modern architectural styles and the contrasting but complementary needs of various generations of the family.
The team explains that "in the new house, the choice fell on a low-maintenance, polished concrete floor. In the sitting area — which houses the lounge and the play area — a contrasting sandblasted oak herringbone parquet was chosen. In the center of the house, we find a royal blue core, which on one side houses a toilet, a cloakroom, and a staircase, and on the other side is part of the kitchen and storage room. The rounded kitchen island, finished in a natural wood tone, has a peach-colored countertop."
"Together with the brass accents, these give the whole a contemporary, luxurious look. With this renovation, we tried to transform an existing house into a care home where the original residents feel at home and can live a lifetime, while the clients do not have to sacrifice modern comfort and privacy."