Oku Space's First Furniture Collection is Both Sustainable and Stylish
Looking for high-end furniture that's both sustainable and stylish? Oku Space, a new furniture company with a homebase in Melbourne, Australia, certainly fits that bill. Established in February 2020 by a pair of creatives with experience in both visionary product design and quality furniture manufacturing, this simple yet sophisticated brand recently dropped a debut collection whose clean lines and simple shapes pair with eco-friendly practices to create pieces full of form and function.
Continue reading below
Our Featured Videos
"The word 'Oku' relates to the concept of space within and often hidden." This is the company's statement, and it's what visitors to their website are first greeted with upon entering the world of Oku Space. And truly, it could be considered the underlying ethos that defines all the Aussie duo's pieces. The goal of founders Nick Rennie and Dustin Fritsche is to first and foremost create quality furniture, though their emphasis on creative (and sometimes quirky) design is what initially catches the eye and draws buyers in.
The two had been sharing a workshop for years before they founded Oku Space, and given their combined expertise, it only seemed logical for them to enter the furniture making arena. This first line of theirs consists of 11 eclectic, beautifully made pieces that give off a high-end vibe without feeling too precious to be utilized in everyday life. The collection is also timber-focused, proudly showing off the creators' craftsmanship and ability to imagine furniture that's so much more than the sum of its parts as it captivates the eye and takes everyday, practical seating to the next level.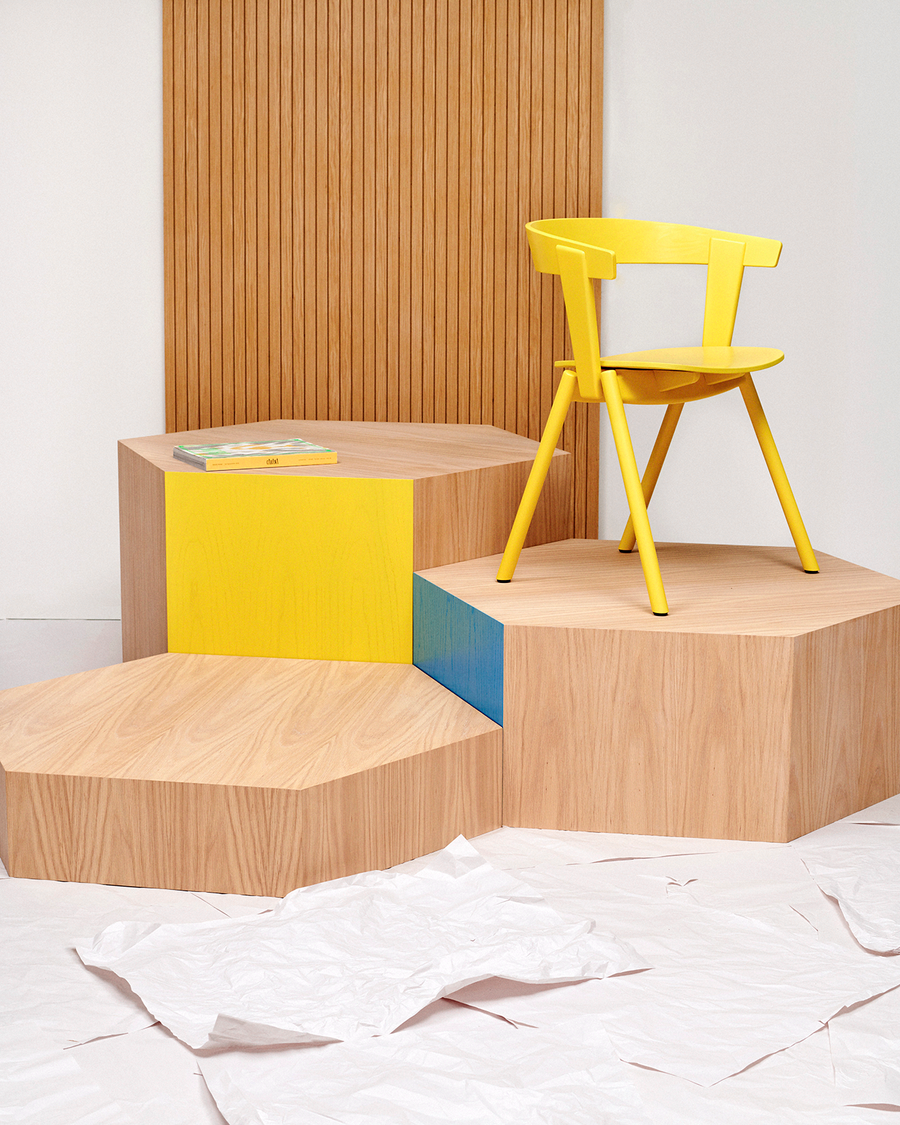 The star of the show is the OS1, a dining chair with a deceptively midcentury modern shape that marries the clean lines and sparse aesthetic found in several of the collection's other pieces. But what really sets the OS1 apart is its stackability. Though extremely functional, it's pretty much the furthest thing from those rigid metal folding chairs or hotel ballroom monstrosities that offer neither comfort nor style. Instead, it's lovely both as a stand-alone object and even more so when combined and stacked with its fellows, thus creating a new shape all its own.
The stackability of the OS1 is also important from a sustainability perspective, as both Rennie and Fritsche hope to develop their furniture responsibly and with minimal waste. As Rennie says, "[With chairs] as whilst most fundamental is the comfort, they need to be functional as well, and this is why I think the stackability is so important." He goes on to add that "the benefits especially from a shipping perspective [are] really important as it allows us to minimize the possible carbon footprint of the object."
With the trifecta of functionality, sustainability, and style on their side, Oku Space is destined to be a success in producing quality high-end furniture that lasts a long time. For now though, you can catch us lounging on chairs featured in this delightful debut collection.