New Tennessee Titans Stadium Will Be State of the Art, but Smallest in the NFL
The Tennessee Titans' Nissan Stadium is being replaced by a newer, smaller-capacity venue. While the new stadium will be losing some seats, its enclosed design could bring a lot more than just football to Nashville.
Continue reading below
Our Featured Videos
"We envision a potential new stadium that makes our community proud and enhances the reputation of our great city and state," says Titans president and CEO Burke Nihill. "We're focused on designing a stadium capable of hosting a prestigious international event on a Sunday and a steady flow of impactful community programming later that same week. This is a building that would serve Nashville and Tennessee for generations."
The new 1.7-million-square-foot stadium will have room for roughly 60,000 guests, a decrease from the current venue's 69,000 capacity and a move that would make it the smallest in the entire NFL. However, the reduced size is a strategic business decision. "It's an industry best thinking at this point," Nihill explained during a recent Metro city council meeting. "It's a little bit of a painful experience because it's my job to make sure we sell out the stadium. We don't sell out the stadium for most of our games."
Additionally, the NFL has adjusted their requirements when it comes to where the Super Bowl can be held. It is no longer simply a matter of seat capacity, but also whether the local area has nearby hotels, venues, and other fan experiences to support any travelers to the game. By building a newer stadium, lots of prime riverfront real estate will be freed up for the city of Nashville to develop into exactly those types of spaces.
Even though there will be fewer seats at the Titans' new stadium, they will all have excellent visibility. "Every seat has been pulled further forward and slightly steeper. That means the views are closer and better to the game or the concert than they are in the existing building. In fact, the entire upper deck is pulled about 30 feet closer," says David Manica, head architect at Manica Architecture, the firm tapped to create the initial design and mock-ups for the stadium.
Manica Architecture is no stranger to designing professional sports venues. In March, David and his team were commissioned to lead the initial design for the Chicago Bears' new NFL stadium. The firm previously designed the Las Vegas Raiders' "Death Star" stadium, as well as the team's headquarters and training facility.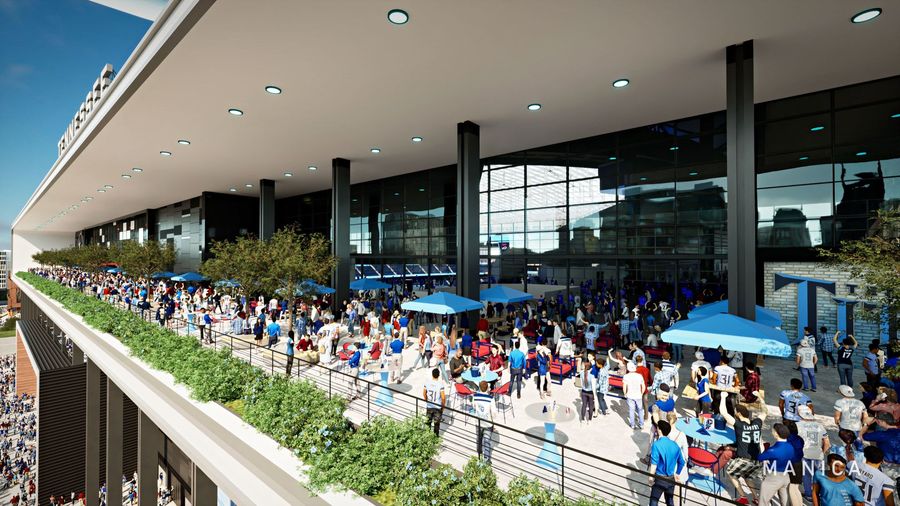 The rest of the $2.1 billion Titans stadium specs include exterior terraces and porches with panoramic views of the city that will offer prime mingling space during events. The stadium will also be weatherproofed with a circular ETFE (lightweight glass substitute) translucent roof. Immediately adjacent to the new stadium will be a 12,000-square-foot community plaza that can be used for "educational opportunities, non-profit events, and other community-minded purposes," according to the Titans.
It looks as if the Titans' stadium is already attracting the notice of non-NFL groups. The WWE has reportedly made a verbal agreement to bring Wrestle Mania (its biggest event of the year) to Nashville as long as an enclosed stadium is constructed.