Natural Home Patio Pools & Outdoor Wood Deck Designs
Sure we all wanted to a swimming pool as kids, but did we ever think about the cost and space it would take up or work it would involve? Once the hallmark of a luxury home, many people view high-end modernist back-yard swimming pools as either a play-place for the ultra-rich or a hard-to-maintain space-displacing burden of suburbia. A combined pool-and-deck design can be a great green way to make a useful swimming or lounging area that is both visually and ecologically more integrated and sustainable.
Surrounding greenery can provide privacy, rocks add to the aesthetic and make for functional seats as well. The use of wood also softens the transition between the man-made and natural portions of the design, blurring the lines between deck or patio and the peripheral environment.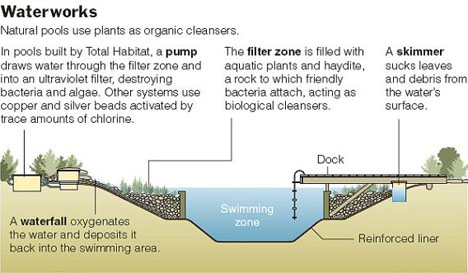 Best of all, there are significant health benefits and eco-friendly advantages to going natural – chemicals in chlorinated pools have been tied to negative impacts on the human body and organic filtration processes can make the swimming or lounging zone of a natural pool as much a part of the surrounding ecosystem as it is of an adjacent house or home, making a yard into an ecosystem rather than a grass lawn.