Mini Cooper Inspires Luxury Camping Pod Design
Even the most luxurious of today's RVs and campers can feel a little clunky at times. After the release of the streamlined Airstream travel trailer in the 1930s, you'd have expected these mobile homes to become progressively more futuristic rather than remain the boxy, beige vehicles we've come to know all too well. Could a more contemporary — and frankly, more appealing — design be on the horizon? If the concept for this Mini Countryman F60-inspried camping pod is any kind of indicator, it certainly seems that way.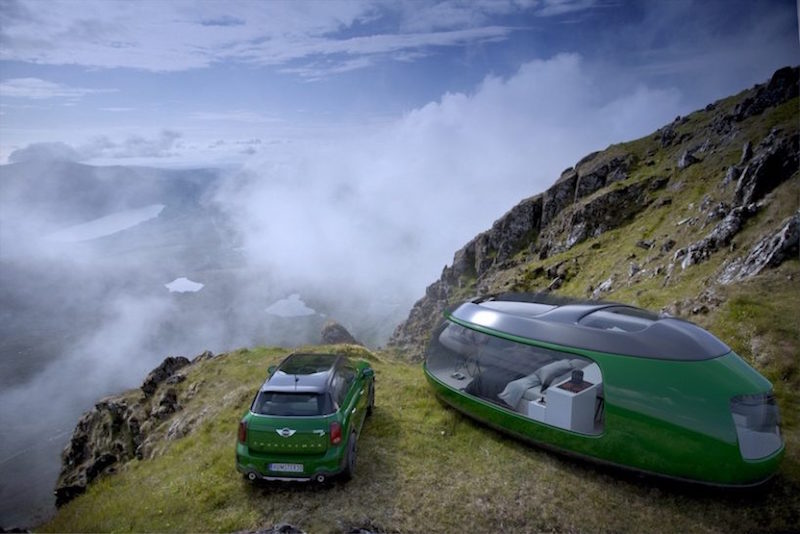 Continue reading below
Our Featured Videos
Conceived of by the international advertising company Anomaly in collaboration with Fabian Mazzola of Bitlens Studio, this project, which was surprisingly not commissioned by MINI, takes the British automaker's signature style and adapts it to create an unusual trailer with Airstream-like proportions and a 21st century aesthetic. Inside the pod, you won't find any of the faux wood or plastic interiors you'd expect to see in traditional RVs. Instead, you'll be greeted by a spacious living environment and a set of modern amenities that were designed make your travels as luxurious as possible. Mazzola says, "This idea came up as I wanted to create an idea, an illusion of a futuristic pod that came with all the accommodations a home has."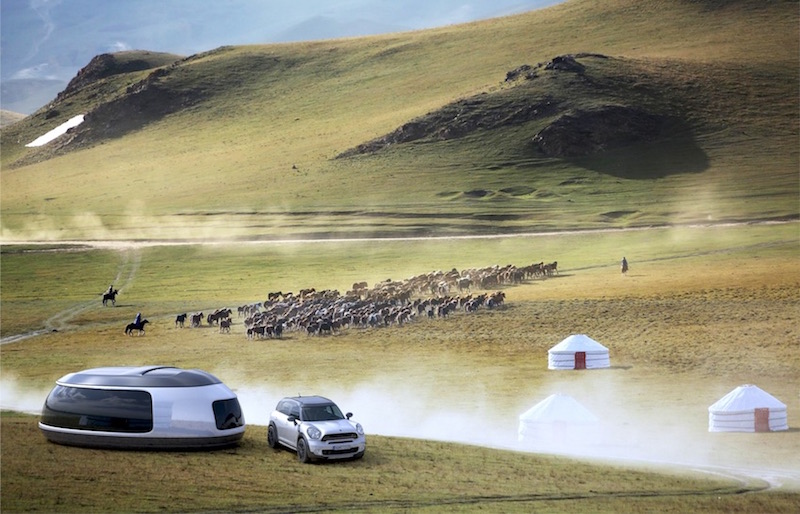 For starters, the MINI-inspired camping pod features panoramic windows that open its interior up to picturesque views of the surrounding landscapes. For added privacy and protection from the sun, the windows have all been tinted, but you'll be happy to hear that they still let plenty of daylight in. These glass panes even stretch up over the pod's cozy full-sized bed for some breathtaking views of the sky. A second skylight rests above the camper's minimalist kitchen area.
The interior has been designed to mimic a hotel suite, boasting wooden floors and sleek lighting fixtures. Since you can use the pod's extra space however you like, you'll easily be able to throw some additional chairs and accessories into the mix, too. What other camper comes with its own full-sized bathroom? This modern back room features a tub that's big enough to stretch out in and, in keeping with the rest of the pod, a sizable window that allows you to look out at the ocean, forest, or any other preferred climate while enjoying a comfortable bath. Not bad at all. While rugged campers who prefer the gritty feel of the outdoors might turn their noses up at this kind of luxury, the pod is perfect for any travelers who are accustomed to staying in high-end hotels but want to spend some time in a more natural setting.
Of course, no design comes without a few flaws. For instance, it's not clear whether the mobile home would provide an option for covering those big windows up at night, something most people would find pretty crucial to their personal comfort. The kitchen could stand to be a little more functional, too, and more accessible storage space is always convenient when packing for a road trip. Of course, this is still more of a speculative concept than a concrete design, and there's no reason those details couldn't be amended later on.
If it were ever manufactured, this MINI-inspired camping pod would undoubtedly come at a hefty cost and be out of a lot of would-be adventurers' budgets. Still, if there's one great thing that can come from renderings like these, it's their potential to inspire companies to think outside the box, take risks, and begin incorporating some of these luxurious features into their own vehicles.