KFC is Creating 3D Printed Meat of the Future
Colonel Harland Sanders is credited with the early innovation of selling his proprietary fried chicken roadside during the Great Depression. After opening his first KFC restaurant in Utah in 1952, the brand became forever connected with chicken nuggets as a grab-and-go option. Now KFC is taking that innovative mindset and well-ingrained marketing into the world of 3D-printed meat.
Continue reading below
Our Featured Videos
"At KFC, we are closely monitoring all of the latest trends and innovations and doing our best to keep up with the times by introducing advanced technologies to our restaurant networks. Crafted meat products are the next step in the development of our 'restaurant of the future' concept. Our experiment in testing 3D bioprinting technology to create chicken products can also help address several looming global problems. We are glad to contribute to its development and are working to make it available to thousands of people in Russia and, if possible, around the world," said Raisa Polyakova, General Manager of KFC Russia and CIS.
To achieve this goal, KFC will partner with Russian lab 3D Bioprinting Solutions, where cells from chickens are multiplied or "grown" along with plant materials and made into a paste. The paste is then printed using a 3D printer and pressed into sheets that are stacked on top of each other and turned into nuggets. After that, KFC provides the breading and spices in order to achieve their signature flavor. For better or worse, the consistency and flavor is said to closely resemble the original product, and the nutritional value's not much different, either.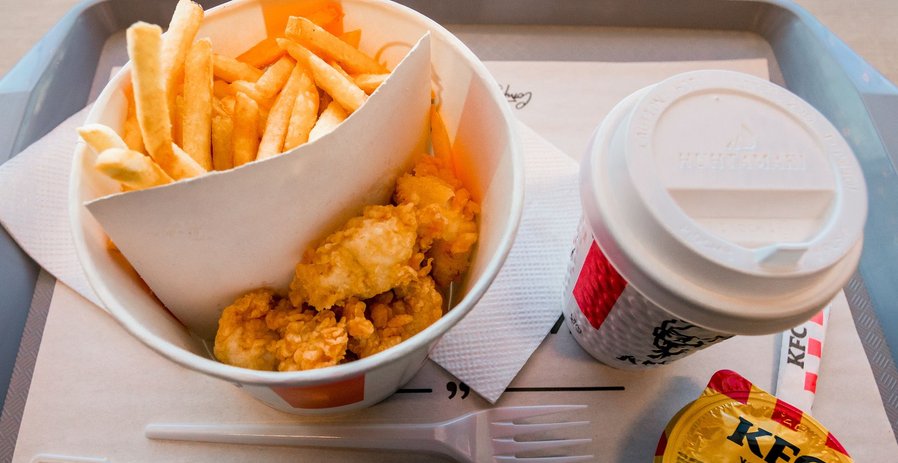 One thing that is very different, of course, is the improved environmental impact. Raising chickens is extremely taxing on the planet in the way of food and water requirements, not to mention all the land required for the farms. For environmentalists, 3D-printed meat is a clear win as a way to sustainably enhance food production.
A press release from KFC states that "according to a study by the American Environmental Science & Technology Journal, the technology of growing meat from cells has minimal negative impact on the environment, allowing energy consumption to be cut by more than half, greenhouse gas emissions to be reduced 25-fold, and 100 times less land to be used than traditional farm-based meat production."
"3D bioprinting technologies, initially widely recognized in medicine, are nowadays gaining popularity in producing foods such as meat. In the future, the rapid development of such technologies will allow us to make 3D-printed meat products more accessible, and we are hoping that the technology created as a result of our cooperation with KFC will help accelerate the launch of cell-based meat products on the market," says Yusef Khesuani, co-founder and Managing Partner of 3D Bioprinting Solutions.
The final product testing is already planned for the fall of 2020 in Moscow. Look for bioprinted nuggets at your local KFC soon!