In the Wake of COVID-19, Airlines are Experimenting with Safer Seating Concepts
Air travel may never look the same again, with experts already stating that it's unlikely that the quantity and range of flights will ever bounce back to pre-COVID-19 levels. Most recently, Delta Air Lines announced plans to pivot to a more luxury-oriented service catering to people willing to pay a premium for safer flights, any of which could very well fly with significantly fewer passengers than they would have before the crisis started.
If more airlines have to adapt to low flight loads and more frequent deep disinfecting schedules, how might the actual design of planes change? A company called Avio Interiors has envisioned two new seating concepts that are sure to be welcomed by anyone who's ever wished for more separation from their fellow passengers.
Continue reading below
Our Featured Videos
The "Janus Seat" is particularly intriguing. Inspired by the two-faced god of ancient Rome, this proposal alternates forward and backward-facing seats in a single row to eliminate the dreaded problem of being smashed into a middle seat. All three seats in the row get more privacy, though you're now facing the middle seat passenger in the next row up, albeit at a diagonal angle.
The aim is to "ensure the maximum isolation between passengers seated next to each other," say the designers. "So 'Janus' is a two-faced seat, in fact this arrangement allows all three passengers to be separated with a shield made of transparent material that isolates them from each other, creating a protective barrier for everyone. Each passenger has [their] own space isolated from others, even from people who walk through the aisle."
The second concept, "Glassafe," takes the same high barrier and places it between passengers sitting in a more conventional forward-facing seat arrangement. The benefit of this one is that it can be quickly and easily added on to existing airplane seating, so it doesn't require expensive retrofits.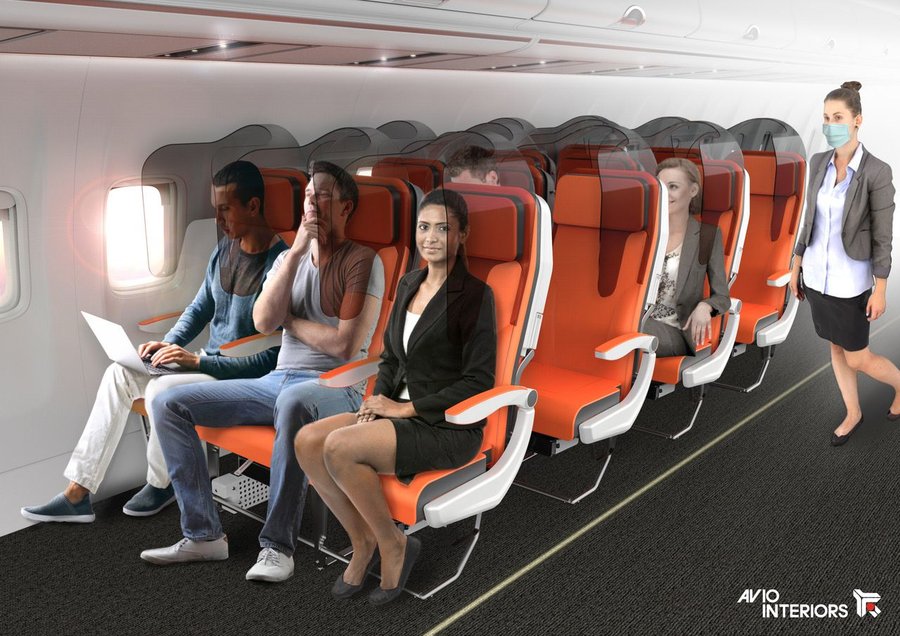 The Avio team adds that "'Glassafe' is made of transparent material to make the entire cabin harmonious and aesthetically light, but perfectly fulfill[s] the objective of creating an isolated volume around the passenger in order to avoid or minimize contacts and interactions via air between passenger and passenger, so as to reduce the probability of contamination by viruses or other. 'Glassafe' can be supplied in opaque material or with different degrees of transparency, all [of which facilitate] easy cleaning and [are] suitable for safe hygienization."
It's probably safe to say more passengers would prefer the "Janus," except perhaps those traveling with children or wanting to sit side-by-side with a companion. But both ideas are an improvement over current seating, which prioritizes the airlines' bottom line over the comfort and safety of passengers.
Lots of great designs have been proposed over the years to improve legroom, widen seats, and otherwise ease increasingly cramped airplane conditions, but it's never been in airlines' best interests to make the switch. In fact, some have even been considering outrageous new ways to pack more people in, like leaning or standing areas instead of seats. But ensuring that passengers feel safe on flights is going to be key to reviving the flagging industry, which has already cut its capacity by up to 90 percent in recent months.