Palace Ceiling Covered in Jewel Beetles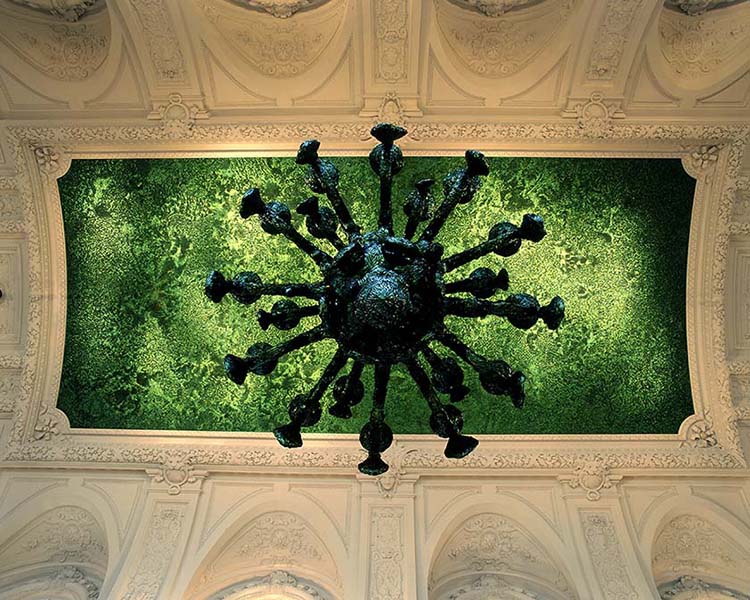 … What ever on Earth could that glowing green ceiling material be? The yarn born of some rare glow-in-the-dark silkworm, an ancient secret paint mixture or rare geological element taken from nature and applied delicately to the unreachable top surface of some antique castle living room? This question echoes in the mind of perplexed visitors to this overly luxurious and ornate room filled with all of the trappings of classic art and high society.
Continue reading below
Our Featured Videos
As illustrated by this stunning project from Dutch artist Jon Fabre, it is none of the above. Instead, this lusciously decorated and otherwise-antique interior is now swarming with 1.5 million … dead beetles?!
The so-called "Jewel Beetle" is famous for its unique shine and deep green hue, making it the perfect macabre choice for an artist who has worked in everything from more typical materials to various bodily fluids – unconventional choices placed in galleries, mansions and other high-art settings.
Too distant in their lofty perches to be seen clearly from below, an up-close look reveals layered patterns one would expect from any textile – but an even closer examination shows the individual beetles that make up this sea of ceiling green.
It too the artist months and dozens of assistants to glue each and every beetle in place at the Royal Palace in Brussels, and one can just imagine people passing through the space, seeing the amazing ornate furnishings and fixtures, and simply assuming that such a classic high-end ceiling must be inlaid with rare rocks or precious gems. Surprise!
Jan Fabre is known for using surprising media and unconventional methods in his work. From his Wikipedia bio:
"Between 1976 en 1980 he wrote his first scripts for the theatre and did his first solo performances. During his 'money-performances', he burned money and wrote the word 'MONEY' with the ashes. In 1977, he renamed the street where he lived to "Jan Fabre Street" and fixed a commemorative plaque "Here lives and works Jan Fabre" to the house of his parents, analogous to the commemorative plate on the house of Vincent Van Gogh in the same street. In 1978 he made drawings with his own blood during the solo performance 'My body, my blood, my landscape'. In 1980, in 'The Bic-Art Room', he had himself locked up for three days and three nights in a white cube full of objects, drawing with blue 'Bic' ballpoint pens as an alternative to 'Big' art. Fabre also established in 1986 the Troubleyn/Jan Fabre theatre company with extensive international operations; its home base is Antwerp, Belgium."