Get Ready for Amazon Prime Day with Our Guide to This Year's Top Tech Deals
Ready for a deluge of deals? A slew of savings? A veritable cornucopia of cool, a click-worthy cache of must-have tech for your home and office? Well you're in luck, because it's that time of year that deal-hunters everywhere wait for with bated breath: Amazon Prime Day.
Continue reading below
Our Featured Videos
This year, Amazon is pulling out all the stops for the two-day event on July 12th and 13th, with a seemingly endless array of deals you'll want to add to your cart ASAP.
With so many price cuts, it can be overwhelming figuring out how to find the best gear — and that's where our handy guide below comes in. Complete with all your need-to-have tech from top TVs to kitchen all-stars, this guide to 2022 Prime Day Tech Deals will get you primed and ready for the best of the best this year.
In the Kitchen
Vitamix Professional Series 750 Blender
Hot summer days call for frozen drinks and smoothies, so grab this blender while the price is right. Get it for $399.95 this Prime Day, 37 percent off the original price.
Air fryers are still trending in kitchen appliances, and this one has all the frills. It even works with Alexa and Google Assistant. Grab one for $118.98 on Prime Day at 15 percent off.
Be the envy of the office lunchroom with this on-the-go warmer that makes storing, transporting, and heating up those leftovers a walk in the park. This Prime Day, they're 33 percent off at just $29.99.
Comfee Cordless Electric Kettle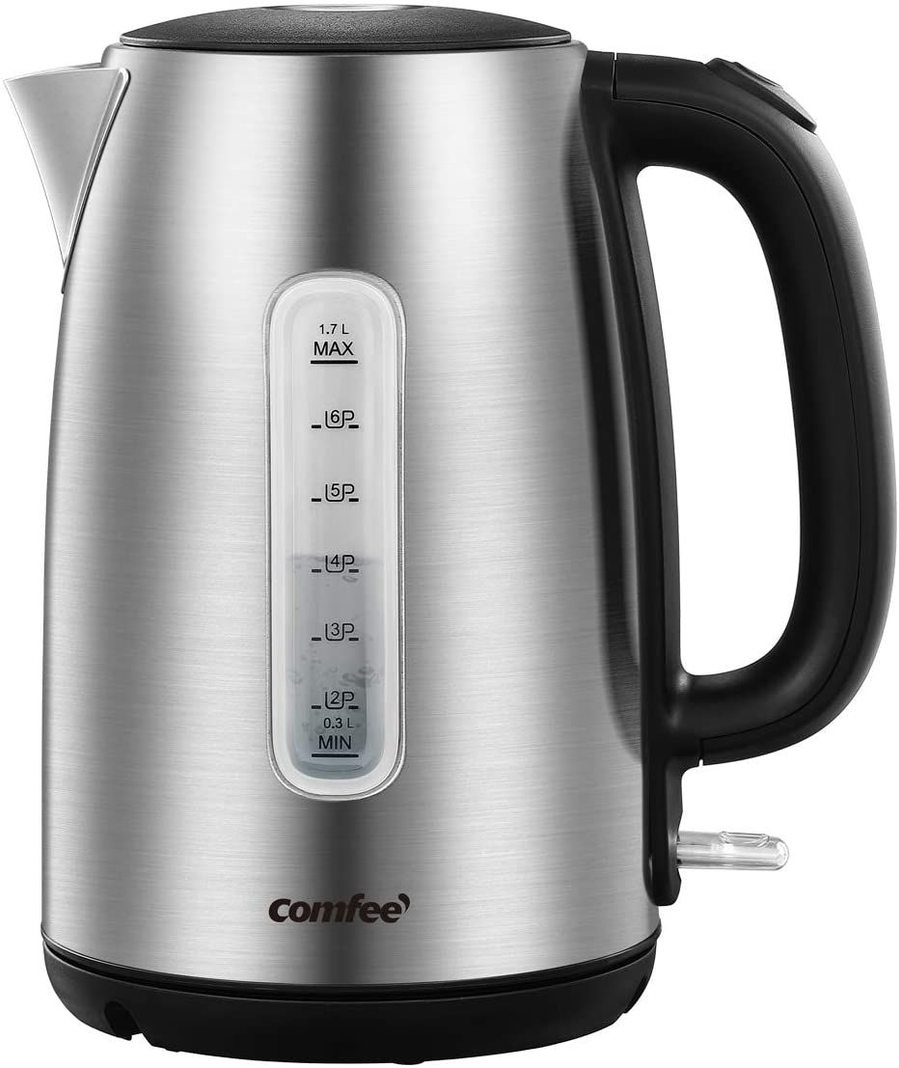 Tea-lovers everywhere will want to snap up this spiffy electric kettle for the ultimate cuppa, 24 percent off this Prime Day for $18.99.
The Great Outdoors
Polk Audio Atrium Outdoor Speakers
Summer time means chilling outdoors — and this set of four all-weather speakers is the best way to hear your favorite jams while having fun with family and friends. Best of all, they're 40 percent off this Prime Day at $119.00.
Thermacell Mosquito Repellant Lantern
Mosquitoes and summer normally go hand in hand, but now you can kiss those bug bites goodbye thanks to this snazzy lantern, available at 23 percent off this Prime Day for $23.98.
Worx PowerShare Cordless Trimmer
Get your lawn into shape with this amazing trimmer that's cordless and easy to handle (battery included). Available for $78.95 this Prime Day, 44 percent off the original price.
Around the House
Nixplay Smart Digital Picture Frames with Wi-Fi
This one's perfect for anyone that's been putting off sending those photos to grandma, and you can do it straight rom your favorite apps, email, and even social media. This Prime Day, it's 37 percent off at $119.99.
Victrola Bluetooth Record Player and Multimedia Center
We love the vintage look of this record player complete with built-in speakers, CD and cassette player, and wireless streaming options. It's a blast from the past with all the modern frills, and this Prime Day it's all yours for $87.99, 45 percent off the original price.
Black+Decker Cordless Stick Vacuum
This year, treat yourself to that cordless vacuum you've been eyeing for ages. This one's perfect for on-the-go cleanups in hard-to-reach places. Available at 30 percent off this Prime Day for just $39.99.
Honeywell Extra-Large Air Purifier
Give seasonal allergies the boot with the king of all air purifiers, and Prime Day is the time to get it on the cheap. Available for $144.99, 46 percent off.
Summer is here and sometimes you need a little extra cooling action, so why not score this epic oscillator while it's on sale? Available for $90.99 this Prime Day, 30 percent off the original price.
Cool Tech-essories
Bose QuietComfort Wireless Noise Cancelling Headphones
Anyone in the market for new headphones will have their pick of hot deals, but these Bose beauties are a definite Prime Day steal this year. Grab a pair for 30 percent off at $229.00.
Logitech for Creators Blue Yeti Bluetooth Microphone
Get that podcast up and running with this pro USB microphone that's also perfect for those never-ending Zoom meetings. Available at 24 percent off this Prime Day for $94.99.
Razer BlackShark Wireless Gaming Headset
Get your game on with this cool headset that's comfy, stylish, and has all the top tech. It's also 33 percent off the original price this Prime Day for $119.99.
You know those Zoom meetings aren't going anywhere any time soon, and now's the best time for an upgrade on the best deal days of the year. Available at 57 percent off for just $29.99.
Described as "Google on your wrist," this cool watch is more than just a fitness tracker — it's the internet at your literal fingertips. Get one for yourself this Prime Day for $199.99, 33 percent off the original price.
TVs, Tablets, and Laptops, Oh My!
Amazon Fire 43" TV Omni Series 4K
Everyone knows that Prime Day is the prime day to score deals on Amazon's own brands, and this UHD Smart TV is no exception. It's available at 41 percent off for just $239.99.
Ready to take the plunge on a new TV? This Sony beauty proves that it's not just Amazon brands that have big deals on Prime Day. This one's 11 percent off for a total of $2499.99.
Samsung Galaxy Tab Android Tablet
Ready for an upgrade? This Amazon exclusive is a steal on Prime Day, 30 percent off for just $159.99. And be sure to check out Samsung's other deals, including up to 40 percent off on select tablets, drives, and memory.
Laptop lovers will flip for this Prime Day deal on one of HP's most popular processors, 32 percent off at $639.99.
Dell XPS Thin and Light Laptop
Another laptop deal that's worth a look this Prime Day. Grab it for 22 percent off at $1359.00.
When you purchase through links on our site, we may earn commissions at no cost to you.