Fabian Oefner Takes on Quantum Physics With His Chopped-Up Sculptures
Sculptor Fabian Oefner sliced and diced all kinds of ordinary objects in his latest project, reassembling them to give us a unique view of the familiar.
Continue reading below
Our Featured Videos
Titled "Heisenberg Objects," the collection features six objects – two shoes, a camera, a black box, a clock, and a tape recorder – that the Swiss artist cut apart and pieced back together on acrylic rods for absolutely explosive results.
Oefner based this series on Werner Heisenberg's quantum physics uncertainty principle, which states that the momentum and position of a particle cannot both be precisely determined at the same time. "You can either determine one parameter and ignore the other or vice versa, but you can never know everything at once," the artist says on his website, adding that "as an observer you're never able to observe the object as a whole and its inner workings simultaneously. The more accurately we see one view, the less clearly we see the other."
Each object in the series is mostly recognizable from far away, but as the viewer moves closer, the optics become distorted, changing the perspective. "Your interaction with the sculpture ultimately determines its appearance," adds Oefner in an interview with Designboom.
To create his sculptures, the artist had to first resin-cast the objects in vacuum and pressure chambers, after which they were painstakingly sliced and polished before being precisely placed into their final shapes. The artist chose these specific objects to represent memory, things that record time, sound, or events.
How do shoes fit into that theme? To Oefner, "sneakers are like recording machines that keep track of our motion. The shoes used are 1985 Nike Cortez. I often wonder about all the different places around the world they were walked to. So in a way, the series is not only about the uncertainty principle but also about the fragmentation of memory."
The artist also made a cool discovery in the course of deconstructing a Leica M6 camera, explaining that "there was a note from the engineer written on the inside of one of the inner metal plates. It was in German, something about the precision of the shutter mechanism. I said to myself: 'he or she probably never expected that this note ever would see daylight again. But here it is. 30 years after the camera was assembled.'"
He adds that: "I love the thought that I am the first one, in some cases after 40 or 50 years, to look at the inside of these objects…it's a bit like modern archeology."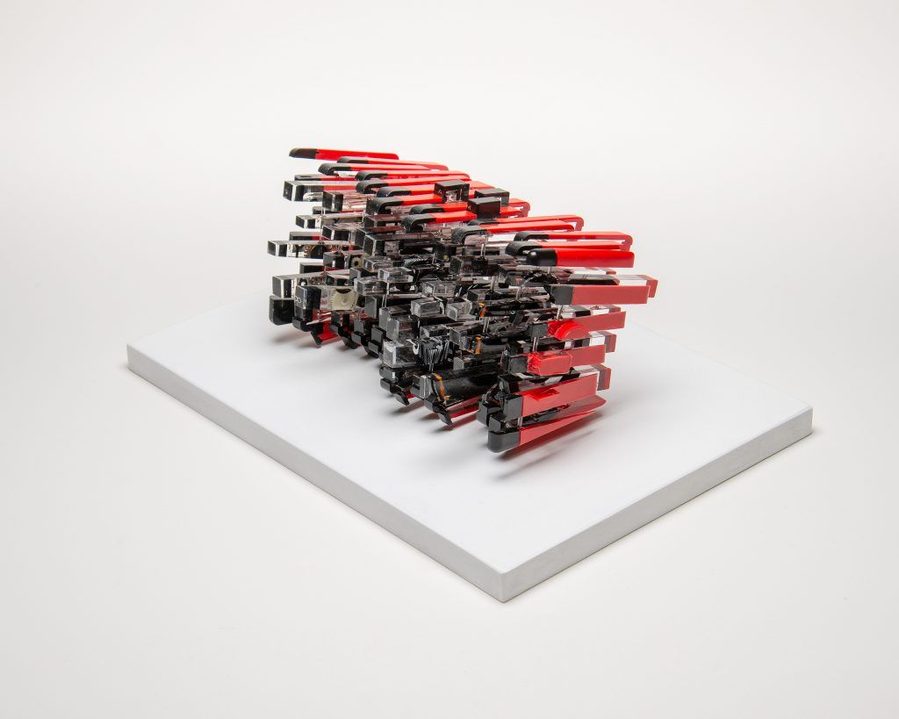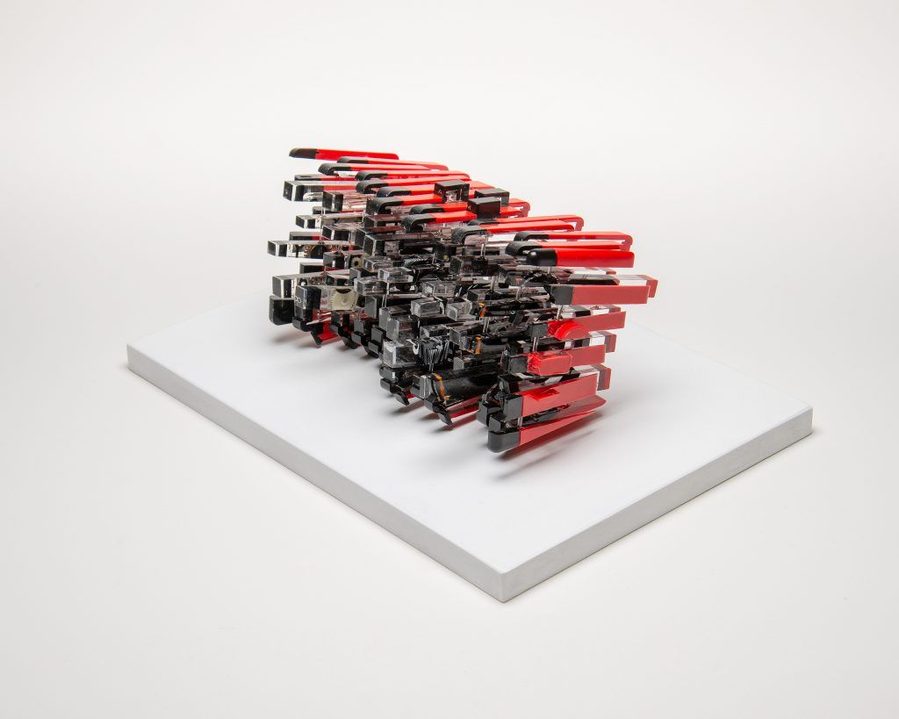 Oefner has made quite the name for himself through his fragmentation work, previously focusing on objects like "exploded" cars and exposed innards of coffee pots. When asked why he has such a fascination with dissection, he mused: "It ultimately has to do with trying to understand the world around me. I remember when I was a little boy, together with my brother, we used dad's hydraulic press to crush our toy cars, just to see how they come apart. I guess that fascination has stayed with me ever since, only that I disintegrate things in a more sophisticated way these days."
More of views of his "Heisenberg Objects" are available on his Instagram page @fabianoefner.