Elon Musk Releases New Renderings of Tesla Gigafactory in Berlin
Tesla CEO Elon Musk has just given us a new look at what his company's Gigafactory Berlin will look like once complete. The Brandenburg-area facility, which is set to produce 2 million vehicles per year, has a decidedly futuristic look to it, including some sort of swimming pool or water feature on the roof alongside a massive solar panel array.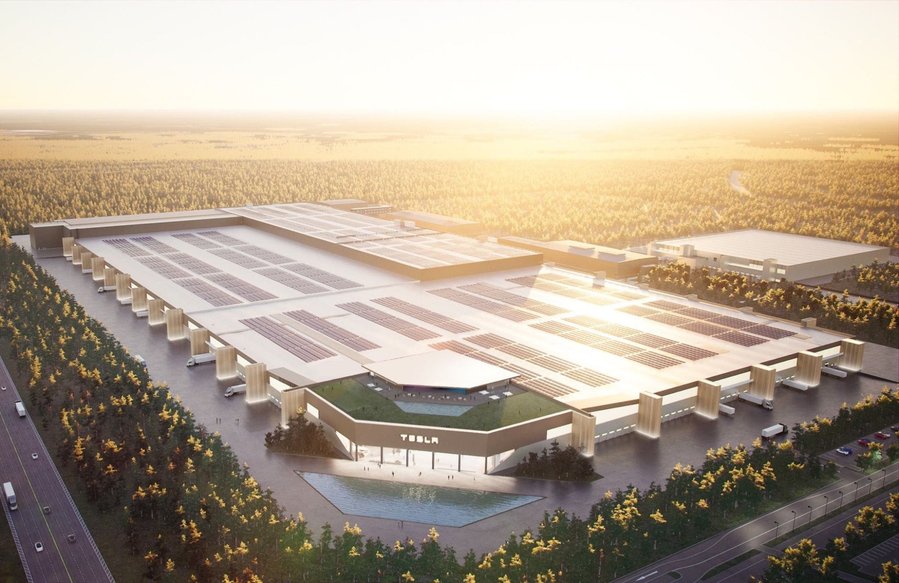 Continue reading below
Our Featured Videos
Aesthetically, the design is a significant departure from that of the Tesla Gigafactories in Shanghai and Nevada, both of which are a lot more utilitarian. In response to fan questions on Twitter, Musk has implied that the plant will have a few fun functional differences, too, saying "might be an indoor/outdoor rave space on the roof." Is he kidding about that? Who knows. He just named his newborn son "X AE A-12," after all, so it's anybody's guess.
Announced in November 2019, Tesla Giga Berlin will be the automaker's first full vehicle factory in Europe. The factory will help Tesla lower prices on its vehicles on the continent by producing them locally, so they don't have to be shipped all the way from California. The facility, set on a wooded 741-acre property, is in the early stages of construction, but paused temporarily due to concerns raised by environmentalists over potential threats to local water supplies and old-growth trees on-site.
A German court recently gave Tesla permission to resume construction, and the company pledges on its website to replant an area three times the size of the factory's plot with mixed trees native to the local habitat in collaboration with local environmental experts. "We are also working to ensure plenty of clean drinking water through water-saving measures in the factory, as well as a structural solution with and for the community in the medium term," reads the company website.
"Gigafactory Berlin-Brandenburg is the next phase of Tesla's presence in Europe. We already operate an assembly facility for Model S and Model X in Tilburg, the Netherlands. In addition, Tesla Grohmann Automation in Prüm, Germany specializes in automation of our production processes. In total, we currently already employ around 5,500 people in Europe."
"Gigafactory Berlin-Brandenburg will have a solar roof and aims to use renewable electricity to help Germany and Brandenburg achieve its ambitious 'Energiewende' objectives. We aim to maximize the benefits of the location's excellent passenger and freight rail connections by building an on-site rail freight yard, and making it as attractive as possible to commute to the factory by rail."
Tesla's Nevada Gigafactory produces Model 3 electric motors and battery packs in addition to Tesla's energy storage products, Powerwall and Powerpack. The company broke ground on that factory in June 2014, and while it's currently operational with more than 1.9 million square feet completed, it's only about 30 percent done. Once complete, Tesla expects the Gigafactory to be the biggest building in the world — one entirely powered by renewable energy, to boot.
The company also operates a factory in Fremont, California, which is currently in the process of doubling in size to almost 10 million square feet. Employing about 10,000 workers, the facility produces Tesla vehicles like the Model S, Model X, and Model 3.