Custom Bed in Renovated "Bright House" Allows Kids to Explore Their Creativity
"Playful" is perhaps the single most fitting word you could use to describe the creations of HAO Design, an interior design firm based in Kaohsiung, Taiwan. Best known for fun apartment renovations that emphasize a golden intersection of practicality, beauty, and amusement, HAO operates on the idea that architecture is essentially lifeless until people come in and interact with it.
Continue reading below
Our Featured Videos
The recently completed "Bright House" exemplifies the firm's credo. Located in their home city, the residence has undergone an airy transformation to make it an ideal space for both the young parents who own it and their children. Rather than sacrifice adult design preferences and tastes to make way for the newest members of the family, HAO has simply inserted child-friendly elements into the space, allowing the home to retain its industrial vibe.
Instead of putting down garish mats in primary colors so the babies could safely learn to walk, they've added a layer of cork-like synthetic foam over the wooden flooring behind the couch so it can easily be removed when the children are older. Prior to its renovation, the home's interiors were much more enclosed, which made it feel smaller than it actually was. HAO knocked down some of the walls, moved the kitchen closer to the plant-filled balcony, and encouraged an open-floor plan that  would make it easy to keep track of little ones as they moved through the space.
The architects add: "the balcony has a glass wall extending right down to floor level, which helps to bring more sunlight into the house, with an area for growing flowers and plants outside, so that the sight of father and son growing fruits and vegetables together can add an extra touch of happiness to the family's daily life."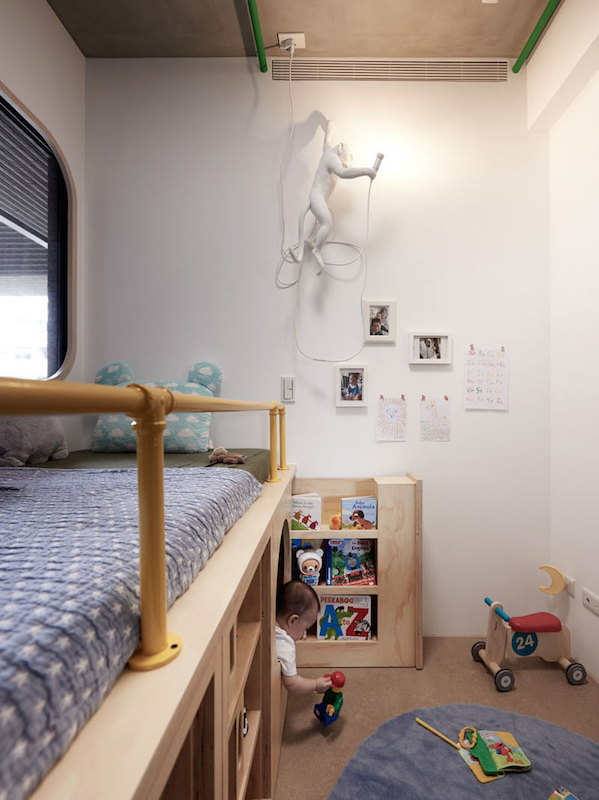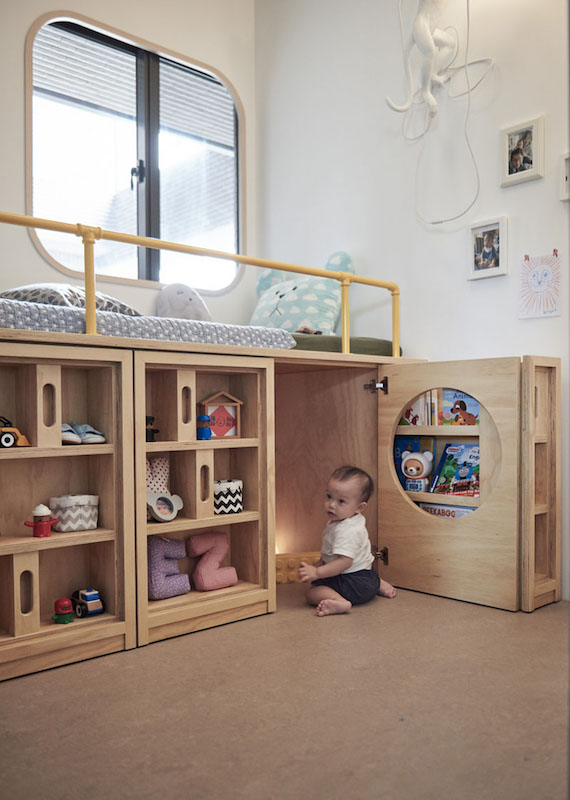 A miniature door set within a standard adult-sized door allows the children to easily pass from their own bedroom straight into their parents' room, and blackboard paint in the former enables them to explore their creativity. Still, the coolest element of the kids' room is undoubtedly a custom-made bunk bed, which itself is full of storage space and its own hidden playroom.
Despite the remarkably small size of the bedroom, it contains everything a child could ever need, including closets, books, toys, dresser drawers, and built-in lighting fixtures. Child-friendly handles make the pull-out elements of the custom all-in-one kid's bed easy for tiny hands to manipulate. A round hole offers access to the play area, a design feature every kid wishes they could have to nap, laugh, and daydream in.
"The aim is to encourage the child to develop good habits in terms of putting their own toys away and keeping their clothes neat and tidy," says HAO. "The Seletti Monkey Lamp above the bed was specially chosen for a child whose Chinese Zodiac sign is the monkey. Thanks to careful spatial layout and furniture selection, every aspect of this house embodies a sense of mutual consideration between each family member and the others; every part of the house is able to retain the traces of their past life together, while also contributing to steady forward progress into a bright future."
All images by Hey!Cheese Photography