Nautilus: Spiraling Shell House by Javier Senosiain
Like something found 20,000 leagues under the sea or set in the center of the planet, this dazzling house design by Senosiain Arquitectos was patterned after a shell – as if you could not tell. Imagine for a moment being one of the two children being raised in this structure, a fairy tale wonderland of architectural and interior design delights.
Continue reading below
Our Featured Videos
Constructed from a durable combination of steel wire and special super-thick concrete, this home, known as "Nautilus," is as strong as it is strange – able to withstand and earthquake and incredibly low-maintenance structurally.
Inside the home, the odd forms of the exterior continue to wrap through and connect each space. The interior feels much like it could be outside, filled with plant life, organic pattens and winding stone paths.
The only real question is whether or not this unique organic spiraling home is a livable space. It is certainly fascinating, absolutely cozy, brilliantly creative and highly original but only time will tell if it can be a home as well as an amazing house.
From the architects:
"Here the floor plan is the spiral, which was adapted on the ground, for which the logarithmic spiral was drawn. The model work generated numerous changes until the volume required by the construction was found. The creative process has been interesting, playful, fun … the best, as The Little Prince says, is the process of growing the rose rather than the result itself."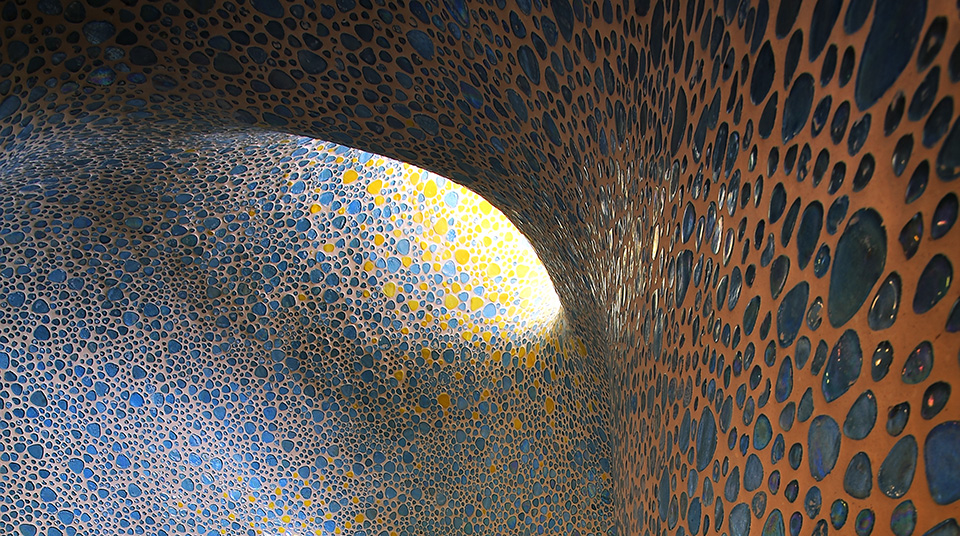 "When entering from the outside, you go up a staircase and when you pass inside the Nautilus through a large stained glass window. There a spatial experience is generated living the sequence of a journey, where neither the walls, nor the floor, nor the ceiling are parallel. It is a fluid space in three dimensions where you can perceive the continuous dynamics of the fourth dimension, when you walk in a spiral on the staircase, with the sensation of floating on the vegetation."
"Continue through the lobby, past the TV room sheltered by the belly of the crustacean. And going up the spiral staircase you reach the studio from where you can see the mountainous landscape. In the back is the intimate area and the service area."
Check out another, more modern version of a house shaped like a seashell.