China's Ugliest Buildings Contest Shames the Wasteful and Distasteful
As China's economy has soared over the past couple decades, developers have been completing large-scale architectural projects at unprecedented rates. This frenzied experimental atmosphere led to the construction of all kinds of weird structures, some designed by the world's biggest names in architecture. Some, like The Piano Building in Huainan and the Teapot Building in Wuxi, are like giant sculptures, destined to draw in selfie-taking tourists. Others get mocked relentlessly on social media, like the national broadcaster building in Beijing by Dutch architect Rem Koolhaas, which has been nicknamed "big pants."
Continue reading below
Our Featured Videos
In fact, there's now such a huge selection of strange Chinese buildings to choose from, Archy.com started an annual Ugliest Building Survey, and its 12th annual contest has a whopping 87 contenders in the running. That number may dwindle in the years to come, since President Xi Jinping issued a government directive calling for an end to "oversized, xenocentric, weird" projects, and that's part of the point of the contest. The organizers hope pointing out ugly architecture will "promote architects' social responsibility" and cut back on wastefulness.
Voting is open until December, when a commission of architects will select the final 10 winners. Here are some of the projects currently in the lead:
Nobody really wants a big imposing building in their city to look sort of like a modernized Eye of Sauron, do they? Incorporating a four-story atrium with a flying staircase design, a basement level, and four towers, this complex is supposed to be a lively gathering place for residents of Foshan New City. The reasons Archy listed for nominating this project include "extremely inharmonious with the surrounding environment and natural conditions," "idolizes Western culture," and "weird and vulgar." Voters mostly just think it's depressing.
Some people think this school inspired by the "Arabian Magic Carpet" is cute and fitting for its purpose, with its undulating roof and facade full of round cut-outs. Others seem to be experiencing a touch of trypophobia (fear of holes). It has been called "really psychologically uncomfortable," "disgusting," "vulgar" and even "secret terrorism." One voter wrote of the building's pale beige curves and orifices, "it's like a breathing monster composed entirely of flesh and blood."
Something about the monumental figures standing on either end of this glass bridge in the Jiuhuangshan Scenic Area seems to make it extra terrifying for many onlookers. Comments include "Really insulted the beauty of this mountain," "nightmare-inducing," and "don't look at me, I'm afraid."
There are so many outlandish structures on this series of three manmade tourist islands that the Ugly Buildings contest organizers couldn't choose – they just lumped them all together as one big anger-inducing mass. "This is the garbage dump," wrote one voter. "A game of capital, making a pile of rubbish, what a bad thing to do with this money," wrote another.
This local church isn't even the only violin-shaped building in China, but locals hate its garishness, its overuse of concrete, its high cost, and the way it has apparently overshadowed more demure adjacent buildings. It was nominated because "the function of the building is extremely unreasonable." Fair enough.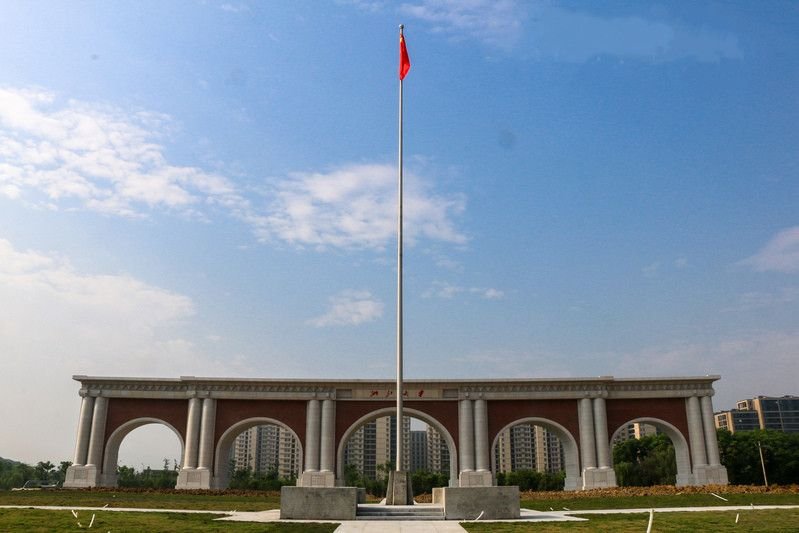 You might be surprised to learn that this comparatively tame-looking structure has earned the most votes by far. But Chinese voters are annoyed that such a high-cost, high-profile project is both painful to look at and dysfunctional. Apparently, the unnecessarily extravagant gate impedes both vehicular and pedestrian traffic, forcing everyone to stare at it even longer while they're stuck in the area. "When the design plan came out, the teachers and students in the school objected to the curse," wrote one voter.