Buyers Pay $450,000 for Andrés Reisinger's "Impossible" Digital Furniture
After only 10 minutes on the auction block, a collection of 10 "impossible" digital furniture pieces sold out for more than $450,000.
Continue reading below
Our Featured Videos
Although half of the furnishings will eventually be turned into physical copies, the other half exist only in the eyes of the beholder. Crafted by Argentinian graphic artist Andrés Reisinger, the imaginary tables and chairs (offered through online marketplace Nifty Gateway in mid-February 2021) were conceived for the online gamer clientele. The bulbous and sometimes undulating pieces can be inserted into any shared 3D virtual or augmented-reality space, like Minecraft or Decentraland. They can also be used in game development platforms such as Unity or Unreal Engine for animations and CGI movies.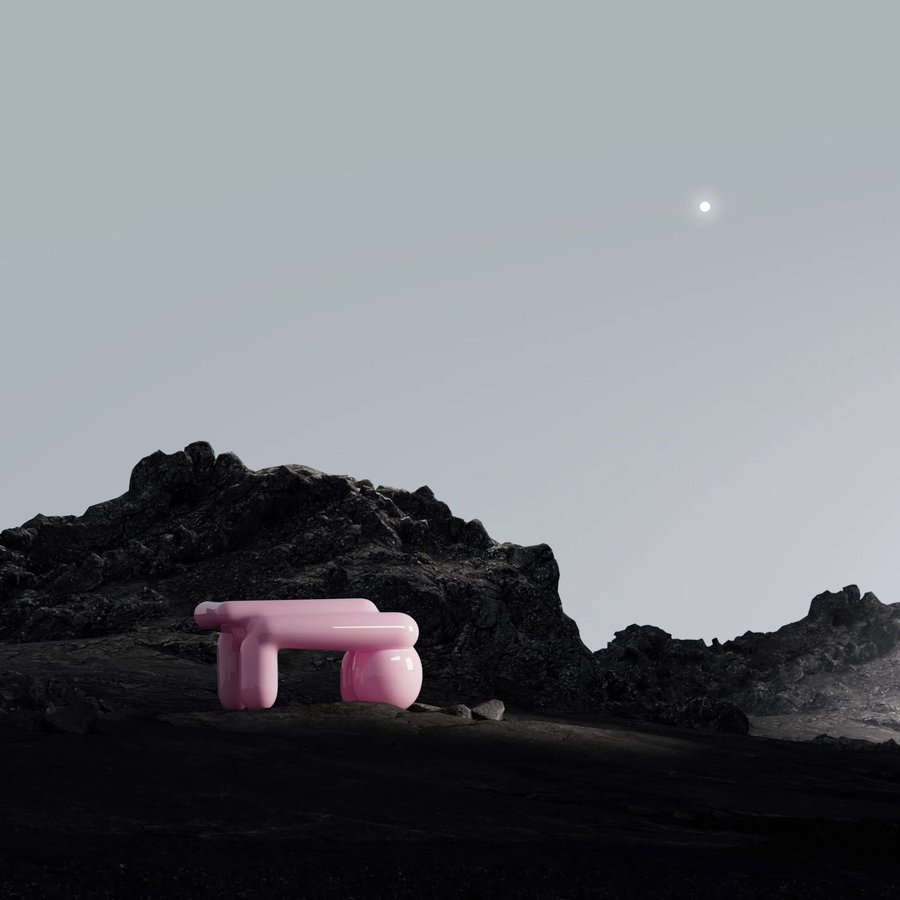 "It is a very ambitious project," Reisinger says in a Dezeen article. "I am the first to do it and I hope that it opens the doors to many other artists and designers. This is a new way, a complementary way to continue growing our careers and businesses."
The authenticity of each virtual object is verified with a non-fungible token (NFT), which allows ownership to be individually identified on a blockchain, much the same way Bitcoins are traced. This encryption prevents forgeries and replications, giving buyers the ability to resell the items as desired.
"Ownership of these tokens is immutable, which means gamers and collectors can actually possess their NFTs rather than the companies that created them," says Reisinger. "If you buy a song on iTunes, on the other hand, you don't actually own what you're buying. You just purchase the license to listen to the music."
"For artists, being able to sell artwork in digital form directly to a global audience of buyers without using an auction house or gallery allows them to keep a significantly greater portion of the profits they make from sales," he adds. "Royalties can also be programmed into digital artwork so that the creator receives a percentage of sale profits each time their artwork is sold to a new owner."
Reisinger became an Instagram sensation in 2018 when he released online renderings of the Hortensia chair, a plush seat covered in over 20,000 pink hydrangea-like petals. The image was so popular that fans begged him to create a "real" version and he obliged. After going on display in the Barcelona Montoya Gallery, it has since been acquired by the Belgium's Design Museum of Ghent.
He will again be bringing his furniture to life with this auction of the five physically promised pieces. Those include the geometrical Matsumoto Bench, the sphere-base Time Table, the layered ABBA office chair, and the Ekstrem-inspired Tangled Chair.
Selling for the most ($67,777) of any of the collection, the fifth item is a yet-to-be-conceptualized custom piece that will be created in cooperation with the buyer. Among the digital-only "impossible objects" sold were the Hortensia chair, the Complicated Sofa (a couch made of a deflated silver parachute), the Complicated Drawer (a jumble of drawers sliding around on chrome tubes), the Pink Table (reminiscent of a balloon animal), and the Deep Space sofa, which boasts an expanding and quivering midsection.
Reisigner expects this form of virtual furniture art to only increase in demand. While "we are not escaping from the material world anytime soon," he explains, "… I believe we are expanding our experience into a new hybrid era of extended reality, in which art and culture are freed from spatial and temporal constraints and the rules of experience are rewritten."
It's time to "call into question where the imagined ends and the real begins," he continues. "It's no longer necessary to touch something to be touched by it."