Breast Cancer-Detecting Blue Box Allows Women to Swap Mammograms for At-Home Tests
Women may soon be able to skip the pain and hassle of yearly mammograms and test themselves for breast cancer at home with the help of the award-winning Blue Box, a new screening tool developed by Spanish scientist Judit Giró Benet. As an undergrad student at the Universitat de Barcelona, Benet came across a CDC study reporting that roughly 40 percent of women skip their annual mammogram, resulting in one in three of them having breast cancer that gets diagnosed too late.
Continue reading below
Our Featured Videos
Having watched her mother go through breast cancer and knowing it to be the most common cancer type among women, Benet was inspired to do something to change those testing statistics. After more research, she discovered that almost half of those avoiding routine scans did so because of the physical pain it causes. She also found that while a single dose of the mammogram radiation wasn't harmful, overall breast cancer risk actually increased with annual x-ray exposure.
Additionally, the Catalan Department of Health reported that of those who do get their yearly tests, 93.55 percent of the cancers detected are "false alarms," resulting in frustrating, scary experiences.
To solve these issues, Benet knew there needed to be a totally different type of test, one that was pain-free, non-irradiating, and accurate. In order to be widely accessible, she also wanted it to be low-cost with the ability to be performed at home.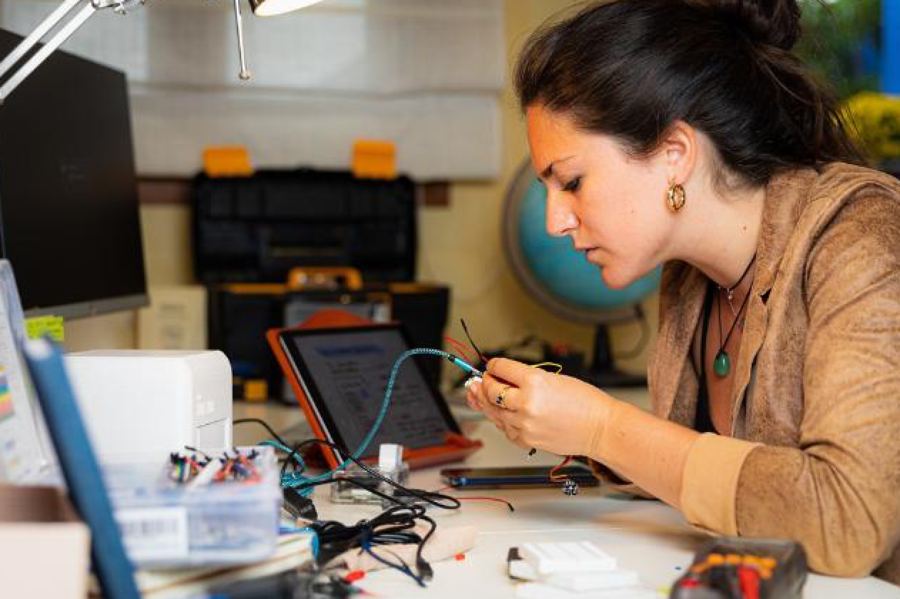 In October 2017, Benet began work on the first prototype of The Blue Box (currently white, but eventually to be painted blue in final stages) as part of her biomedical engineering bachelor thesis. She acted on the knowledge that cancer causes metabolic changes, even altering the smell and taste of a body. Using an Arduino microprocessor, Benet and a computer science friend at the University of California Irvine programmed it to mimic sensory neurons and their ability to pick up on specific cancer-altered scents and tastes.
The screening process with The Blue Box is simple. After creating a profile on The Blue App, a user collects a urine sample in the provided plastic container and places it in the device. Once the "start" button is pressed, it takes just 30 seconds for the six internal chemical sensors to detect and react with any targeted breast cancer biomarkers. The data is sent to the cloud, where it is analyzed by unique artificial intelligence algorithms. The resulting diagnosis then pops up in the user's phone app.
"The Blue Box is a change in the way society fights breast cancer," says Benet. "As opposed to the current painful and inconvenient routine procedure that oftentimes leads to anxiety, The Blue Box enables women to get self-tested at home."
And one Blue Box allows all the women in a single household to test themselves as often as they like. The results have been tested to be at least 95-percent accurate.
For her work, Benet won the James Dyson 2020 Award, a scientific and engineering contest. "The day that James Dyson told me that I had won the International prize was a real turning point as the prize money will allow me to patent more extensively and expedite research and software development I am doing at the University of California Irvine," she says. "But, most of all, hearing that he believes in my idea has given me the confidence I need at this vital point."
The next step for Benet and her team is to seek grants and other funding sources to fully patent the device and also start larger human trials, with the goal of gaining FDA approval further down the road.