Birds Nest Bed for Solo Lounging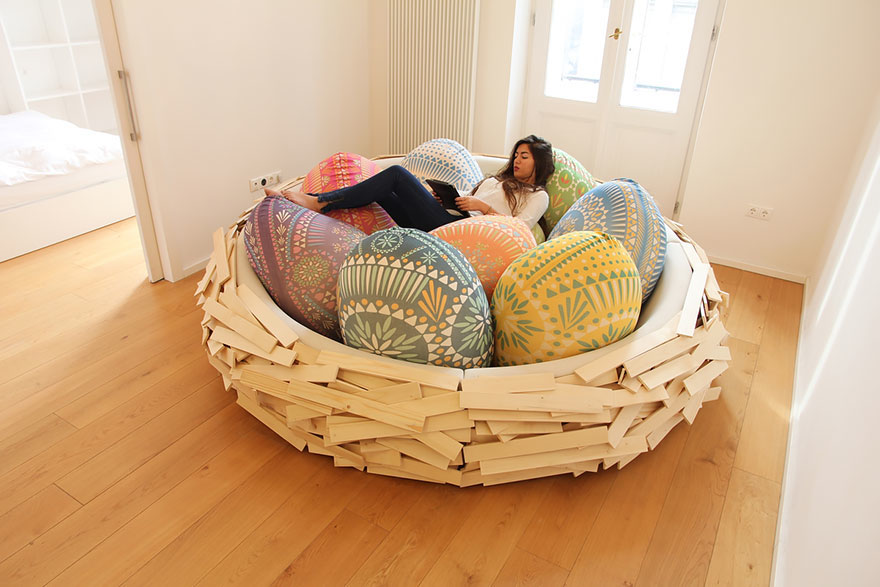 The unusual and completely inviting Giant Birdsnest Bed from OGE CreativeGroup has been an internet sensation for quite some time now. It seems that everyone who sees it has the urge to jump in and snuggle up in its inviting interior. The designers have launched an update to the design that will make it even more irresistible.
"Its powerful, yet simple concept and intriguing character needs no explanation or user manual: Ready to be used, ready for playing or working in. Simply jump in and enjoy," say Israel-based Merav (Salush) Eitan and Gaston Zahr of OGE Creative Group.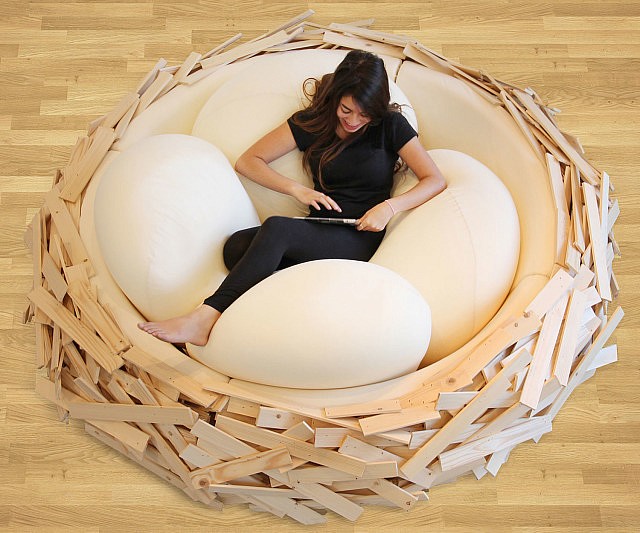 The Giant Birdsnest 4 takes on a slightly more refined form than the original. Instead of looking large and flimsy, it is more compact and its walls a bit more structured.


However, the biggest difference is the addition of egg-shaped pillows. According to the designers, these ergonomic "sitting poofs" are perfect for propping you and your friends up for a bit of intimate conversation and idea-sharing. But all we can think about is how squishy and comfy and nap-ready they look.


The original large size Giant Birdsnest can accommodate up to 16 people and costs as much as $15,000. The smaller sizes can fit one to four people in a cozy little space. The exterior stick-like pieces of the "nest" are made of lacquered wood, but the inside is nothing but soft foam padding and lovely touchable fabric. Who could resist climbing in?
The wood of the Giant Birsdnest bed is available in eight different finishes from cherry to walnut, and the cotton pillows come in 14 colors, including fuchsia, turquoise, eggplant, steel grey, orange, cream, and black.

Continue reading below

Our Featured Videos


You can buy any of the Giant Birdsnest beds from OGE CreativeGroup starting at €2,700 (around $3,600 US). Add a blanket and a good book and we would climb in and never, ever leave – at least, if we could afford to buy one in the first place.