Natural Looking Tree Houses
Treehouses, once thought of as play areas for kids only, have finally come into their own as grown-up play places and residences. The Embryo Treehouse from Antony Gibbon Designs is a beautifully designed treehouse that looks like it grew from the tree itself.
Continue reading below
Our Featured Videos
The Embryo Treehouse takes that biomimicry a step further by looking like it is an organic part of the tree. The two-story elevated house resembles a burl or natural growth on the tree. Cedar shingles help the house blend into its surroundings. Windows come in three different sizes and can be arranged in a way that will allow in as much natural light as the building site allows.
The name Embryo refers to a stage in the life cycle of organic creatures. It is meant to affirm our connection to the natural world, embracing the idea that as a whole, we could stand to be much closer to nature.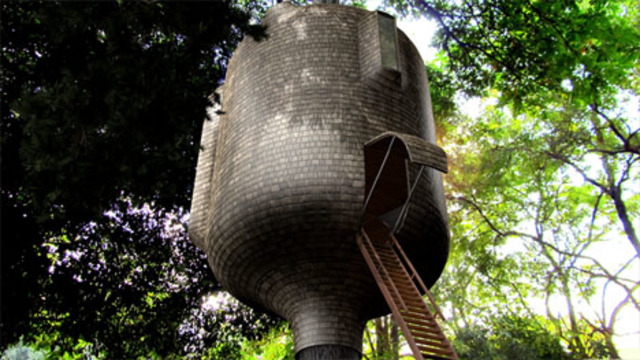 You enter the house via a drop-down staircase and a hatch door. Once inside, a spiral staircase wraps around the interior wall, connecting the first and second floors. This configuration helps to maximize the available floor space on both levels. A total of eight people can sleep comfortably in this suspended nature-inspired home.
Of course, a love of nature wouldn't mean anything if the treehouse caused harm to the tree to which it is attached. The Embryo attaches to the tree using a set of braces that allow the tree to continue growing without damaging the bark.
"Embryo is a cylindrical two story tree dwelling that utilises the principles of bio mimicry. The design of the structure was to give the illusion that it is almost part of the tree trunk like a Burl as well a taking certain elements from a wasps nest. It is clad with cedar shingles to blend the structure in with the surroundings."
"The Embryo derives its name from the early stages of development in nature. The idea was to re address the way we live in today's society and look at a more ecological and a simpler way of living than consuming our earths resources. We are more and more being disconnected from our natural surroundings and the embryo is part of a series of designs to try and reunite and reconnect us back to the elements and how we interact with nature, whilst using materials resourcefully."