Angular Backyard Office Adds Space to a Victorian Cottage House
Running out of room in your house for hobbies, work, or a growing family doesn't have to mean moving. It doesn't even require a life-disrupting renovation. If you have a backyard, chances are your local building codes allow for a detached addition.
Continue reading below
Our Featured Videos
Freestanding offices, studios, guest quarters, playrooms, and other structures can add a lot of functionality to your property with a surprisingly small amount of work. Prefabricated options are almost instantaneous, especially if they aren't hooked up to utilities. If you're really handy, backyard additions are often small enough to DIY, or you can hire an architect to come up with something a little more robust. But the best part about designing these small structures is the chance to think outside the box.
With "Herald Garden Studio," a multipurpose backyard addition in Wellington, New Zealand, Parsonson Architects demonstrates how fun it can be to experiment a little bit with visuals and materials. And hey, as long as you aren't violating any local ordinances, why not break out beyond conventional aesthetics and bring in some elements that contrast with your existing home?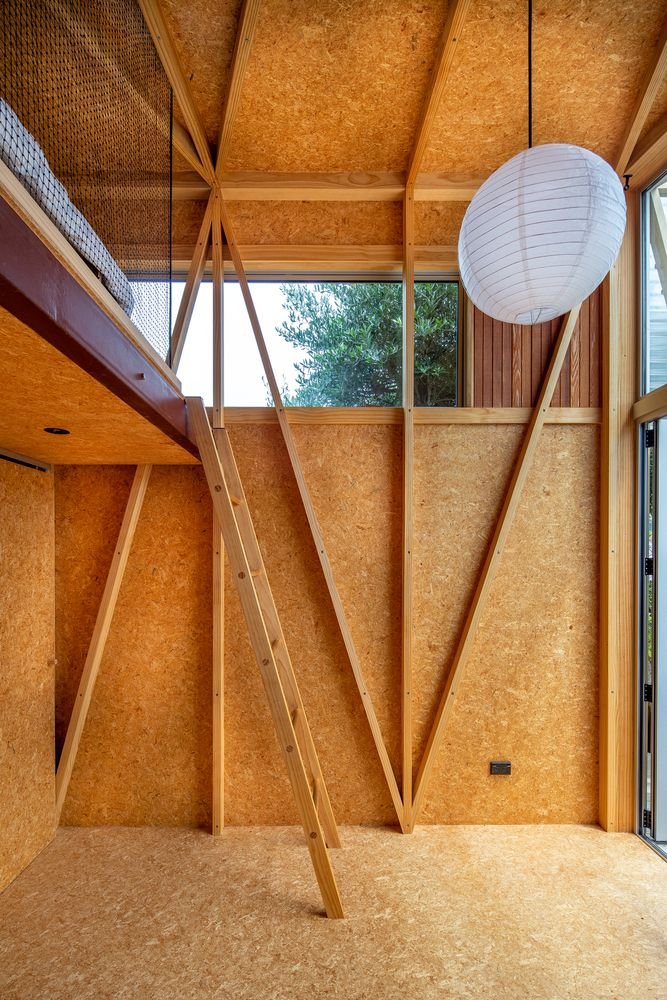 The architects began with the small two bedroom Victorian cottage house occupied by the clients: a couple and their two young sons. They knew immediately that trying to add onto this compact home would run the risk of dwarfing it, and that it was already feeling a bit cramped by close neighbors on either side. What the property did have going for it, however, was a long and narrow backyard. The property measures 243 square meters (2,616 square feet), with just enough room to leave a small outdoor space between the home and an addition.
The new garden studio feels fresh and contemporary without creating too much visual tension with its surroundings, thanks in large part to the materials chosen to build it. A shed-style roof creates an interesting angle for the front, as amplified by the frame of its covered porch. Using transparent corrugated plastic roof panels, the architects created a protected space that still lets in plenty of light. Two oversized glass doors swing out to welcome guests, facilitating an easy transition between indoors and out. Multiple complementary tones of warm wood add to the studio's cozy feel.
The design team explains that "the new studio is designed to provide flexible additional space such as catering for children's play, as a place for a peaceful retreat, study, or overflow accommodation. Whilst it is separate from the house at the end of the rear yard, it is visually connected and linked by sheltered outdoor space. The main space of the studio faces north, with a bathroom and storage area at the rear and a mezzanine sleeping/play/storage area above. The studio sits above the ground on timber piles, with a deck extending northwards back towards the house. The deck is cut around an existing olive tree on the Westside."
"Both the deck, pergola, and the main interior space have been conceived as one triangulated structure, stitching together the spaces and reinforcing the interior-exterior connection, while relating to the delicacy of the surrounding vegetation. Materials are unadorned and raw but carefully assembled."
While the budget isn't specified, it's not hard to imagine pulling something like this off at a modest expense, especially if you reclaim materials like windows and doors at a local building supply resale shop.